SUPPORT ME ! VOTE YES AT BOTTOM
BE AWARE !! BUYING Original Fake T-shirts ON EBay!!
Fake makers can now make FAKE HOLOGRAM

THIS IS THE ULTIMATE GUIDE FOR TELLING FAKE FROM LEGIT Original Fake T-shits
The FAKE Original Fake t-shirts are getting better in their quality, probably from the huge profit they constantly make. It has become extremely hard to differentiate copied from legit Original Fake t-shirts, especially that now FAKE PEOPLE CAN MAKE FAKE HOLOGRAM ON PRICE TAGS TOO .
THE OLD GUIDE for buying OF shirts that I made was:
1) There should be price printed on price tag and it's in YEN
2) There should be an Original Fake hologram on price tag.
If the Original Fake t-shirt doesn't even meet BOTH OF THESE, DON'T EVEN THINK ABOUT IT. IT IS FAKE.
THE ULTIMATE NEW GUIDE !!!
if the t-shirt fulfilled the old guide, please following this new guide.
The following photos are comparing legit and fake Original Fake X CLOT t-shirts. The legit one I bought personally from JUICE, a Original Fake retail shop, is the one on the left, showing the receipt in photo. The one on RIGHT is a high quality FAKE Original Fake t-shirt.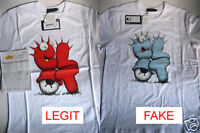 Q: Why the other one is fake?
A: Because it looks different from the authentic one I bought from authentic shop, JUICE, and i assume Original Fake won't have different stitching and laser sticker patterns for the same style shirt to leave rooms for fake producers. They should have been quality controlled and made from the same fabric, and having same stitching, since there is only one factory that make Original Fake T-shirts. So the one on the right must be fake.
Q: Does it work for other Original Fake T-shrit
A: YES. This guide should work for all Original Fake t-shirts, but not the KAWS t-shirts that were made before Kaws opened Original Fake. That means the guide should work for all Original Fake labeled T-shirts. All my legit Original Fake T-shirts follow the same pattern and all my fake Original Fake T-shirts look like this fake one. I have bought another fake OF t-shirt before and the stitching pattern looked exactly like this fake one you see in photo. The stitching pattern is very important.
1) All OF shirts produced before 2008 ( Not too sure about the exact year and season.) had sizes labeled as S,M,L and all shirts from 2008 had sizes labeld 1,2,3,4. The best example is the baby holding two Kaws sperm shirt. This early Original Fake shirt is labeled as S,M,L so please stop judging authenticity from the size label. As well as that if the size is labeled S,M,L, there is not Kaws crosses on the sleeves.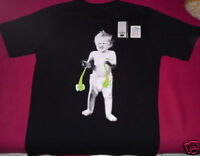 2) Do not rely on receipt, it means nothing, the seller can give you real receipt but a fake t-shirt, so the only way is to check the t-shirt yourself by asking seller to take detailed photos of the important parts that i will be talking about later in this guide.
2) Look at the black Original Fake tag at neck, The letter "O" should be AT or very close (1mm max.) to the stitch.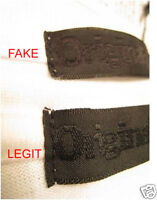 4) The quality of the black tag is different. Hard to describe so please see photo.

5) The quality of the washing instruction tag is also different. However, I've seen this tag in different styles, so please don't judge authenticity from its style and shape unless you can compare the same shirt from a legit shop.
6) VERY IMPORTANT : the way the shirt is stitched up is different. Fake one has this extra stitch shown in photo. All my legit Original Fake T-shirts don't have this extra stitch line.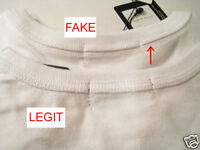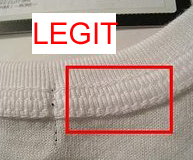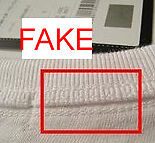 7) Original Fake t-shirt plastic bag can also be different. Please see photo again. The real one looks smoother and without extra lines on top. If the OF palstic bag is fake, then there is high change the shirt is fake too.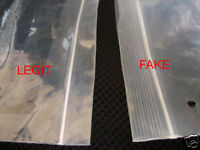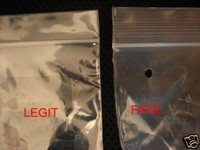 8) The FAKE Original Fake t-shirt is a bit larger and the material feels harder to me.
9) The real hologram shows Original Fake clearly !! ~ the fake one is very vague the poor quality. HAVING HOLOGRAM DOESNT MEAN ITS REAL. !!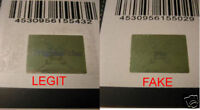 THIS GUIDE IS ONLY PERSONAL EXPERIENCE ,
IM ONLY WRITING THIS NOT BECAUSE I SELL Original Fake T-SHIRTS, BUT JUST PURLY HATE FAKES, AND HATE THE IDEA THAT PEOPLE PAY REAL T-SHIRT PRICES FOR CHEAP FACTORY COPIES, that happened to me couple of times.
NO MORE FAKES !!!!! I dont think we can eliminate fake t-shirts but we can put more pressure on them if we stop buying them. The only way to stop buying them is to KNOW WHICH ONE IS FAKE AND NOT TO BUY IT. THIS IS WHAT THIS GUIDE IS FOR.
PLEASE SUPPORT ME IF YOU LIKE THIS GUIDE, BY CLICKING YES AT BOTTOM !!
AND GET ALL YOUR FRIENDS TO DO THAT AS WELL.
REGARDS
KAWS_SHOP