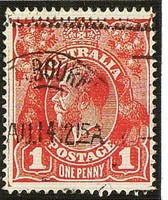 Sadly there are many eBay and other sellers still offering Australian KGV head stamps either overprinted or perfined OS as being grossly misplaced printings, the fact is that printings generally considered as not worthy to present to the public were chosen for use as official stamps and hence perfined or overprinted OS, the fact that they are asking ridiculously high prices for them shows a complete lack of knowledge for what is probably the best area of stamp of stamp collecting anywhere in the world.
To get a KGV Head stamp of Australia in a reasonably well centred condition is a feat within itself, because of printing methods employed at the time a well centred example is probably the only one in the entire sheet.
The example shown is a reasonably well centred used example of a one penny red with single line perforation and scarce as such. This example shows a machine cancel (probably; Little Bourke St) of August 1914 which is actually a considerably late date for a line perf example and it would be more than worthy of 'pride of place' in any KGV Head collection.
It should be noted that of the Australian KGV head issues only the early printings were perforated using the single line perforation method, the halfpenny (1/2d green only with some shades), one penny (1d Red only, many shades including some that are very rare) and the five pence (5d Chestnut with some shades, mostly all reasonably common).
For the true collector of the KGV head series of Australia seeking a bargain look for single line perforation in the halfpenny green and the one penny red, besides looking for shade which can often be faked, in the halfpenny green look to the upper left for flaws, however, flaws abound for 1d red examples with single line perforation ( look for die 2 at the bottom right of the left value shield, there are incumbant stages so remain alert), in both types with flaw plus shade they rate as rare to extremely rare!
Single line perforation is easy to identify with practice and a perforation guide is not required, when inspecting a stamp (any stamp) always look down upon it, with single line perf you will notice that at least three corners are rounded often with a corner perf pulled or missing, if so show extreme caution and refer to a specialist for further advise.
For reference towards single line perforation most early Australin commerative stamps are such with only the odd lower value being the exception.