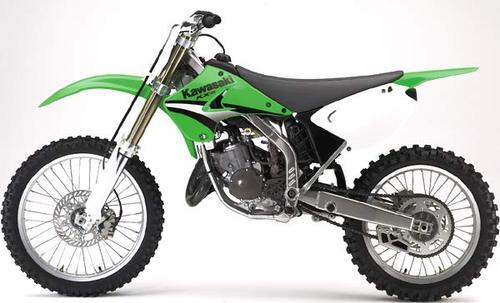 Special types of small motorbikes include trail bikes and motocross bikes. Riders prefer trail bikes for off-road, dirt bike riding and motocross racing over rough terrain rather than for indoor competitive racing. Trail bikes include special tyres, frames, and suspensions for riding on long, winding dirt trails and over unpaved surfaces. Different manufacturers produce trail bikes. Kawasaki manufactures the popular KX line of trail bikes in various models with different features. eBay offers a wide selection of standard and custom models of KX trail bikes, as compared to motorbike dealers that may only offer standard models. Buyers should determine compatible KX trail bikes according to their personal riding skills, the trail bike's features, and the intended usage.
Characteristics of Trail Bikes
Trail bikes include small bikes for young, beginning riders and large bikes for older, more advanced riders. They exhibit lighter frames, larger tyres, and longer suspensions in comparison to indoor racing motorbikes. Competitive racing motorbikes accelerate and jump rapidly on indoor courses. Trail bike riders move at slower speeds over outdoor terrain. Trail bike tyres withstand dirt, rocks, and uneven riding conditions for longer periods. They also manoeuvre through tighter turns and jump over small obstacles.
Comparing KX Trail Bikes
Kawasaki manufactures several KX trail bike models. Common models include the KX65, the KX85, the KX100, the KX250F, and the KX450F. The different models include different features, such as two- stroke or four-stroke engines , disc brakes, and various size dimensions. In general, different models appeal to different groups of riders, including beginning riders and advanced riders.
KX65
The lightweight, easy-to-handle KX65 trail bike appeals to less experienced riders. The two-stroke, 65cc engine produces sufficient engine power at lower RPM in comparison with other two-stroke engines. The KX65 bike dimensions include 1,590 mm length, 759.46 mm width, and 955.04 mm height, making it one of the smallest trail bikes in the KX line.
KX85
The KX85 trail bike exhibits a single-cylinder, 84cc, two-stroke engine. It uses Integrated Power-Valve System Technology to provide adequate engine power without needing a higher RPM. The lightweight frame offers easy handling for a younger, inexperienced rider. It also includes a six-speed transmission. Hydraulic front disc brakes and standard rear disc brakes work in tandem with the front and rear suspensions. The suspension system includes 18-way compression damping for the front and 16-way damping, four-way compression for the rear. The bike's dimensions include 1,054.l mm height, 734.06 mm width, and 1,821.2 mm length.
KX100
The KX100 trail bike utilises a single-cylinder, 99cc, two-stroke engine for reliable engine power and easy manoeuvrability for moderately skilled riders who also desire a faster, more powerful trail bike for rougher terrain. Kawasaki's power-valve technology maintains the engine power at a lower RPM in comparison to the overall weight of the bike. Its excellent low-end torque provides a faster throttle reaction than the KX85 trail bike. It also uses a six-speed transmission with a similar suspension system as the KX85. It is slightly bigger than the KX85 at 1,910.1 mm length, 734.06 mm width, and 1,104.9 mm height.
KX250F
The KX250F trail bike comes with a larger, heavier bike frame and more engine power for more advanced riders. The four-stroke, 249cc, four-valve engine provides faster acceleration rates than the smaller KX trail bikes. The KX250F trail bike is also more expensive than the smaller, two-stroke engine trail bikes. Its dimensions include 2,169.2 mm length, 820.42 mm width, and 1,270 mm height.
KX450F
The KX450F trail bike is much larger and more powerful than the KX65, KX85, and KX100 trail bikes. It includes a four-stroke, 449cc engine that produces more engine power, resulting in a faster ride for skilled riders. The heavier frame makes the KX450F more difficult to handle in comparison to the smaller KX models. It is also more expensive to purchase because of the engine capacity and additional features. Its dimensions include a length of 2,179.3 mm, a width of 820.42 mm, and a height of 1,275.1 mm, making it one of the largest trail bikes in the KX line.
The following table illustrates the most common models of KX trail bikes. The diverse qualities of the different bikes ensure that a model is available for almost any rider.
KX Trail Bike Model

Engine

Frame

Rider Compatibility

Two-stroke

65cc

Lightweight

Easy handling

Young

Inexperienced beginner

KX85

Two-stroke

84cc

Lightweight

Easy handling

Young

Inexperienced beginner

KX100

Two-stroke

99cc

Lightweight

Easy handling

Young

Moderately skilled beginner to intermediate

KX250F

Four-stroke

249cc

Large and heavy

Difficult to handle

Older

Advanced rider

KX450F

Four-stroke

449cc

Large and heavy

Difficult to handle

Older

Advanced rider
The table above examines common KX trail bikes for beginning, moderately skilled, and advanced riders. A buyer should compare the different KX trail bike engines and frame features before making a purchase.
How to Buy KX Trail Bikes on eBay
Buyers can search for KX trail bikes on any eBay Web page by using descriptive keywords in the search bar. Descriptive keywords could include a specific KX trail bike model, such as KX250F . Other possibilities include searching by special features, dimensions, model numbers, colours, or additional accessories. eBay also offers special deals on motorbikes and accessories from time to time. When searching for KX trail bikes, buyers should carefully evaluate a rider's skill set to make sure a bike is compatible before purchasing it. Young, inexperienced riders prefer the smaller KX models, while experienced riders prefer the power of the larger models in the line. Either way, buyers can enjoy riding off-road on an affordable, quality KX trail bike.