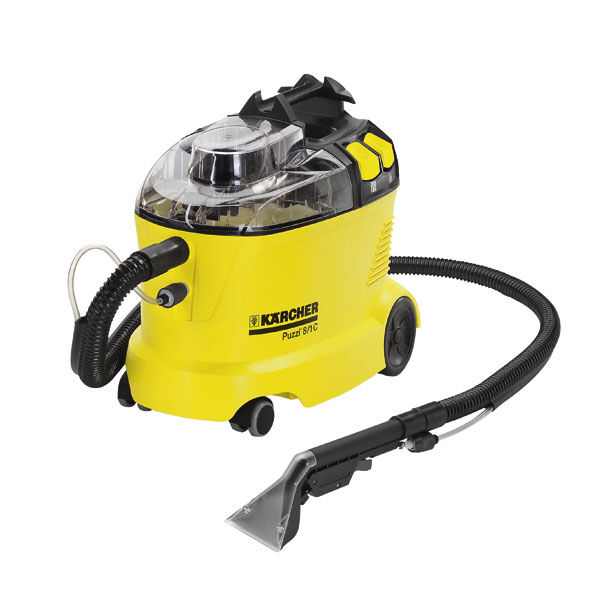 Pressure washers are cleaning devices that use a high-pressure jet stream of water to loosen and remove dirt particles. These washers come in a variety of strengths, and different strengths are suitable for use on different surfaces. Karcher and Ryobi are two of the biggest pressure washer manufactures, and some buyers may find it difficult to choose between these two brands. The following guide shall detail how pressure washers work, and the various strengths and the differences between Karcher and Ryobi washers.
Pressure Washers
Regardless of strength or design, all pressure washers comprise of the following common components:
· Two hoses that connect the water source to the pump, and the pump to the nozzle. Buyers can use a standard garden hose to connect the pump to the water source, but it is advised they use only pressure washer hoses to connect the pump to the nozzle. These hoses are made from thick and durable plastic and are able to withstand the force of the water. Common hose sizes are 8m, 10m, 20m, and 30m. 50m hoses can be bought, but these are generally much more expensive than the shorter options.
· The pump creates the high pressure that shoots the jet stream out of the end of the nozzle. Pumps vary in size depending on the strength of the washer.
· The pump receives its power from either a gas engine or an electric motor. Electric motors are more common in light duty pressure washers, and although these motors are more environmentally friendly they cannot reach the same levels of pressure as those powered by petrol or diesel.
Another problem with using an electric motor is that it requires constant connection to an electric main to work, but these are perfect for use in and around the house. Gas engines are usually found in medium and heavy-duty pressure washers, and can create streams of water that are of far greater strength. However, these engines have their drawbacks too, and produce fumes and noise, making them extremely unsuitable for use indoors.
· The second hose is connected to a nozzle held within a casing. These casings are usually either guns or lances. Guns are very small, and get their name from their pistol like appearance. They use a trigger system to release the water and are more suited for use with light duty pressure washers. The lances are long thin poles that give the user far greater accuracy, and are suitable to use with the medium and heavy-duty washers. The nozzle is found at the very end of the gun or lance, and twisting it will adjust the strength of the stream and the radius it covers.
Pressure Washer Strengths
The most important factor to consider when choosing between a Karcher and Ryobi pressure washer is the strength of the device. Certain strengths should be used on specific materials only, and incorrect use could damage the object that is being cleaned. The unit the strength of the pressure is measured in is known as bar.
Light Duty

Light duty pressure washers have a maximum pressure strength output of 100 bar, and as mentioned previously these devices are more suitable for use around the house and garden.

Light duty pressure washers tend to use electric motors for power, but it is possible to buy models that have a gas engine. These pressure washers are suitable to use to clean gardening equipment, tools, furniture, bicycles, windows and small patios and decking. Prices for new Karcher light duty pressure washers start at around $50, but less expensive used models can be bought on eBay.

Medium Duty

Medium duty pressure washers have a maximum pressure strength output of 110 bar, and washers of this strength are usually powered by a petrol or diesel engine. There are a number of medium duty models that use an electric motor, but these do not have the same strength capacity.

Medium duty pressure washers can be used to clean cars, vans and other small vehicles. These washers are also suitable to clean gutters, drains, fences, pools and medium sized patios and decking. Prices for new Karcher medium duty pressure washers start at about $300.

Heavy Duty

Washers of this strength can achieve a pressure of between 110 and 130 bar, and these washers use only gas engines. Heavy-duty pressure washers produce fumes and noise, so they should be kept in an open space when in use. It is important to make sure that children and pets are kept away from these washers as the engines can become extremely hot to touch when working.

Buyers are advised to wear protective clothing and gloves, and heavy-duty washers can be used to clean large vehicles, farm equipment and stone and brickwork. New Karcher heavy-duty pressure washers can cost from $750 right up to $8000.
Karcher vs. Ryobi
Once buyers have an understanding of the various components that pressure washers are made from, and the different strengths available, they can start to focus on picking a specific brand. Karcher and Ryobi are two of the more popular manufactures of pressure washer.
· Karcher are a German manufacture of cleaning devices, and are known for their commercial and industrial pressure washers. Karcher pressure washers are generally more expensive, but many reviews online suggest that these machines are prone to faults and breaking down. Because of this, it is advised that if a buyer is interested in purchasing a Karcher pressure washer then they should first research into the specific model they want, and see what other people say about their experiences. The benefit of using a Karcher washer is these come with multiple features and are very suitable for use at home to clean larger objects.
· Ryobi are a Japanese company who produce a variety of products and do not focus on cleaning devices solely. Because of this, some people believe that Ryobi produce inferior pressure washers, but this is not the case. Although Ryobi pressure washers do not have the same functions or features as Karcher products, they tend to be better made and last for a longer time.
Buyers trying to choose between Karcher or Ryobi pressure washers should examine what it is they will use the washer to clean. If they need a powerful pressure washer for industrial use then they should purchase a Karcher model, but if the washer will be used at home and for commercial use then they are advised to buy a Ryobi product.
Searching for Pressure Washers on eBay
When buyers have an idea of the type of pressure washer they need, they should head to eBay.com.au to start a search. Once there, they can click on the Home & Garden tab, followed by the Gardening link. Buyers should next click on the Outdoor Power Tools link, and they will find a further link for Power Washers halfway down the 'Categories' table. Type either 'Karcher Pressure Washer' or 'Ryobi Pressure Washer' into the search bar and press enter to list the relevant devices.
The eBay Deals section of the website has a number of pressure washers for sale at lower prices than those on the main website. To find the relevant section, first click on the 'Deals' link at the top of the page and then the Gardening title found in the Tools tab. The pressure washers can be found about a third of the page down.
Conclusion
Buyers attempting to choose between a Karcher or Ryobi pressure washer should consider what the washer will be used to clean. Karcher washers are more suited for industrial use, whereas Ryobi make better commercial washers. All buyers should use eBay to search for their desired pressure washer as the site has a large selection at unbeatable prices. And remember to use PayPal when making a purchase, as the transaction will be covered by eBay's buyer protection programme.