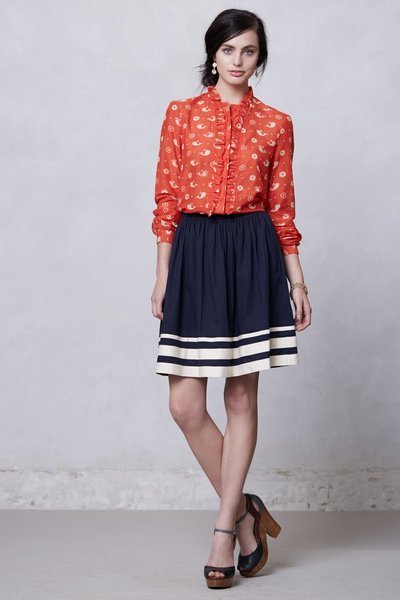 When it comes to buying a great blouse, a Karen Walker blouse is an ideal one for any woman to have in her wardrobe. There are a variety of these blouses available in a wide assortment of styles and colours to choose from. Karen Walker blouses come in fun and flirty styles for those occasions when casual dress attire is appropriate, and they also come in styles suitable for professional settings as well.
Buyers find Karen Walker blouses in retail department stores as well as online at eBay. One of the key elements which goes into choosing just the right blouse involves knowing what size is appropriate. Taking the time to become familiar with the various styles and sizes offered by Karen Walker helps buyers make the decision an easier one.
Types of Karen Walker Blouses
For many women, determining what types of blouses to wear often comes down to the construction of the fabrics. Often, the determining factor equates to what particular season the buyers decide to buy their blouses. The summer months usually necessitate cooler, more comfortable clothing such as tops made from cotton. Colder months require garments constructed from materials such as knits.
One of the things which makes Karen Walker blouses so versatile is the fact that consumers wear the tops alone or layered with other garments. Choosing Karen Walker blouses in a variety of fabrics helps ensure women not only look their best, but it prepares them for any season as well.
Cotton Blouses
Blouses made from cotton fabrics are some of the most desired types of blouses available, and this is primarily because they help keep women cool and comfortable all day long. A cotton Karen Walker blouse has the ability to keep the wearer dry and comfortable. The " Hi There" line of cotton blouses by Karen Walker features a number of blouses constructed from cotton. Worn in an array of setting, Karen Walker cotton blouses make very versatile garments for any wardrobe.
Silk Blouses
For women who want something dressier, there is also the Karen Walker silk blouse. Silk blouses are very versatile because they work well in a variety of settings. Karen Walker silk blouses are ideal for both elegant and casual settings. During cooler months, women wear them with a pair of Karen Walker slacks for a professional look or with a Karen Walker skirt during the spring and summer.
Knit Blouses
Knit blouses are a good choice for women who want something warmer to wear during the cooler months of the year. Karen Walker knit blouses not only help ward off cold temperatures, but they are comfortable as well. This type of blouse looks attractive and is easy to accessorise with other garments.
Women who want to create a casual appearance wear this type of knit top with a pair of Karen Walker jeans. Knit blouses offer flexibility to wardrobe choices for women because knit tops look equally appealing when paired with Karen Walker blazers. Pairing these two types of garments together is also an ideal way to create a professional appearance.
Sleeveless Blouses
Karen Walker also has an attractive line of sleeveless blouses. Karen Walker sleeveless blouses come in a variety of fabrics which allows them to go well with almost any other wardrobe choice. This type of sleeveless blouse is ideal for casual gatherings, and looks attractive when paired with a Karen Walker pea coat . Sleeveless blouses are a good choice of clothing for both the summer and autumn seasons.
Blouse Sizing
When it comes to picking out the perfect Karen Walker blouse, it is important for women to know what size they wear. To take accurate measurements, women use a flexible tape measure and assistance from another person, if possible. If women are taking their own measurements, it is important that they keep the tape measure parallel to the ground. For correct sizing, consumers measure their bust, waist, and hips.
Blouse sizes for women vary according to the manufacturer which designs them. Sizes differ within various countries as well. If women decide to buy a blouse with a size label that differs from the country that they normally reside in, it is helpful to have a conversion chart to refer back to. Listed in the table below are size conversions for blouses in Australia, Europe, and the United States.
| | | |
| --- | --- | --- |
| Australia | Europe | United States |
| | 32 | 4 |
| 10 | 34 | 6 |
| 12 | 36 | 8 |
| 14 | 38 | 10 |
| 16 | 40 | 12 |
| 18 | 42 | 14 |
| 20 | 44 | 16 |
| 22 | 46 | 18 |
One of the most helpful tips there is for women when it comes to shopping for clothing from any manufacturer is for them to take the time to see if the manufacturer provides a size chart. Many designers publish their size charts online. Taking time to acquire proper measurements helps women get closer to ensuring the chances of the clothing fitting properly.
How to Buy
One of the many things that people enjoy about shopping on eBay is the convenience that it affords them. It is easy to find the perfect Karen Walker blouse for your needs by performing a keyword search. Just enter relevant keywords into the search query box on any eBay page, and then all the items tagged with those keywords present for you to browse through.
There are many different styles of Karen Walker blouses available to suit almost any taste or need of a woman, such as a sleeveless blouse or a cotton blouse. Find great deals on blouses for every type of season. Karen Walker blouses are very versatile and easily paired with other items to create new looks. Knowing the proper size also helps ensure that the blouses look and feel great.