Many years ago, the Finnish discovered that pouring water over heated rocks in an enclosed room created a dry, hot heat. This is where the sauna was born. Nowadays, you see saunas everywhere, from resorts, spas and even in the home. With their many health advantages, saunas have become a natural way of helping treat a range of medical conditions.
Why are saunas good for you?
Depending on your age and health condition, saunas are excellent method to cleanse your skin, increase circulation, open up your sinuses, ease muscle and rheumatic pain, strengthen your immune system, and improve joint movement. It's also great for stress relief.
Did you know that sweating open ups your pores, letting out toxins and impurities. By sitting in a sauna, you can speed up your recovery time for injuries such as strains, sprains, muscular pain and in some cases arthritis. Here are some interesting sauna facts:
Just one sauna session can increase the amount of oxygen and nutrients delivered to your organs.
Saunas make your body heat up the same way it would if you had a fever. This helps your body heal itself.
The heat a sauna produces help relax face muscles and aids in a clearer complexion.
Sweat of far-infrared sauna users contains only 80 per cent water and 20 per cent toxins.
In one session in a sauna you can burn up to 300 calories. That's an equivalent to a long jog or an hour of weights!
Dry Saunas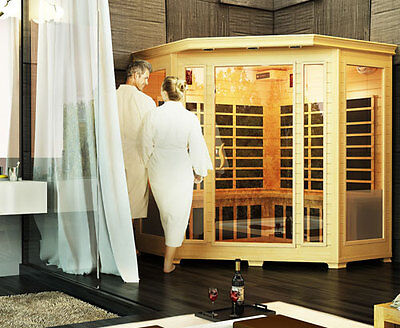 Dry saunas involve pouring water over heated rocks to create a high temperature. This help create a hu
midity of 20%, ensuring heat is transferred to the body at a slower rate. Inside a sauna, heat can reach a temperature of 70 degrees. This heat can force your body to produce more sweat to cool itself down, aiding the removal of toxic metals such as sodium, lead and cadmium.
Steam Saunas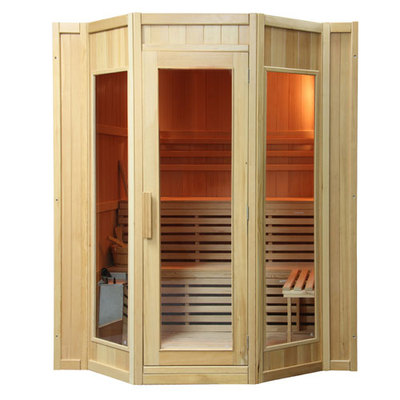 The steam sauna, also known as wet sauna gathers a humidity of 100%, reaching a temperature between 35-50 degrees. People who suffer from asthma, colds, congestion, and allergies all benefit from the steam sauna.
Steam saunas are perfect when paired with essential and aromatherapy oils. Clove, cinnamon or lavender has been clinically proven to benefit bronchial conditions. They also act as an antibacterial and antiseptic agent. Steam saunas are very similar to dry saunas as they boost circulation, speeds up muscle recovery and helps in burning calories.