Kids Party Food / Kids Party Recipes
Welcome to One Stop Kids Party shop, so here at One Stop we sell all the fun kids party supplies like party decorations, party invitations, kids party games, party favours, party bags and so on, but we know there is more to children's birthday parties than the party supplies. The other very important component of a child's birthday party is the kids party food. So we have started to compile a kids party menu if you like with modern easy and fast kids party food recipes.

Always remember to check with parents as to whether or not their child has any particular food allergies or intolerances. A lot of children are Gluten intolerant and it is always good to have some alternatives for these kids so they do not feel left out.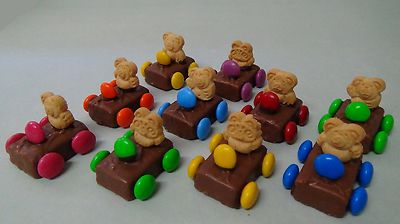 MINI TINY TEDDY RACING CARS
What you need:
Mini mars bars
Honey Tiny Teddies or Aldi version of tiny Teddies/Koala's.
Coloured Smarties
Pre-made chocolate icing (Betty Crocker in a tub from Woolworths or Coles is the best.
Life Savers Cut in Half (Optional for the Steering wheel as in image 2 or you can just use a smartie as in image one.
How To Assemble Tiny Teddy Racing Cars
Cut a slice towards the back of the mini mars bar and place your teddy or koala biscuit in there.
Using your Betty Crocker icing mixture or your own mixture spread it onto the back of your smartie like glue and stick your Smarties onto the mars bar using the picture as a guide, the Smarties are your wheels.
Either cut a life saver lolly into halves and use that as the steering wheel or use a different colour Smartie to your wheels and stick on the top of the mars bar with the icing acting as glue.
There are a few different versions of the Tiny Teddy Racing car, you can use one of the versions shown here or be creative and have some fun with the kids and come up with your very own unique version.
WEETBIX AND MARSHMALLOW SLICE
3 Weetbix
90gms (1 cup) desiccated coconut
100gm (1/2 cup) brown sugar
150gm (1 cup) self-raising flour
pinch salt
150gm melted butter
1 teaspoon vanilla extract
220gm (1 cup) caster sugar
1/3 cup cold water
1 tablespoon gelatine
1/3 cup hot water
6 drops red food colouring (optional)
1 teaspoon strawberry essence (optional)
Coconut or sprinkles for decorating (optional)

Method:

Preheat oven to 190C. Grease and line a 23cm square tin.
Crush weetbix into a large bowl. Add coconut, brown sugar, flour, salt, melted butter and vanilla extract and mix well. Press into the base of the tin and bake for 15 minutes or until golden.
For the topping; place the sugar and cold water into a large bowl and beat for 3-4 minutes with an electric mixer. Add gelatine to hot water and stir briskly with a fork until gelatine has dissolved. Add gelatine mixture to the sugar mixture and beat on high speed for about 8 minutes or until thick.
Add colouring and essence, if using, and beat until combined.
Pour marshmallow onto weetbix base, sprinkle with coconut or sprinkles and refrigerate until set. Cut into squares.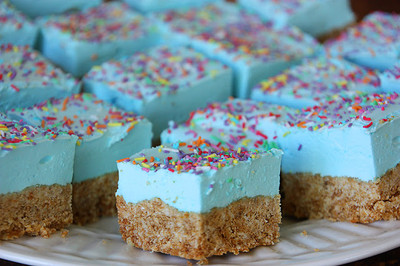 Tea Cup Party Biscuits
Tea Cup Party Biscuits are always a huge hit at play dates and birthday parties. Kids and Adults alike just delight in how sweet they are, your efforts will be rewarded with this one.
Ingredients
Ingredients:
1 packet 'tic toc' biscuits (or hundreds and thousands biscuits)
Marshmallows
Chocolate Freckles
Musk life savers cut in half
Vanilla icing (I buy a ready made one but you could make your own)
Method
Cut your life savers in halves for the handles.
Lay out all your biscuits
Cover part of the top of your biscuit with icing only to the size of your marshmallow as you don't wont it looking messy.
Stick Each Marshmallow down with using the icing as the glue
Put another blob of icing on top of each of the marshmallows and stick a chocolate freckle on the top
Then again using your icing as glue stick half of the musk life saver to the side of the marshmallow as in the image to form the handle for the tea cup.