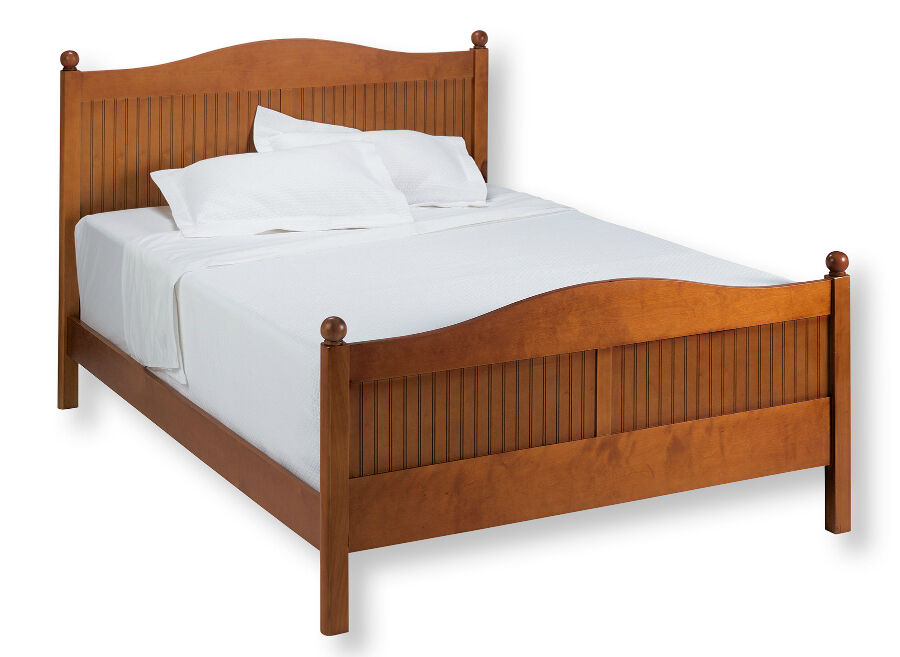 Choosing a bed frame is both an aesthetic and practical decision. As the centrepiece of the bedroom, a king-size bed occupies a large amount of space and commands attention with its air of luxury and comfort. The bed frame should complement the room's size and décor, rather than detract from it or overwhelm it. In addition, a bed frame can do much to set the tone, whether contemporary, traditional, or colonial.
The right bed frame adequately supports the mattress for optimal sleeping posture, an essential factor in feeling healthy and well-rested. Therefore, buyers should take their time when selecting a bed frame, researching in advance their different options and deciding on a product that harmonises with their decorative style and serves them well for years to come.
Overview of King-Size Bed Structure
Beds are generally assembled from a mattress and bed frame. The bed frame supports the weight of the mattress, usually with a system of slats, and may have additional headboards and footboards if so desired. The Australian standard measurement for king size mattresses is 183 cm by 203 cm, affording a large amount of space for two people. This differs from the standard measurement in the UK, which is 150 cm by 200 cm. Buyers should make sure the standard sizing for their mattress and bed frame are in accordance.
Assessing Bedroom Size and Style
Deciding on a bed frame style involves considering the bedroom itself: the right frame should not overwhelm a space, but rather harmonise with it. This is particularly true with king-size beds, whose dimensions can make them a bit challenging to incorporate into smaller areas. The frame should also reflect the overall décor style for a complete look.
Assessing Bedroom Size
A king-size bed affords plenty of comfortable sleeping space for two people, accommodating different sleeping styles and reducing the likelihood of disruption from rolls and shifts in the middle of the night. That said, these large beds occupy a lot of space in the bedroom, so when selecting a bed frame, buyers should give some thought to the size of the room. While king-size bed frames are all designed to fit the same standard mattress dimensions, other factors like side panels or headboards and footboards can make a big difference in how large the bed looks.
Assessing Bedroom Style
Matching the bed frame to the bedroom's décor tone is highly important. As a decorative focal point, the bed should blend with the other furniture in the room. Traditional decor tends to feature heavy, ornate pieces, including antique items. Modern bedrooms, inspired by mid-century design, are characterised by neutral colours, simple, straight lines, and a minimum of ornamentation. Contemporary interiors are often more stark, with geometrical shapes, pops of bright colour, and metal structures. Colonial rooms have a rustic aesthetic, with plenty of wood and handcrafted ornamentation.
Buyers should look for a frame whose lines, shade, material, and level of ornamentation complement the room's decorative theme.
Choosing a Bed Height
Bed frames come in various heights; choosing one over another should be determined by a few different factors. Low bed frames are easier to get into and out of, making them preferable for those with mobility issues. If children are likely to be climbing onto the bed, a lower frame is also better, as high frames could be potentially hazardous. In terms of style, high bed frames can exude opulence, but may appear oversized in a smaller space. Buyers should consider accessibility and style before deciding on a bed height.
Bed Frame Materials
Buyers have several choices when it comes to bed frame materials: metal, wood, wood veneer or laminate, and fabric- or leather-upholstered frames are common options. The following chart outlines the features of different types of frame materials.
| | |
| --- | --- |
| Bed Frame Material | Description |
| Copper or Bronze | Reddish-hued metals; impart a traditional look |
| | Rust-resistant and durable; silvery-grey finish with no surface coating; blends well with contemporary decor |
| Wrought Iron | Has been hammered into formation rather that poured into mould; may be painted or finished; traditional or rustic appeal |
| Wood Veneer or Laminate | Often features a thin layer of attractive wood veneer applied over less-expensive materials, such as high-density fibreboard; can coordinate well with other veneer furniture; more affordable than solid wood, but less durable |
| Mahogany | Medium-grain tropical medium-to-hard wood; tan to reddish in hue; can be carved for ornate accents; highly durable; relatively costly |
| Oak | Common hardwood for furniture making; heavy, extremely durable; colour may vary depending on variety; grain distinguished by prominent rings and pores |
| Maple | Medium-to-hard wood; pale with fine grain; highly durable; can be stained other colours to resemble more expensive woods |
| | Medium-to-hard wood; pale, heavy, with tight grain; durable; stains well; affordable |
| | Softwood; pale with knotty grain; can be stained; affordable |
| Upholstered | Bed frame upholstered with leather, faux leather, or fabric for added comfort and style |
In selecting a material, buyers should consider what fits within the decorative scheme of their bedroom. They should also look for the most durable materials within their price range, as a bed frame is an investment that should, ideally, last for many years.
King-Size Bed Frame Styles
King-size bed frames come in several different styles for a variety of different space configurations and personal tastes. The following chart outlines the features of common bed frame styles.
| | |
| --- | --- |
| Bed Frame Style | Features and Recommendations |
| | Frame does not extend further than the mattress, for a compact, clean, simple design; may be combined with headboard; recommended for smaller spaces and modern or contemporary designs |
| | Similar to a platform bed, but with storage space underneath, usually accessible by side drawers; perfect for smaller spaces |
| | Posters rise for a stately look; they may be carved or straight; frame across top can be draped with fabric for privacy; excellent for rooms with high ceilings; particularly suited to traditional and rustic styles |
| | Curved headboard and footboard resemble a sleigh; elegant, traditional style that can also suit rustic décor; best for rooms with plenty of space |
As mentioned above, a bed frame's style has a large impact on the room's overall feel. Looking at several different bed styles can help buyers get a clearer idea of what would look best in a particular room.
Access Points
Consumers need to remember that their bed frame has to find its way into their bedroom, via hallways, doorways, and potentially tight corners. In order to avoid disappointing and frustrating situations, carefully assess the route by which the frame is going to be delivered, measuring for exact heights and widths. Many bed frames require some assembly, which can be an advantage in that the individual parts are easier to manoeuvre during the delivery process.
How to Buy a Bed Frame
Bed frames can be bought from several different sources. Furniture shops and bed specialists are a good place to start, letting buyers browse models in person. When inspecting a bed frame, check that the joints are tight and flush. Jostle the frame slightly: if it wobbles, it is probably not a very high quality construction. Look for a frame that feels solid.
Consumers can also purchase bed frames online through retail sites and directly from some manufacturers. Sites like eBay also offer deals on bed frames, mattresses, and everything for the bedroom. Check what the delivery options are, and whether assembly is included.
Buying a King-Size Bed Frame on eBay
You can find plenty of bed frames for your king-size mattress on eBay's website. To start shopping, go to the website's home page and enter keywords like "king leather bed frame" into the search bar. Once you have your original search results, you can refine them according to factors like price or seller location. The short listings allow you to compare different items at a glance.
When you find a frame you are interested in, read the listing carefully, noting details like condition, materials, dimensions, and delivery fees. Double-check that the frame's dimensions match those of your mattress. If you have questions, you can contact the seller through eBay. Do not forget to research a bit about the seller; look at their feedback score and read comments left by past buyers who purchased similar items.
Conclusion
Choosing a bed frame for a king-size mattress is a major decision that can affect both the quality of one's sleep and the decorative tone of a bedroom. Several factors need to be considered, including basics like material, height, and style, as well as extras such as storage space, headboards, and footboards.
Since king-size beds are large to begin with, consumers should consider the size of their bedroom and choose a frame that is to scale. Poster beds and oversized sleigh beds command attention and are beautiful centrepieces in large rooms, particularly those with traditional or colonial decor. Simpler designs like a platform bed are perfect for rooms with a more understated style or less space to spare. Buyers have several materials to choose from, including metals, hardwoods, softwoods, and upholstered frames. In general, it is advisable to take one's time and research different options thoroughly; this helps buyers find the right king-size bed frame for their needs.