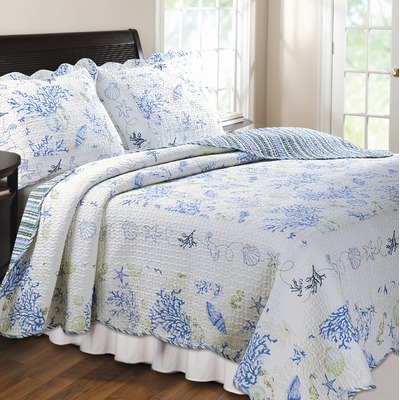 When working on the theme for a home's decor, it quickly becomes obvious that the quilt is a central element of a bedroom, and also one that can cost quite a bit of money to change. For that reason, many decorators choose to use quilt covers to transform their everyday or older quilts into a piece that really makes a room pop.
However, there are several factors to consider when buying a king size quilt cover, from the literal size of cover itself to the features that different quilt covers provide. In addition, it is important for buyers to consider where to purchase a king size quilt cover. While consumers can purchase quilts from local department stores, eBay should be on the top of the list for this type of home decor purchase since it is known for combining items of high style, low prices, and great deals.
Measuring for a King Size Quilt Cover
The first step in the process of buying a king size quilt cover is figuring out the exact measurements that buyers need. Although it seems pretty straightforward that anyone with a king-sized bed and king-sized bedding should buy a king-sized quilt cover, with the advent of the Internet and international shipping for all manner of items, knowing that one has a 'king' bed is not enough anymore.
In fact, the term 'king' can refer to a standard king bed, a super king bed, or a California king bed, each of which has slightly different measurements. Therefore, it is important to make sure to know the common dimensions of each option as well as the typical size of sheets and quilts for each. These are displayed in the table below.
| | | | | |
| --- | --- | --- | --- | --- |
| Mattress | Dimensions | Fitted Sheet | Flat Sheet | Quilt |
| | 183 cm x 203 cm | 150 cm x 200 cm | 274 cm x 264 cm | 225 cm x 220 cm |
| Super King | 180 cm x 200 cm | 200 cm x 185 cm | 305 cm x 280 cm | 260 cm x 220 cm |
| California King | 182 cm x 213 cm | 182 cm x 213 cm | 274 cm x 259 cm | 254 cm x 229 cm |
These are the sizes of each type of 'king' bed currently on the market. And, while most typical Aussie mattress sellers only sell beds up to the traditional king size, it is still important to note that there are other, larger 'king' mattresses out there and therefore quilts, quilt covers, and sheets to match. For this reason it is important for buyers to to find an exact measurement of the bed and quilt which will be using a new quilt cover before committing to a purchase. This is the easiest way to avoid the hassle of returns.
Quilt Cover Features
Once buyers are confident about the exact size of quilt cover they need for a king size quilt, there are still additional features that must be considered which are common to all bedding purchases. This includes recognising the importance of thread count as well as considering the stylistic elements that a quilt cover adds to a room and then balancing these concerns with the budget.
Quilt Cover Thread Count
Thread count is one of the most important factors to consider when buying new bedding of any kind, whether it is a quilt cover or sheet set. This is because the thread count, which refers to the literal number of threads which are found within a square inch of fabric, is a major contributor to the comfort and feel of bedding. Indeed, the finest textures or highest thread counts of cotton bedding may be mistaken for silk.
When looking for a quilt cover, knowing the details of thread count is important since it helps buyers to judge quality vs. price. Most standard cotton pieces, including clothing, are at around 100 thread count. Higher quality bedding starts around 200 thread count with pieces over 400 thread count considered to be the peak of luxury.
Quilt Cover Styles
In addition to the quality of the linen used to make a king size quilt cover, buyers should also take time to consider the different style options that quilt covers provide. In fact, buying one quality quilt with several colours is a great way to save money while adding style and function to a room. On the flip side, an older, less stylish quilt can be transformed inexpensively with the right cover. In addition to this, considering the room's decor or the season in which a quilt cover is to be used helps buyers make a choice when presented with the many products available for sale.
Considering Room Decor
The relatively low prices of quilt covers make having several covers of different colours an easy option and each quickly changes up the look and feel of a room. These covers not only protect quilts from wear, but they allow an easy way to change all bedding in a room, for example, adding to the convenience of this purchase as well. A great way to choose quilt covers according to a room's decor is to look for two or more in different accent colours or that are part of the same design family, or two options from a particular line of bed linens like Linen House.
Considering the Seasons
Another important consideration to make when looking for quilt covers is the relative warmth that they provide when added to the bulk of the quilts themselves. As the seasons change, the need for added layers changes as well. Whether covering a down quilt or a lighter one, the material that makes up the quilt cover can add warmth or help a heavy blanket seem lighter. Therefore, buyers should consider covers made of microfibre or flannel in the winter months, but lighter weight cotton in the summer.
Buying a King Size Quilt Cover on eBay
In addition to measurement needs and other considerations buyers make when purchasing a king size quilt cover, it is also nice to know that more Aussies are turning to eBay to meet home decor needs. As a global site, eBay offers buyers a wide variety of bedding options along with a way to ensure quality and good service.
Evaluating eBay Listings
If you are new to the eBay you may be nervous about the variety of sellers on the site. Unlike traditional retailers, buyers are not purchasing from eBay, yet the company makes knowing who you are buying from easy. Familiarise yourself with the detailed seller feedback provided by previous buyers. eBay also offers buyers the ability to easily ask a question of sellers and the option of shopping with local sellers who offer in-person pick up in order to ensure quality and service.
Conclusion
Buying a king size quilt cover is a great way to save money while easily changing the style of a room or adapting it from season to season. However, buying a king size quilt cover is about more than that intent. Instead, buyers need to know about the sizing of their king bed and the different types of king bed sizes available on the international market. This means taking a measuring tape to the bed and the quilt to be covered, just to be sure.
After this, remember about the benefit of shopping on eBay for any need even if it is for home decor and bedding. As a marketplace with millions of buyers and sellers worldwide, there are many options to choose from and an easy way to evaluate the ones found for fast and easy service.