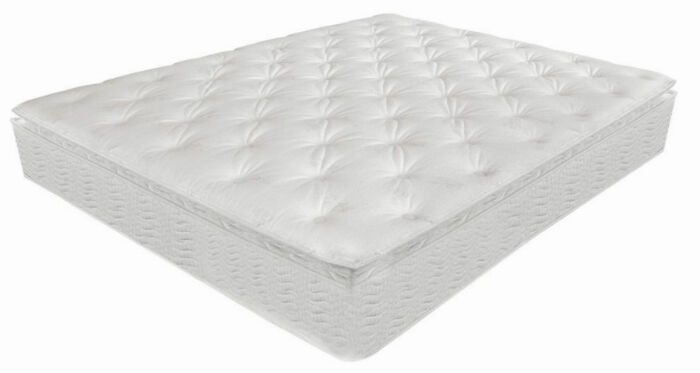 The mattress is a key part of a bed, and choosing the right one can help to ensure a comfortable bed, and a good night's sleep. Mattresses are available to suit a wide range of different needs and preferences. Different types of mattresses are available, such as more affordable spring mattresses, and memory foam mattresses. It is also possible to find mattresses that offer different levels of firmness, so to ensure comfort. Mattresses and bed frames are also available in different sizes. Among the most popular is the king sized mattress, which can comfortably fit two people. A wide range of mattresses and bedding can be found on eBay.
King-Sized Mattresses and Beds
The king sized bed is a widely popular type of bed, which can offer a number of benefits.
· King size mattresses and beds are among one of the largest sizes that are widely available. The size of a king size mattress in Australia is 183 cm x 203 cm in size, or 6'0" x 6'8".
· The king size mattress is slightly wider than the queen sized bed, which measures at 153 cm x 203cm, or 5'0" x 6'8".
· King size beds are a very popular choice among those who share a bed, as the extra width gives more room for each person to sleep, and may be more comfortable.
· A king size bed will also give plenty of space to spread out for a person who sleeps alone.
· When purchasing a king size mattress and bed, the space available should be considered. The bed will have to fit into the room comfortably, with space around for easy access. Any doors and wardrobes will also need space to be fully opened.
· If the bed frame is a type that features storage, there will also have to be room to access any drawers.
· It should be noted that some beddings, such as sheets and mattress covers, can sometimes be more expensive in king size than smaller sizes, because of the additional amount of material that is required.
Types of King-Sized Mattress
Mattresses of all sizes are available in a range of different types. The diverse variety of mattresses can offer a number of benefits, and some may find certain types more comfortable than others. Mattresses can be divided into two key categories, those with springs and those that use foam or other materials.
Spring Mattresses
Spring mattresses make use of a large number of metal springs in order to absorb the weight of the user, and provide comfort. There are a few different ways in which springs are used inside mattresses.
| | |
| --- | --- |
| Open Spring | Open spring mattresses are generally the most affordable available. The weight of the person sleeping is distributed across the springs, which can mean that the movements of one person may be felt, and disturb the other. Springs in this type of mattress will also wear out more rapidly than other types. |
| Pocket Spring | Pocket spring mattresses are generally somewhat more expensive than open spring mattresses, but are more popular and widely available. The springs in this type of mattress are each separated into a fabric pocket. Weight is absorbed by each spring individually, which lessens the chance of disturbing another with movement when asleep. Springs in this type of mattress will also often last longer. |
| Continuous | Continuous spring mattresses are also available, and have a design that is considerably different to those of other mattresses that make use of springs. A continuous spring mattress makes use of a single piece of wire, which stretches throughout the mattress. It can be more expensive than other types, but some find it more comfortable. |
Mattresses Without Springs
Some types of mattress make use of foam in order to distribute the weight of the user, and to help enhance comfort. These types of mattress have become increasingly popular, and a number of different types are widely available.
| | |
| --- | --- |
| Memory Foam | A popular type of non-spring mattress is the memory foam mattress. The foam is heated with body heat and then moulds to fit the person. Many people find this type of mattress to be a more comfortable option, though it can be more expensive than other types. Memory foam mattresses can also be more comfortable for those who share a bed. |
| Latex | Also available are mattresses that make use of latex foam. Made out of natural rubber, the latex mattress can be an ideal choice for those who suffer from allergies that may be triggered by materials present in other types of mattress. Latex mattresses quickly return to their original shape once any pressure has been removed. |
Mattress Firmness
Mattresses are available featuring a range of different levels of firmness. Different people can prefer different degrees of firmness. The firmness of a mattress is typically expressed as being firm, medium or soft.
· Particular attention should be paid to the firmness of a bed if the user or users suffers from any back problems.
· The ideal position for sleeping on a mattress is to have the back straight, and fully supported by the mattress.
· The level of firmness most suitable for a user with a back issue can depend on the condition. For some, the firmest mattresses may help, while others may need a softer mattress.
· In addition, it is generally recommended that the heavier a user is, the higher the firmness of mattress should be in order to facilitate more comfortable sleep.
How to Buy a King-Sized Mattress on eBay
A wide variety of mattresses of all sizes and types, as well as a range of other types of bedding, can be found on eBay.
· The full listing of available mattresses can be found in the Mattresses section of the Bedding category, accessible through the Home & Garden portal.
· The listings of mattresses can be narrowed down by a number of useful categories, including price, condition, size and material.
· Key information about a mattress will generally be prominently displayed in the item listing. This means it is easy to quickly identify a mattress that meets any specific requirements.
· Further information can be accessed on the item page, along with information about the seller, such as item reviews and feedback ratings. This helps to ensure that a purchase can be made with confidence.
· If a particular mattress is required, it may be more effective to make use of the search function, which can be found at the top of every page. Entering a key word into the search bar will return relevant results from across the site or from within a specified category.
· Look out for any deals that may be available on king-sized mattresses under the Bedroom category.
Conclusion
Purchasing the right mattress is important, and can greatly improve both the users comfort and their quality of sleep. Mattresses are available in a wide variety of sizes, and the king size mattress is among the most popular. This is the largest widely available size of mattress, and is ideal for couples that share a bed, as well as individuals who prefer to have space to spread out. A variety of different types are also available, which can be preferable to different individuals, and both spring and non-spring mattresses are popular. A wide range of mattresses, bed frames and bedding, can be found on eBay.