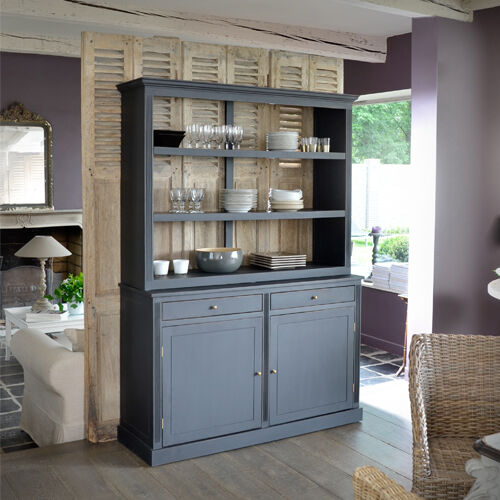 A kitchen requires many different appliances, items, and pieces of furniture in order to function, and among the most integral is the kitchen cupboard. There are a variety of different types of kitchen cupboard that are widely available, and different types of cupboards can be used to tailor a kitchen to the needs of the user. Another key aspect of the kitchen cupboard or cabinet is the material and style of the piece of furniture, and a wide array is available which can suit the decorative design of any kitchen. All kinds of kitchen cupboards, as well as other furniture, can be found on eBay.
Types of Kitchen Cupboard
There are few main different types of kitchen cupboard, which can be suited for different shapes, sizes, and layouts of kitchen. It is important to select the right type of kitchen cupboard in order to make the most effective use of space in a kitchen.
Wall Cupboard

The wall cupboard is perhaps one of the most widely used types of kitchen cupboard. This kind of cupboard is mounted in place on the wall of the kitchen, generally above the kitchen counter.

These are a convenient place to keep food and utensils, and leave floor and counter space free. However, they can be more difficult to fit, and some may find them more difficult to reach than other types of kitchen cupboard.

Floor Cupboard

The floor cupboard is another commonly used type of kitchen storage. This kind of cupboard sits on the floor. These are easier to fit, and can offer a great deal of storage space. However, they can take up a large amount of floor space, which may be needed in some smaller kitchens. Some may also find that these cupboards are not as quickly accessible as other types.

Corner Unit

A corner unit is a kind of kitchen cupboard that is designed to be situated in the corner of a room. This can help to maximise the use of space in a small kitchen. This may not be as close to the cooking area than wall cupboards, so may take longer to access while cooking. These units often include a great deal of storage space.

Tall Cupboard

The tall kitchen cupboard is very similar to the floor cupboard in construction, but is much taller and narrower. Tall cupboards can help to make more effective use of available space in smaller kitchens. They take up less floor space than floor cupboards, and can be fit into smaller spaces which other types of cupboard may be too wide for. However, they can offer less storage space than floor, wall or corner cupboards.
Kitchen Cupboard Materials
Kitchen cupboards are generally made out of a number of different types of materials, and the material of a cupboard is a key choice. Some materials may offer scratch resistance or a longer useful life, and it can also be useful to match the materials of a kitchen cupboard to the decorative style of a kitchen, in order to create a continuous design.
Wood
Wood is among the most common and popular materials used in kitchen cupboards, as well as in a wide variety of furniture for the kitchen and other rooms.
· A wide range of different types of wood is available in kitchen cupboards, including maple, oak, and pine.
· Solid wood cupboards last for a very long time, and are often very strong. However, they can be more expensive than other types of cupboard.
· The quality and type of wood in a wooden cupboard is a key consideration to make when purchasing a wooden kitchen cupboard.
Wood Veneer
An alternative to solid wood is wood veneer.
· Placing a thin strip of wood over a cheaper base, often made out of MDF or similar materials, makes wood veneer.
· Wood veneer can offer a similar appearance to real wood, but at a considerably reduced price.
· Wood veneer may not last as long as solid wood, and the veneer can blister or begin to peel away from the board.
· This can be fixed, and the veneer itself, though the cupboard will wear over time more quickly than other materials.
Metal
A particularly popular choice for cupboards in more modern and contemporary styles of kitchen, is metal.
· Metal cupboards are most commonly made out of stainless steel or aluminium. It is made of a hard and light metal, which is resistant to rust and corrosion, making it suited to the environment of a kitchen.
· These units can be more expensive than other materials, though will often last for a great deal of time, and are also available in a wide range of styles.
· If a metal cupboard is used, it should be closely examined for signs of rust, corrosion or fatigue.
Synthetic Materials
In addition, some synthetic materials are also available which can offer a number of useful benefits.
· A popular synthetic material is melamine, which is a type of treated wood and veneer. Melamine is widely used in kitchen cabinets, and is affordable and highly resistant to scratches. It is also resistant to moisture and chemical damage.
· However, if moisture does penetrate into a melamine kitchen cupboard it can be very difficult to fix. Melamine can also be heavier, and wall cabinets will need additional support.
Another popular type of synthetic material is thermofoil.
· Thermofoil cupboards are among the most affordable types available.
· They are also easy to clean, and available in a wide array of colours and styles.
· However, thermofoil cabinets can be prone to blistering and peeling, and may require additional maintenance.
How to Buy a Kitchen Cupboard on eBay
A wide range of kitchen cupboards can be found on eBay, featuring a wide variety of different materials, styles and features.
· The full listing of available kitchen cupboards can be found under the Kitchen Furniture section of the Furniture category, which can be accessed through the Home & Garden portal.
· It is possible to narrow down the available listings by categories such as product type, item condition, and price.
· Important information about a kitchen cupboard or cabinet will generally be prominently displayed in the item listing, which makes it easy to quickly see if an item meets any specific requirements.
· More detailed information can be accessed on the item page. This includes information about the seller, such as item reviews and feedback ratings, which can help to ensure that a purchase can be made with confidence.
· If a particular cupboard, cabinet or accessory is required, it may be easier and more effective to make use of the search function, which can be found at the top of every page. Searches can be made to return results from across the site, or from within a specified category.
· Don't forget to look out for any deals on kitchen cupboards, which may be available in the Furniture category.
Conclusion
The kitchen cupboard is an essential piece of kitchen furniture, and many kitchens will make use of a number for the storage of food, cook wear, and other items. Kitchen cupboards are available in a variety of different types and styles, which can help to make the most of the available space in a kitchen. Wall cupboards, for example, can safe floor space, while corner units can be easily placed into a corner, which may otherwise not be as effectively used, while a range of materials are also available. A wide range of kitchen cupboards can be found on eBay.