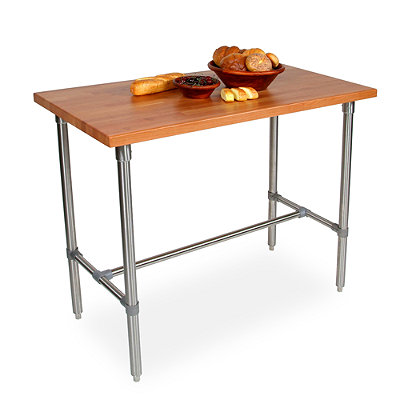 For those who like to sit down for a nice family meal, set dinner parties for friends, or surprise a partner with romantic meals, a kitchen table is going to be needed. To guarantee something that provides comfort, is functional, and is pleasing to the eye, there are a number of factors to think about and a number of kitchen tables to be seen.
Fortunately, eBay offers a huge range of kitchen tables to fit a number of occasions, from small family dinners, to big hosting parties. There are a wide variety of materials, shapes, and sizes available. This guide will advise buyers on what to look for in a kitchen table and how they can purchase one on eBay.
Features of a Kitchen Table
There are a number of features of a kitchen table that factor into the design. One important feature to consider is material. Below is a list of kitchen table materials and some information about how they contribute to the design of a kitchen table:
| | |
| --- | --- |
| Material | Specifications |
| Wood | Wood is a common material used for the design of kitchen tables. Although there are different types of wood with different specifications, generally, wood is a durable material that comes in an array of colours. |
| Glass | Although glass often looks attractive, and is easily cleaned, it is a fragile material, so consider the function of the kitchen table. |
| Metal | Metals such as chrome and brushed steel have been introduced into kitchen furniture. They have a glamorous look and are easy to clean. |
| Plastic | Plastic tables are available in modern designs and are a practice choice for people with children. They are easy to clean and difficult to break. |
Another important feature to consider is the shape of a kitchen table. Kitchen tables come in many different shapes and sizes. Below is a list of examples of kitchen table shapes, along with some information about how they affect a dining experience:
| | |
| --- | --- |
| Shape | Characteristics |
| Square | Square kitchen tables are good for a small number of people. They are good for intimacy between couples and come in sizes to fit small kitchens. |
| Round | Round kitchen tables are good for kitchens that allow enough room for people to be seated around the full circumference of the table. They are great for squeezing in a large family and come in many sizes. |
| Rectangular | Rectangular kitchen tables usually come in bigger sizes to fit larger kitchens. They are great for seating big families and throwing dinner parties. |
| Oval | Oval kitchen tables act as nice centerpieces, and allow for extra room around the ends of a table. They are suitable for reasonably sized and large kitchens. |
Some kitchen tables offer features that are more detailed, and cater to requirements of a more specific nature. For example, some kitchen tables offer different levels of surface, providing storage space underneath. Other kitchen tables are foldable. This allows people to fold down half of the table against a wall to save space, available to be folded out when required to seat more people. Some tables even fold all the way down, and have legs that can be taken out when necessary.
Things to Consider When Buying a Kitchen Table
When buying a kitchen table that adheres to all of a buyer's requirements, a number of considerations must be made. For example, buying a huge square table will be useless in a small, rectangular kitchen. Therefore, this section of the guide will inform buyers about important considerations and, how those considerations may affect the buying of a suitable kitchen table.
· The first thing to be considered is décor. Think about what furniture already exists in the kitchen. Think about what material and colour it is. A metal table may be suited to a modern style kitchen that has metal electronics, such as a kettle and coffee machine, whereas a fold down table would be suitable for a smaller kitchen that only occupies a number of guests on occasions.
· The second thing to consider is size. Size being one of the main considerations regarding practicality. Take measurements of the kitchen and make note of the measurements of a kitchen table of interest. Consider having room around the outside of the table for chairs, and room around the outside of the chairs for movement.
· The third thing to consider is function. Kitchen tables are not always solely used for eating, whether that is breakfast, lunch, dinner, or supper. Kitchen tables are often used for simply sitting and relaxing, which would require extra comfort, and children's homework or arts and crafts, in which case, consideration around pen marks and colour stains should be made.
Kitchen Table Accessories
Kitchen tables are compatible with a number of extras. eBay offers a wide selection of accessories for kitchen tables. Some of which are as follows:
· Chairs: What is a kitchen table without chairs? eBay offers sets of chairs for kitchen tables that are being sold as individual products.
· Cushions: Get comfortable with a range of cushions and covers that can be easily attached to the chairs.
· Table Cloths: Transform the look of a table with a summery floral tablecloth, impress guests with an elegant patterned cloth, or please the children with a fun and vibrant variant.
· Placemats: To reduce the possibility of markings, and the loud noise of a plate banging against the tabletop, use handy placemats. They come in an array of colours and designs.
· Coasters: Coasters are used to avoid those annoying round circles that are created by the bottom of cups and glasses.
Buying Kitchen Tables on eBay
There are additional considerations that need to be made when buying a kitchen table on eBay. As well as informing buyers how to find kitchen tables, this section will cover those considerations.
· eBay makes buying the most suitable kitchen table easy. With its simple and clear search filters, whittling the way down to the most suitable table is quick and convenient. Firstly, select Home & Garden. Go on to select Furniture and then Tables. Utilise the range of other filters offered outside of the item categories. For example, condition, price, including maximum willing to pay, and location, including the option to search for items locally.
· On finding a kitchen table of interest, check out the seller. It is important to ensure that sellers are reliable. Feedback is a good way of determining this. Have a look to see if a seller has any negative feedback from users who have also purchased kitchen tables.
· Once confident with both a kitchen table and its seller, use PayPal to pay for the table. PayPal is a safe and secure way to make a financial transaction.
· Don't forget to check out the eBay Deals page for special offers and additional discounts. Simply select Home & Lifestyle and then Furniture to explore a range of related items.
Conclusion
When buying the most suitable kitchen table, take time to consider practicality as well as appearance. Consider what and who is going to use the table. Be sure to take correct measurements to cater for the size of the kitchen table.
With eBay's huge range, there is no doubt that buyers will be able to find exactly what they're looking for. Utilise eBay's offer of kitchen table accessories, at affordable prices to maximize one's dining experience.
Be confident with an item and a seller before committing to the purchase of a kitchen table; once committed, use PayPal for a swift and safe payment. Once the perfect kitchen table has been received, leave honest feedback that reflects both the item and transaction.