Krugerrands - The World's First and Most Successful One Ounce Gold Bullion Coin
Kruger Fact File
Everything you need to know about krugerrands.
One Ounce of Gold
In 1967, the South African Chamber of Mines had an inspired idea to help market South African gold. It was to issue a one ounce bullion coin, to be sold at a very low premium over the intrinsic gold value.
Please spare two seconds to click the YES link at the end of this page if you find our guide interesting, useful, or informative. It make all our effort feel worthwhile, thanks.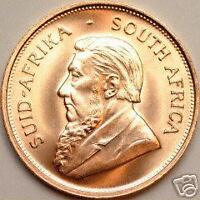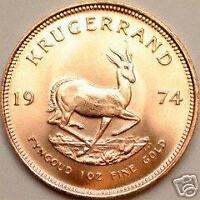 Back in 1967
Krugerrands were first minted and issued in 1967, and have been produced every year since. They have legal tender status in South Africa, which allowed them to be imported into many, but not all, countries without import taxes, duty or VAT.
The Krugerrand Family
Originally only one size was issued, which contained one full troy ounce (31.1035 grams) of fine gold. This was originally known as a krugerrand, or kruger, for short. From 1980, three other sizes were introduced, namely a half, quarter, and tenth ounce size. Because of these, the original krugerrand is sometimes referred to as a "full" or "one ounce" kruger or krugerrand, although within the trade, the word kruger or krugerrand is understood to be the full sized original one ounce version.
British Investors Missed Out
At the time of the kruger's introduction, it was not legally possible for British residents to acquire bullion gold coins, so that the krugerrand was almost unknown in Britain until 1971.
Low Premium Over Gold Content
According to the publicity at the time, the kruger was to be made available to world bullion dealers at a 3% premium over the current gold fix, so that after distribution costs, the coins would be available to investors in quantity at about 4% to 5% over intrinsic gold values, and possibly 10% premium for single pieces.
Higher Premium on Smaller Sizes
The fractional sizes were issued at higher premiums to bullion dealers of 5%, 7%, and 9% respectively. The fractional coins have never been as popular as the full one ounce coins, usually only being purchased as singles, so that in practice, it would usually cost 10% to 15% premium for the half and quarter ounce, and from 20% to 50% premium for the tenth ounce, most of which seem to have been used in jewellery. Most bullion houses do not want the bother of handling small quantities of low value coins.
As an example of this, in the 1970's we, as a small provincial dealer, would frequently handle 500 krugerrands in a single day, but a purchase of 100 tenth krugerrands was a major event, yet it was only 1/50th the size of deal!
Not a Pretty Sight
Krugers were never intended to be an aesthetically pleasing coin, just a lump of gold with a known weight and value. They certainly cannot be called pretty.
Collectors seeking aesthetically attractive coins would be better looking at British gold sovereigns, or some of the newer bullion coins.
VAT Introduced in 1973
In Britain VAT was imposed on all coins, except antiques.
In January 1995, this was relaxed on almost all second-hand goods, including gold coins. This means that existing privately owned coins can be traded by dealers under a "special scheme" whereby the only VAT chargeable is on the dealer's margin, which is negligible. Because VAT was still payable on any "new" coins, it remained more difficult and expensive to buy and sell large quantities of bullion coins.
All "Investment Gold", including krugerrands, were made exempt from VAT not only in the UK, but also in the entire EU, from 1st January 2000.
Technical Specifications
We have not included the full specification table, as shown on our website, as eBay's system will not allow us to format it as a table.
Prices
Gold bullion prices fluctuate constantly. A number of websites show live or spot gold prices,. Our own "Tax Free Gold" website shows gold prices in 12 different currencies.
Expect to be able to buy a single krugerrand for about 7% premium over gold, and perhaps 4 to 5% premium for quantity, over the intrinsic bullion price.
Was This Guide Useful?
If you found this guide interesting, informative or useful, please spare few seconds of your time to vote for it by clicking on the "Yes" button below, thanks.

Other Guides
You may be interested in viewing our other guides:-
London Gold Fixing Price

Gold Bullion Bars For Investment

How to Photograph Coins - Advice, hints, tips & more...
1780 Maria Theresa Silver Thaler Restrike Trade Coin

Buffalo - 9999 Fine Gold US Bullion Coin - 24 Karat Au

Pink Diamonds - One of Nature's Rarest Gemstones
Gold Sovereigns - History Information & Specifications
Mints & Mintmarks on Gold Sovereigns - All Seven Mints
Sniping - Is it Good Strategy for Winning Auctions?
£2 Two Pound Coins Queen with Necklace Rumour & Facts
Winning Auctions - Or Spending Money?
CGT Capital Gains Tax Exemption on Gold Sovereigns Britannias UK Coins
Definition of Investment - VAT Exempt (Tax Free) in UK & EU
Spellings - Is Good Spelling Important - A Few Howlers
Second Chance Offers on eBay - Should You Use Them?
Gold Coins Which Are Not Gold - Including German & € Euros
Postage Packing Shipping Insurance Charges - Fair or Excessive?
The Difference Between Proof and Uncirculated Coins
About the Author
Lawrence Chard is a director of Chard Coins of Blackpool, England, and has over 42 years experience in numismatic and bullion coins.
Chard have maintained a dealing service for both collectors and investors in bullion and numismatic coins. During the period from 1965 to 1971, we were one of only a small number of dealers who were granted a dealers licence.
Copyright
All our images and text are copyright.