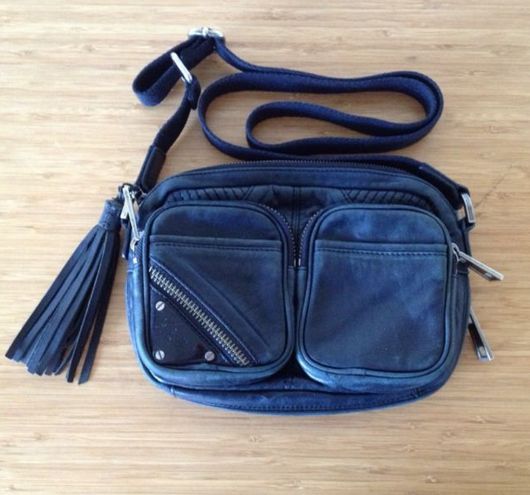 L.A.M.B. handbags are some of the most popular on the contemporary handbag market. They are fashionable and fun, but highly functional at the same time. These luxury bags are playfully sophisticated and suitable for any woman to carry in a variety of different circumstances. A shopper who is in the market for a bag created under the L.A.M.B. label may want to familiarise herself with the unique style of the brand, consider which type of bag is most suitable for her needs, and then consider where to find the bag at the best possible price.
The Unique Style of a L.A.M.B. Bag
Gwen Stefani, the popular musician, created the L.A.M.B. brand, which takes its name from an acronym from the words "Love Angel Music Baby". The label started out creating luxury handbags tailored to represent Gwen's own personal, unique style. Presently, L.A.M.B. produces a number of different designer items each year including clothing, shoes, and even fragrances. Even while offering all of these other products to the public, the line of bags it originally began designing in 2003 are still one of the brand's most recognisable items.
These bags are unique on the market and have a look that brings together the old and the new with hints of feminine features alongside some traditionally masculine ones. Created by Gwen Stefani, herself, they mirror her personal style, a look that is reminiscent of classic Hollywood but thoroughly modern and even futuristic at the same time. Styled with rich colours and crafted from quality leather and other luxury fabrics and materials, the bags make a statement that last season after season. Being a luxury brand, the price point for these is quite steep, although it is possible to find the occasional bargains.
Types of L.A.M.B. Bags
Items that the L.A.M.B. brand produces are not only fashionable and luxurious, they are also very functional. The idea behind the creation of these L.A.M.B. bags is that they are very useful for the consumer with plenty of space for everyday items and features that women desire. They are not just great bags that make a women look good while carrying them; they actually make her day easier. Large openings and deep pockets make regular use of the bags a breeze.
Many types of handbags serve a number of different purposes in the lives of modern women. Depending on her daily routine, a woman may need a large bag that can fit all of the items her day requires or she may need a simple clutch that she can carry on its own or slip into a larger tote. L.A.M.B. bags cover many of these varying needs and are available in many of the following popular styles.
Bag Type

Basic Description

A roomy, open-top bag with a strap on each side

A small, handheld bag with no handle or straps

A bag with straps that are long enough to be worn over the shoulder

Cross-body or messenger

A bag with a single strap that is long enough to cross the body

The bag rests at the front at waist height

Sling

A design with a long strap that positions the bag on the back
The larger, more elaborately designed bags tend to be more expensive than the smaller options. A woman who is shopping for one of these quality, luxury items is wise to determine how she wants to use the bag before purchasing it. If she wants to use the bag on a daily basis, she should choose a style and design that matches her daily needs.
Hunting for a L.A.M.B. Bag Bargain
Regardless of her present circumstances, a woman wants to look great and feel fashionable at all times. It can be a challenge to do that on a budget, but any woman can do it. Many consumers shop for luxury handbags in boutiques, department stores, or online. The most current styles are generally readily available at such locations. These are great places to browse and begin the search for the right bag, but most women find that they overspend their budget when shopping. For the fashionista on a budget, it is better to use her shopping opportunities to help determine the look and style in which she is interested, and then seek out bargains elsewhere.
It can be difficult to locate the right items at discount prices when only shopping brick and mortar shops. eBay's online marketplace typically has a wide selection to choose from and the prices are much more reasonable. It is also one of the better ways to locate a previously owned luxury handbag, which is often available at a fraction of the cost of buying it new. Because of the quality materials and construction of these bags, most pre-owned bags are still in exceptionally good condition and are very affordable, allowing the budget-conscious woman to be fashionably wise.
How to Buy a L.A.M.B. Bag on eBay
Find the L.A.M.B. bag you are shopping for on eBay by using the site's search engine and specific keywords. For instance, if you are shopping for a L.A.M.B. shoulder bag, enter the keywords " L.A.M.B. shoulder bag " into the search field on any page. From there, it may be possible to narrow the search by choosing between other available options until you locate just the right one. Also, keep an eye on eBay Deals to find even more bargains. Be sure to pay special attention to items offered by eBay top sellers. These are sellers who have sound reputations, so it is easy to buy from them with confidence.