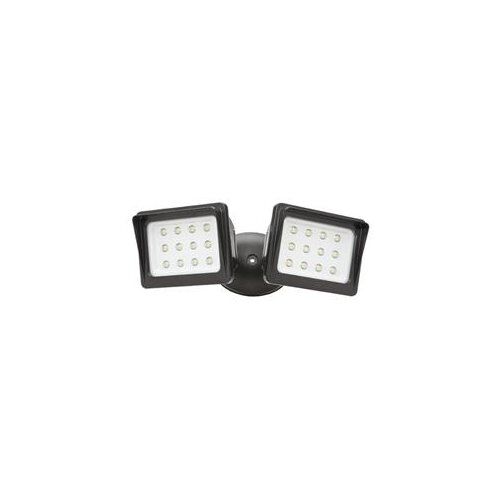 LED flood lights provide the broad illumination a driver needs when off-roading in rough terrain in the light of a thin moon, making caravan connections after dark, illuminating a campsite, and otherwise enjoying the outdoors at and after dusk. They are becoming increasingly popular, although they have not fully supplanted the High Intensity Discharge, or HID, light.
Flood lights are available individually in round, square, and oval shapes; as sets; and as light bars which may also include spotlights or other auxiliary lighting. The owner of a truck, boat, or ATV can look for the LED flood lights that best fit their vehicle by searching eBay's daily deals on automotive and boats or going to the main search location on eBay to locate flood lights with the desired characteristics.
Types of Auxiliary Lighting
When people refer to flood lights, they sometimes, but not always, are referring to one specific kind of vehicle lighting. The most narrow definitions differentiate flood lights from other kinds of auxiliary lighting for vehicles according to the table below. In practice, many of these types are described as flood lights.
| | |
| --- | --- |
| Lighting Type | Uses and Characteristics |
| Flood Light | Light the area behind the vehicle; white lens; useful for illuminating work areas at dusk or night |
| Spot Light | Brightest light; usually round; lights large areas; often removable from swivel mount |
| Driving Light | White lens; long beam; good for long-distance view down the road while driving |
| Fog Light | Yellow lens; diffuse beam penetrates fog or mist |
In particular, flood lights and spot lights are likely to be described similarly by many people. They are sometimes combined in a roof bar that has flood lights at both ends and spot lights in the centre section.
How LED Lights are Different from HID
Many flood lights in the market are LED lights, whereas only a few years ago the High Intensity Discharge, or HID, light completely dominated the flood light arena. The transition in the market has had to do in large part with improvements in LED lights and dramatic drops in their prices. The table below compares some characteristics of LED lighting with the HID lights that have been more common.
| | | |
| --- | --- | --- |
| Characteristic | LED Lights | HID Lights |
| Technology | Semiconductor | Xenon gas |
| Life Expectancy | 25,000-100,000 hrs. | 2,000 hrs. |
| Brightness | 1,000 - 9,000 lumens, depending on size of array | 3,200 lumens |
| Distance Illumination | Best for close and mid-range illumination | Best for long distance illumination |
LED lighting uses less power than HID floodlights so a vehicle's battery power lasts longer. The better distance illumination makes HID lights preferable for high speed racing while the other characteristics of LED floodlights are making them desirable for many other purposes.
Different Kinds of LED Flood Lights
LED flood lights on the market vary by shape, brightness and energy draw. In addition, some LED flood lights are produced in combination configurations with other kinds of auxiliary lights.
Shapes
LED bulbs make its easy for manufacturers to design lighting in virtually any configuration. As a result, LED flood lights are available in round, oval, and square shapes, as well as light bars. Small light bars are as short as 7 inches while long models extend 42 inches, or most of the way across a vehicle roof. Portable LED flood lights are useful for camping and boating as well as for emergency work.
Round, oval, and square flood lights are often offered in sets of two to four units, allowing them to be mounted in pairs or rows.
By Energy Use and Brightness
The brightness of LED flood lights is a function in part of the number of LED cells in the array and to the amount of electricity that power them.
Depending on the size of a flood light and number of cells, it may draw as little as 10 watts or as many as 240 watts. The higher wattage flood lights also provide more lumens of illumination. It is important to remember that LED lights provide considerably more light per watt than traditional incandescent bulbs so check the lumen rating to understand how much light to expect from a particular LED flood light.
Many vendors and manufacturers distinguish between the "theoretical lumens output" and the "operating lumens output" where the operating lumens output is a lower number. The lower number is the number that should be considered when comparing different lights.
For LED flood lights powered by a vehicle battery, it is also important to check how many volts of direct current are drawn. This also affects the light's impact on battery life.
Components of LED Flood Lights
In addition to the LED bulb or bulbs themselves, LED flood lights include a number of components that are common to vehicular lighting. Buyers should be sure to select the appropriate mounts and desired kinds of housing and lens cover for their purposes.
Flood Light Mounts
Flood lights are typically mounted to the top of a truck or ATV. Available mount designs include weld-on tabs for trucks, tabs mounted by drilling into the vehicle, and cradles for ATVs. These may be made of stainless steel, aluminium alloys, and similar materials. Some include rubber pads to protect the vehicle paint. Many are designed to allow the light to be tilted or turned at various angles up to 90 degrees as needed. Locking kits for security may be separately purchased in some cases.
Lens Covers
LED flood lights may be purchased with any of a number of kinds of lens cover. The most common are glass or different kinds of optically clear plastic. Lens covers are most often clear or white when used for flood lighting but may also be selected in such shades as amber, blue, red, or black.
Glass lenses are least likely to cloud or otherwise lose their optical clarity over time. Polycarbonate plastics are also highly resistant to yellowing and clouding. Acrylic lenses may become dull, especially when used in environments where they may be exposed to heat and abrasion.
Flood Light Housing
Flood lights for vehicular use are typically housed in die-cast aluminium or aluminium with powder coating. These housings are weather- and corrosion-resistant. They are lightweight, allowing them to be installed on vehicle roofs without adding excessive weight.
Buying LED Flood Lights on eBay
When shopping on eBay for LED flood lights, so many options are likely to appear that the buyer may wish to further refine the search. If the lights are for a particular make of vehicle, try adding the vehicle make to the search, as in "LED flood lights Daihatsu". This search may still generate excessive listings including fog lights and headlights but it will be much narrower and more to the point. Sellers are located throughout the Pac Rim and the United States so a Buyer may wish to Sort according to Price Plus P+P or even check the anticipated delivery date if the product is needed for a specific event.
Conclusion
LED flood lights are energy efficient alternatives to the more traditional HID beams. They offer a similar cool light but last many times longer. Users find that the LED beam is better in the close- to mid-range, while the HID beam retains advantages at long-distances, but also recognize that LEDs are continuing to advance. LED flood lights are made with long-lasting lenses, housings, and mounts, designed to endure under the tough conditions where they are used. They may be purchased as individual lights, sets, or light bars. Light bars sometimes include other auxiliary lighting as well, such as spotlights, creating a useful multipurpose package.
It is easy to find LED flood lights for all kinds of outdoor work and play on eBay, where sellers from all around the Pac Rim and the United States offer this product at competitive prices.
LED truck light|LED flood light|Truck Light|Light Bar|LED Work Light