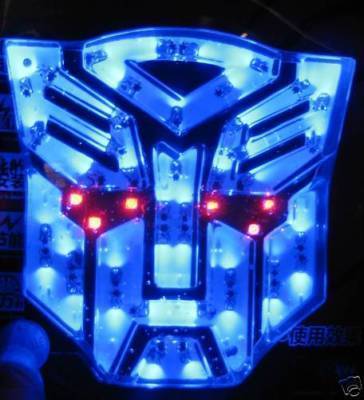 Motorcycle owners often put a lot of work into their vehicles to make them custom fits for their personalities. One choice that makes an impression and gives a motorcycle a unique touch of style is an LED light-up motorcycle emblem. These accessories serve as decorative elements and often supplement or replace the existing functionality of safety lights on a motorcycle. For those in the market for an LED light-up motorcycle emblem, learning about the types of emblems available and how they integrate with a bike is important. Consumers may also wish to explore their retail options beyond traditional brick-and-mortar vendors by looking into the purchasing process on an online retail site such as eBay, which sometimes offers special deals on motorcycle accessories.
Types of LED Light-Up Motorcycle Emblems
LED light-up motorcycle emblems come in an array of designs that allow them to adhere or affix to different sections of a motorcycle. Consumers choose stick-on or integrated versions mostly based on their personal preferences.
Stick-on LED Motorcycle Emblems
Stick-on LED motorcycle emblems stick directly to a bike's surface using a strong adhesive. Although strong, these adhesive surfaces do not typically damage a motorbike's paint job or finish. Many motorcyclists like to use stick-on emblems on the side bodies of motorcycles or on the rear tyre covers. Some stick-on emblems have designs that adjust to heat, allowing the motorcycle owner to mould the emblem to the contours of the bike.
Integrated LED Motorcycle Emblems
A second variety of LED motorcycle emblem integrates directly into a bike, typically replacing or integrating with a light component on the vehicle. These options require basic wiring and come with wiring leads so motorcycle owners can attach them directly to an existing electrical setup. Integrated LED motorcycle emblems specifically match certain makes and models to ensure the best fit.
Tank Emblems
The most popular motorcycle emblem is the tank emblem or tank badge. A tank emblem typically adheres with double-sided tape onto the outside centre of the tank. Tank emblems are often brand-specific and bear the logos of particular motorcycle companies. Consumers often switch out existing tank badges for LED emblems to add some flash to the design. These options often include screw assemblies and may involve removing the tank cover for installation.
Designs Used in LED Motorcycle Emblems
Motorcycle emblems feature a variety of design schemes that appeal to different consumers, from the vintage lover to the brand enthusiast. Understanding the options that are available gives consumers a way to zero in on appropriate choices for their bikes and lifestyles.
Brand-Specific LED Motorcycle Emblems
Brand-specific LED motorcycle emblems are popular options that promote a motorcycle owner's loyalty to a particular brand. These options typically feature the brand logo outlined in LED lights or backlit by LEDs. Motorcycle owners often choose the brands of their particular bikes or the brands of any accessories or aftermarket components they have on their motorcycles.
Genre LED Motorcycle Emblems
Another popular design category involves genre motorcycle emblems. These designs incorporate elements from pop culture, movies, and animation. One often seen example is the Transformers LED , which bears the symbol of either the Decepticons or the Autobots from the well-known animated series and movie series.
Vintage LED Motorcycle Emblems
Many motorcycle owners love the world of vintage motorcycle memorabilia, and they collect badges and emblems from historical brands and models. These emblems feature the vintage artwork of a particular classic brand, such as BSA or Triumph. These emblems serve as great additions on restored motorbikes and bikes with retro styling.
Materials Used in LED Light-Up Motorcycle Emblems
Motorcycle emblem manufacturers use a variety of materials in LED light-up motorcycle emblems in addition to the electrical components that drive the LED display elements. The following table lists some of the most common materials along with their descriptions.
Material

Description

Plastic cast from a mould

Can create detailed forms

Lightweight

Same metal used in many motorcycle fixtures

High sheen finish

Brushed Chrome Metal

Used in many motorcycle fixtures

Matte finish

Chrome-Plated Plastic

Plastic mould cast in chrome finish

Mimics look of metal without the weight or cost
Consumers looking for emblems for their bikes should consider the existing design components of a motorcycle. A heavier, chrome-styled motorcycle, such as a Harley Davidson, might work best with chrome metal and chrome-plated emblems, while a sportier bike, such as a Yamaha R6, might work with a moulded plastic emblem. Consumers should also consider the colour scheme used in the light display of an LED emblem and how it integrates with the overall designs of their motorcycles.
Accessory LED Options for a Motorcycle
In addition to LED emblems, motorcycle owners often integrate other LED components into their bikes to create a very bold look across the bodies of the motorcycles. An LED license plate frame , for example, can complement a set of LED tail light emblems, encircling the plate with a colourful row of lights. Other options include LED light pods, which motorcycle owners incorporate into the overall lighting and signalling systems of their bikes to add colour and flair.
How to Buy LED Light-up Motorcycle Emblems on eBay
Consumers in search of LED light-up motorcycle emblems can find a variety of options on eBay. To begin searching for these products, run a search with a keyword term related to the type of motorcycle emblem you wish to purchase. Using a general term like 'LED emblem' pulls up all the listings on the site related to that term and gives you a broad look at the emblems available. Clicking on the title of any product that looks appealing takes you to the listing's description page, where you can review the specifics in detail. With its user-friendly interface and array of products, eBay can help you quickly find the right LED light-up motorcycle emblem for your motorcycle.