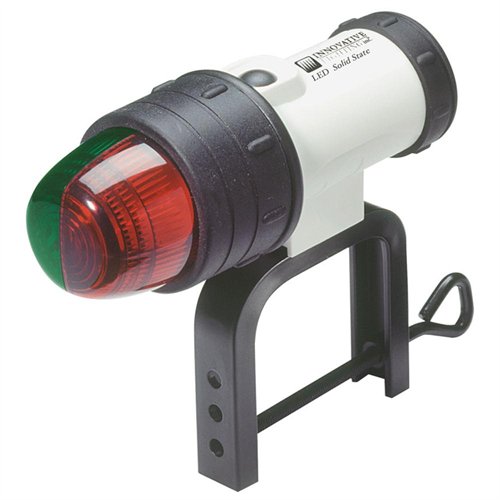 There are many reasons why a person may decide to purchase a boat. A boat can be a relaxing way to enjoy nature, a necessary means for fishing, or even a primary mode of transportation. But along with the fun of owning a boat, comes the responsibility of making sure that the boat is safe for any passengers and for other vessels it may encounter. When a boat goes out at night, it should be equipped with the proper lighting, including a stern light. Because they are so common, stern lights are widely available from specialty boat parts retailers as well as online from eBay. Once a boat owner has a good understanding of the types of stern lights that are on the market, including LED stern lights, purchasing one is only a matter of making an easy choice.
Purpose of a Stern Light
When shopping for a stern light, it is helpful to understand the important role that this light plays in keeping boaters safe. Any boat that operates after dark, or even in the rain or fog, must be properly equipped with lights. The stern light, which must be situated on the back of a boat, alerts other vessels to a boat's presence. Any boat that is approaching it from behind can, therefore, know that there is another boat in its path and change course accordingly, keeping passengers on both vessels safe. Stern lights and other navigational lights may be necessary, even for boats that are not travelling after dark in the instance that they are still anchored in the path of another vessel and must be visible.
Stern Light Requirements
Because of boating regulations, a stern light cannot be any style of light. Stern lights must be white in colour. Stern lights must also cast an arc of 135 degrees of light behind a boat. In the case of a motorboat, where the motor is also affixed to the stern of the boat, it may be necessary to attach the light higher so that the motor does not interfere with the light's visibility. These requirements, which may vary from state to state and country to country, are important to keep in mind because they mean that having a proper stern light is not as simple as affixing a bulb to the back of a boat.
Other Navigational Boat Lights
When shopping for stern lights, it is important not to neglect the other navigation lights that are necessary to keep a boat safe in the dark or in other low visibility conditions. For instance, both the port and starboard side of any boat must have proper lighting. The port side light must be red, while the starboard side light must be green. This distinction allows other boats to know which way the boat is facing as well as which direction it is travelling. Sometimes, all lighting fixtures can be replaced at once for a lower cost, meaning it makes sense to purchase both of these sidelights and a stern light at the same time. The boat's masthead light, which must also be white, is also an essential part of any boating light system and should be in proper working order at all times.
LED Stern Lights vs. Incandescent Lights
Although stern lights must be white, there are no requirements concerning the electrical makeup of a boat's navigational lights. While LED lights are increasing in popularity, many boaters still use traditional incandescent lights. The following table describes some of the main differences between the two.
Type of Stern Light

Pros

Cons

LED stern light

Much longer lasting than incandescent

May require rewiring on older boats

Incandescent stern light

More affordable

Already compatible with older boats

Bulbs burn out much more quickly
When shopping for LED stern lights, it is a good idea to keep the advantages of that type of light in mind. Although incandescent lights may seem like a better deal initially, overall, they may end up costing more.
Reliable Stern Light Brands
Shopping for any boat parts and accessories means comparing many different brands. The brand that any boater chooses is largely dependent on his or her personal preference and experience. However, there are a few boat accessory companies that tend to have good reputations among boating enthusiasts, including Hella Marine and Perko.
Hella Marine
Hella Marine specialises in marine lighting and has done so since 1925. Currently headquartered in Auckland, New Zealand, Hella Marine offers not only stern lights and navigation lights, but also interior lights, flood lights, and even boat trailer lighting. The brand is highly trusted by many boaters and is worth considering when purchasing stern lights. Because of the Hella Marine reputation, it may be possible to find navigational lights at a lower cost, but those generic lights may not be as reliable.
Perko
Perko, which has also made marine lighting since the early 1900s, is based in the United States. Perko offers a complete range of navigational lighting, including both incandescent and LED stern lights. Unlike Hella Marine, Perko also makes hardware for a variety of industries that are not marine-related, such as telecommunications and construction. Both Hella Marine and Perko lights are trusted boat accessories and are likely to be encountered during any shopping for a stern light.
Used Stern Lights
Because boats can be subjected to the elements on a regular basis, they require regular maintenance and frequently need replacement parts. With this being the case, there can certainly be a desire on the part of boat owners to find deals on boat parts. One way to do this is to consider used boat parts, including used stern lights. While they may not be as aesthetically pleasing, used stern lights can be a more affordable option and, in many cases, are quite reliable.
How to Buy LED Stern Lights on eBay
Finding the right stern light to meet your boating needs is easy on eBay. Be sure to utilise the search box, which can be found on every page of the site. Entering general search terms, like "boat lighting", returns many results. You can then use the eBay filtering process to narrow those results down and find the right one. If you prefer to select from a narrower pool initially, use more specific terms, like "LED stern light", in your search.
Before purchasing the stern light, make sure the seller has answered any questions you may have. This can be done with a very clear item description or with personal communication. For any questions not answered by the item description, use the eBay interface to send a message to the seller. Conscientious eBay sellers are happy to respond quickly so that you can complete your purchase easily and with no trepidation.
Conclusion
Depending on the area in which one lives, boating may be a luxurious indulgence, or it may be a way of life. But no matter if the boat in question is a large yacht or a small skiff, navigating a boat at night requires special skills as well as the right boat accessories. Equipping a boat with the proper stern light is not only a smart idea, it is legally required in most areas. A stern light helps the boater to see what is behind him or her but also helps other vessels to see the boat and, thereby, avoid dangerous collisions. Armed with the right knowledge about the purpose of a stern light as well as the different types that are available for sale, purchasing and installing an LED stern light should be quite easy and make a huge difference in the safety of the captain and any passengers on the vessel that is being equipped.
stern light|LED stern light|navigation light|boat light|LED light