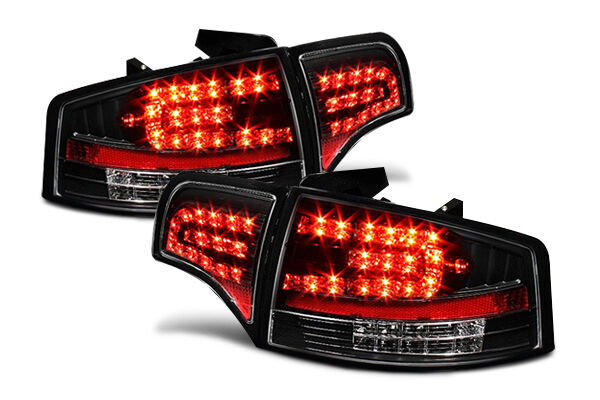 Tail lights were first used on vehicles in the 1920s as a way to make vehicles identifiable on the roads at night. The first tail lights were little more than a kerosene lantern with a red lens that the driver had to physically light. This was basically a running light that only marked the position of the vehicle and nothing more. In the 1930s, the first electrically controlled tail lights began appearing on vehicles that were connected to the brake pedal. These lights acted as running lights as well as a signal to other drivers when the vehicle was stopping.
Signal lamps are now an important safety item that helps drivers communicate their intentions to other drivers. New types of tail lights using LED technology are becoming increasingly popular. A driver looking to upgrade a vehicle's tail lights to LED tail lights can find them at auto supply stores. However, one can save a great deal of time and money using the tools on eBay to find and purchase LED tail lights to upgrade a vehicle.
About LED Technology
A light emitting diode is a very efficient light source that uses electrons and protons to create a semiconductor light source. The protons that make up the energy to power the LED have different colours depending on the energy band of the semiconductor, and this is how colour is changed in an LED light. This process, known as electroluminescence, was developed in 1907. The first practical LED light made its way into commercial use in 1962. At first, LED lights were very small and used in specialised applications such as numerical displays on calculators. The LED lights did not have the capability to create light levels comparable to incandescent lights and were primarily used in smaller applications.
In 1994, technology advancements led to high-output LED lights that were much brighter than the earlier versions and were suitable for all types of lighting applications. LED lights have many advantages over incandescent lighting that make them an ideal substitute. The LED lights are more efficient than incandescent light bulbs and have a much longer life expectancy. This type of lighting has become a popular alternative to traditional lighting methods, especially in the automotive industry. LED lights are both simple in design and rugged in construction, so they are ideal for use in automotive lighting applications such as running lights and tail light assemblies.
Benefits of LED Tail Lights
LED lighting offers clear advantages over the incandescent lighting that has been traditionally used in automotive tail light applications. Incandescent lights utilise a filament that creates light when it is electrically charged. This filament is both delicate and produces a great deal of heat. LED tail lights do not suffer from these drawbacks, so they are more efficient and less prone to the damage that continuous use on rough roads can produce. The chart below lists the main features of LED lights.
Feature

Benefit

Waterproof

LED tail lights use solid state technology, which means they are sealed and completely waterproof

Excellent for use in marine applications as well as wet driving conditions

Also resistant to dirt and oils that are on roadways

Long Life

LED lights have no filament to burn out so they last up to 10 times longer than incandescent light bulbs

Less Power

LED lights are efficient and use less than half the power that traditional bulbs use

Important for electric vehicles; can save money in gasoline-based automobiles as well

Shock Resistant

Solid state technology means no moving parts or delicate wires needed to produce lighting

Much less prone to the effects of vibrations or bumps

Corrosion Resistant

LED lights do not require the metallic connections of incandescent lights

No metallic connections to conduct electricity means no possibility of corrosion

Quick

LED lights are 25 per cent quicker to activate than incandescent lights

Provide increased safety due to quicker response

Smaller

LED tail lights require reduced space to house the lighting elements

Can fit in smaller spaces than incandescent lights that need larger bulbs to produce required lighting

Lower Temperature

LED lights do not utilise a filament that burns in order to produce light

No burning means LED lights do not produce heat
Many LED tail lights are made up of several small LED's that work together to create the overall light. The advantage to this is that if one of the LED bulbs fails, many other bulbs are still available to produce light. LED lights also produce a cooler shade of lighting that is brighter in appearance and improves the visual performance of the driver.
Different Types of LED Tail Lights
There are four different types of LED tail lights to accommodate different vehicle needs. While LED lights are more expensive than their incandescent alternatives, they make up for the price difference in longevity and increased energy savings.
Automotive
Automotive LED tail lights can be used to upgrade existing tail lights in automobiles to make them more efficient. LED lights can improve the appearance of the automobile they are installed on because they deliver a more modern look.
Caravans
Caravans can also benefit from LED tail lights. In caravans, LED tail lights promote increased safety because they allow other drivers to easily identify when a caravan is stopping or changing lanes.
Trailers
LED lights are ideal replacements in trailers of all types. The waterproof nature of LED tail lights makes them ideal for use in boat trailers that are frequently submersed in water. They are also great replacements in other types of trailers because of their ability to stand up to the rugged use that trailers are frequently associated with.
Motorcycles
LED tail lights make an excellent upgrade for a motorcycle due to their increased brightness, allowing increased visibility of the motorcycle for other drivers on the road. The increased visual presence of the LED light promotes safer driving and can help reduce accidents.
How to Buy LED Tail Lights on eBay
After you have decided to take advantage of the improved efficiency and increased safety of LED tail lights, the next step is to utilise the powerful search tools on eBay to buy the lights you need. An easy way to begin your search is by navigating to the eBay home page and entering a related keyword, such as "LED tail light", into the search box. A list of the available tail lights is then displayed for you to browse through.
Another method to find what you are looking for is by entering a keyword that contains specific information about your vehicle, along with the term "LED tail lights". With this method, the listings you see pertain only to the LED lights that are specific to the make or brand of vehicle you entered in the search term. It is also a good idea to look for LED lights in the eBay Deals section, where listings may be available with special pricing.
Conclusion
LED technology has paved the way for more effective and efficient lighting for the home and on vehicles. LED lighting lasts longer than incandescent lights and provides better visual performance. As LED technology is continually advancing, LED lighting is taking the place of filament-based lights because of the higher efficiency of LED lights and their ability to withstand rough use. As the technology progresses, LED lights are also becoming more cost effective, leading to expanded use in the automotive industry. The consumer can take advantage of LED tail lights by installing them on their vehicles. Utilising the advanced search capabilities of eBay is a great way for the consumer find the right kind of LED tail lights that can improve a vehicle's visibility on the road.
LED Tail Light|LED Bulb|Tail Light|Automotive Lighting|LED Technology