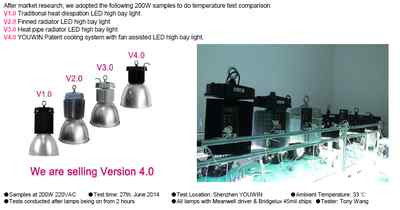 Everyone is claiming they have the best LED High bay light. How true are they?Recently, our manufacturer did a temperature test among current 200W LED high bay on the market, made in different years as different generation of designs.

First Generation uses only large heat sink to allow heat dissipate, 2nd generation uses punched heat sink, 3rd generation uses phase change heat transfer inside heat sink, 4th generation uses hollow heat sink with active cooling fan.


In a small room of 10 square meters, 4 pieces of LED high bays are placed 1.5 meters to each other. Room temperature is 33 Celsius. After 2 hours of being turned on, temperatures are measured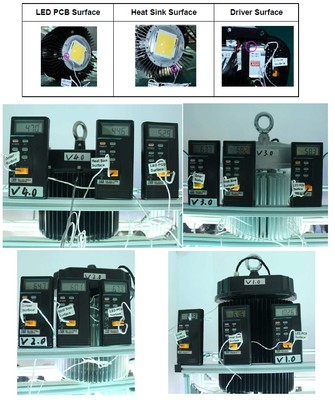 3 places on light are measured, LED Chip, heat sink, and driver. Lifespan of LED chip and driver are both greatly affected by temperature. Life of driver is given by hours of operating at certain constant temperature. Meanwell 200W has 207,900 Hours at 25 Celsius. The rule is driver life is that when temperature increases 10 degree, life will lost half. i.e. lift span is 103950 hours when temperature is 35 Celsius. So we will know expected life at different temperature from that. Life of driver is relating to capacitor 's life inside driver. Capacitor has fluid inside. When it gets hotter, it vaporizes. When it gets too hot, it explodes.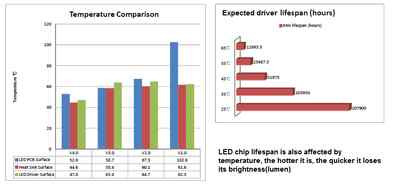 The 4th generation can meet claimed 50,000 hours of life, while earlier generation of product (Prior to year 2014 can not even reach 30,000 hours)

All these 4 are using best Meanwell driver, some cheap LED high bay uses poor driver which has way less lifespan.

For power over 150W, Meanwell is currently the one of few reliable driver supplier. Designing high power constant current driver is not as easy as normal switch power used for desktop computer or laptop. It requires lots of experience and test data.