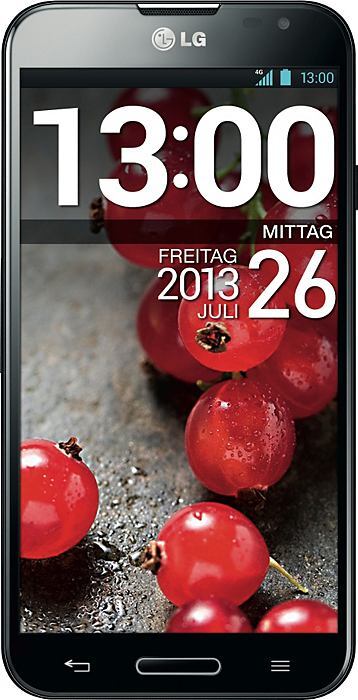 Released in 2013, the Optimus G Pro is a smartphone manufactured by LG Electronics. It is the next phone in line after the Optimus G in the current series. It is based around its predecessor and contains the same basic functions but has been upgraded for a more efficient performance.
If choosing to buy online, then eBay is a recommended place to start, as a variety of sellers will offer their phones at potentially reduced prices.
An Overview of the Optimus G Pro
Operating System
Like its predecessor, the Optimus G Pro runs with Android, although it has been updated from the 4.0.4 version to the faster 4.1.2 version (commonly known as JellyBean). Also featured is a Qualcomm Snapdragon 600 Quad-core Krait processor, which runs at an impressive 1.7 GHz.
Screen Resolution
The screen resolution is another notable benefit of the phone, with a full 1080p HD IPS LCD resolution of 1920 x 108 pixels making for a fantastic viewing experience. In addition, the screen size is also a large and accessible for easy reading, coming in at 5.5 inches.
Battery
The 3.8 Volt battery fitted into the Optimus G Pro is a standard lithium-polymer battery of 3140 mAh and is easily removable. Once fully charged, it can last all day long which saves the hassle of finding suitable charging spots or carrying around spare batteries.
Connectivity
Connecting to the internet is one of the phone's strong points, with large bandwidth and a fast download speed due to the 4G LTE network it runs on. Browsing through web pages and reading text has been commended by existing users; this is mainly due to the large screen and simple pinch gesture required to zoom in and out. The browser will then realign and resize text once zoomed in.
Storage
The Optimus G Pro is fitted with 32 GB of built-in storage, which should be more than enough for the average user. If this is not the case, an expandable SD card slot and microSDXC allows up to a further 64GB. The handset also comes with 2 GB of RAM.
Other standard features include music ringtones in an MP3 format, polyphonic ringtones, flight mode and haptic feedback.
Appearance of the Optimus G Pro
The handset is on the larger side compared to similar smartphone's on the market. It has a height of 150.2 mm, width of 76.1 mm, and depth of 9.4 mm. Because of this, it is tricky to operate with one hand. In terms of weight, again it is relatively heavier than competitors, coming in at 172 grams.
On the back is a carbon fibre cover which adds decent grip and a slick appearance. The left-hand side of the phone contains the volume adjuster and also the QuickButton – this is a clever feature that allows users to load a selected application when pressed. A Micro-USB port is located along the bottom.
On the front face of the phone is a physical home button below the screen. In the top right hand corner lies the speaker and front-facing 2.1 MP camera, capable of recording HD 720p video at 30 FPS. The main back camera is 13 MP with a single LED flash for both AT&T and Sprint.
Optimus G Pro Specifications
The table below highlights some selected specifications of the Optimus G Pro in a more concise fashion.
| | |
| --- | --- |
| Specifications | Details |
| Dimensions | 150.2 x 76.1 x 9.4 mm (5.91 x 3.0 x 0.37 in) |
| Weight | 6.14 oz. (174g) |
| Screen Size | 5.5 inches |
| Screen Resolution | 1,920 x 1,080 (400 ppi) |
| Battery | 3,140mAh |
| Storage | 32GB Internal, up to 64GB External |
| Video Capture | 1080p, 30 fps (front and back) |
| Bluetooth | v4.0 LE |
| SoC | Qualcomm Snapdragon 600 (APQ8064T) |
| CPU | 1.7GHz quad-core |
| Operating System | Android 4.1.2, Optimus UI |
Buying the Optimus G Pro on eBay
To shop on eBay for a phone handset, enter the correct category in order to review the most relevant listings. From the eBay home page, select theElectronics category and then enter into theMobile Phones section. Simply typing in " Optimus G Pro" will reveal the appropriate handsets to browse.
Notice the refinements menu on the left-hand side of the page; this can be used to narrow down the results. Choose the preferred colour, be it an original black , white or even pink. Also decide which buying format, either Auction or Buy It Now, is most suitable.
One useful feature is to set a maximum price range for the phone in line with the predetermined budget. Another way to avoid potentially overspending is to look in the Phones section of the eBay Deals webpage.
When a suitable LG Optimus G Pro has been found from the results page, read the item's description carefully and take into consideration the payments and postage details left by the seller. Check for information on the phone's warranty and equipment that is provided with it, such as the battery, charger , and USB cable, etc.
Conclusion
The Optimus G Pro by LG Electronics is a solid phone to invest in; its large high resolution HD screen and strong battery life make it a desirable model to own. Watching media is an advantage of the handset, along with the powerful Android JellyBean operating system.
eBay will have plenty of Optimus G Pro models in stock so be sure to check out the site for extensive choice and the chance to find some great deals.