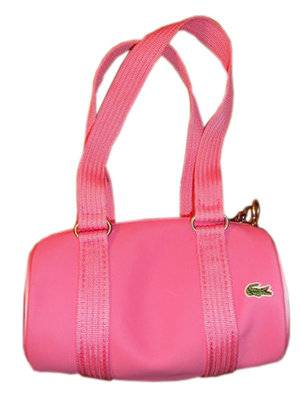 Men and women alike enjoy having a variety of reliable bags around the house. Whether they need to transport personal items, carry sports equipment to the gym, or take a handbag along for shopping, consumers appreciate bags that are durable and versatile with plenty of useful features and fashion-forward style. One top brand that sells many types of bags is Lacoste. Lacoste sells specialty bags, tote bags, stylish handbags, and weekend bags in a broad range of colours. Shoppers can go to a brick and mortar accessories shop or department store to find Lacoste bags, or they can shop on eBay. If price is an issue, they should search for used Lacoste bags that may be slightly less expensive.
Lacoste 80th Anniversary Boston Bag
If buyers are looking for a high-end specialty bag, the Lacoste 80th Anniversary Boston Bag may be the perfect fit. This bag comes in navy, with two white bands encircling it and a white strap attached. It also features a pair of white handles in addition to the shoulder strap. The material of the bag is 50 per cent linen and 50 per cent cotton with a soft cotton lining. The zipper across the top provides complete closure and security for the owner's personal items. Inside of the main compartment are two extra pockets, allowing users to store certain items separately as needed. Sleek and crisply styled, the Lacoste 80th Anniversary Boston Bag boasts impeccable craftsmanship and the promise of durability.
Lacoste Cathy Bucket Bag
The Lacoste Cathy Bucket Bag works well for the style maven who likes edgy, yet functional, handbags. As its name suggests, the bucket bag has a unique shape, taller and narrower than other handbags, with a rounded base. Zippers and bold seams accentuate its curves. At the top is a comfortable double handle for easy gripping and carrying. If users prefer to carry the bag over their shoulder, they can switch to the shoulder strap instead.
The bag is made of leather, soft and pliable to the touch, yet thick and durable for longevity. It comes only in classic black. Inside the spacious main compartment is another zippered pocket, which is removable. The versatility and beauty of this bag make it an ideal choice for shoppers, whether they are buying for themselves or for someone else.
Lacoste Street Balance Weekender
The black Lacoste Street Balance Weekender is a tough bag that should provide owners with years of use. Its simple style and affordable price make it popular among travellers who need a serviceable, roomy bag for weekend getaways. A large zippered compartment offers room for a majority of the user's items, while two interior pockets and an extra zip-up compartment provide additional storage. Chic, yet understated, this bag works well for either men or women of any age. The bag's polyamide is water-resistant, adding a valuable weatherproof element to its many benefits.
Lacoste Concept Fantaisie Medium Vertical Tote
Totes are among the most popular bags on the market. They are slim, versatile, and easy to carry. For Lacoste fans, the Lacoste Concept Fantaisie Medium Vertical Tote offers a pleasing new version of the standard tote design. Tall and slim, it is made of PVC for durability and weather resistance. In addition, it features trimmings of genuine leather. Like most totes, it offers one primary compartment with plenty of space for personal items. It also has a small extra pocket inside, which owners can close with a zipper. Available in blue, pink, or pale yellow, this bag has a pair of lengthy handles so that users can put it over their shoulder or carry it in their hand.
Lacoste Concept X-Large Horizontal Tote
For shoppers who like a longer, horizontal version of the classic tote, Lacoste sells the Concept X-Large Horizontal Tote . Buyers have many different colours from which to choose including bright hues, like citronella yellow and poppy orange. Simple and sporty, the bag boasts a PVC exterior with leather trimming. It is water resistant, which makes is even more versatile for users.
Lacoste Concept Small Tote
If the medium and extra-large concept totes from Lacoste are too big, women may prefer a more compact version, such as the Lacoste Concept Small Tote. It comes in black, white, cranberry pink, citronella yellow, poppy orange, or paprika red. Like the other totes from Lacoste, it features a single zippered compartment, double handles, an inner zip-up pocket, and a PVC exterior with leather trim.
Lacoste Emma Transparent Medium Tote
For shopping or for the beach, buyers should consider the Lacoste Emma Transparent Medium Tote. The bag, itself, is a durable, see-through PVC. The trim and the handles are 100 per cent polyurethane. The brand name "Lacoste" and the crocodile insignia are on the front of the bag. Spacious and affordable, this bag is a fashionable choice for shoppers. However, they should take care not to carry anything too private or personal, since the bag is so transparent. Owners often use their Lacoste Emma Transparent Tote to transport items, such asbeach towels, sunscreen,cosmetics, children's toys, or clothing.
How to Buy a Lacoste Bag on eBay
eBay is a broad and varied online marketplace with multiple areas for shopping. In addition to the main website, there are eBay Stores where sellers can open online shops and showcase many products at once. Another popular section of the website is eBay Deals where buyers can find even lower prices on high-quality items. To start the search, type " Lacoste bag" into the search bar. Once your search results appear, click on each one separately and read the product details carefully. Some listings may include a Top-Rated Plus seller seal, letting you know that a particular seller has high feedback scores and has committed to standards of quality and customer service. You can also save a search to track the availability of Lacoste bags.