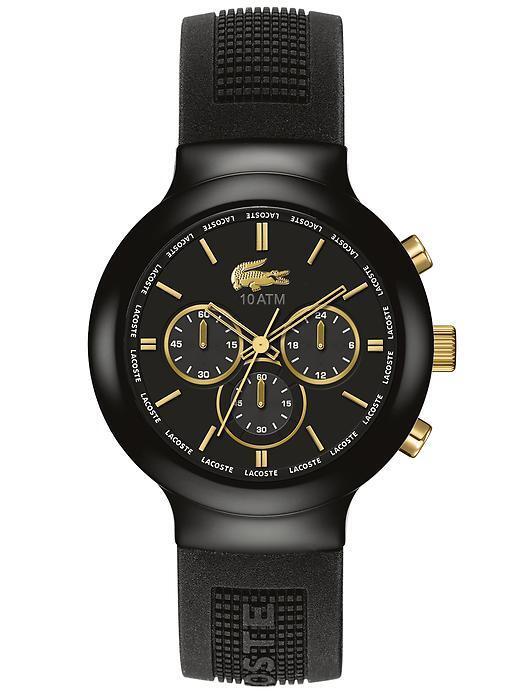 A name synonymous with stylish sportswear, such as the iconic 12.12 polo shirt, Lacoste also makes an assortment of watches ideal for people who value comfort and sophistication. Ranging from sleek sports watches to chic dress watches, the Lacoste line includes timepieces suited to the tennis court as well as those meant for a night on the town. When buying a Lacoste watch, consumers should understand the different types of watches available and key features to look for. Although department stores and other bricks and mortar retailers sell Lacoste watches, the online marketplace eBay is also a great source for these elegant timepieces.
Types of Lacoste Watches
Lacoste makes ranges of watches for both men and women, along with a handful of unisex designs. Buyers can choose from an array of casual and sports watches, as well as more formal dress watches. All Lacoste watches are emblazoned with the company's logo, a crocodile facing to the right. The logo may be green or metallic to fit with the design of the watch. It is typically located on the watch face just below the 12 on the dial, but it may shift depending on the face's overall design, whether it is set to the right or left or emblazoned across the entire watch face. Many of the watches in the Lacoste collection bear geographically inspired names, such as theRio, theMontreal, and the Tokyo, but individual models also have their own numbers.
Casual and Sports Watches
Casual and sports watches from Lacoste have trendy, contemporary looks. They come in a variety of colours, from white and black, to pink, green, yellow, and blue, as well as black or white with coloured accents. These casual and sports watches work great for daily wear and sports. They typically have a strap-style watch band made of silicone rather than a metal bracelet one. In addition to the watch strap, buyers should pay attention to the case of the watch, which contains all the gears and of course the face itself. Sports and casual watches may have plastic cases for a relaxed look, but others may feature a stainless steel one instead. Some higher-end Lacoste watches may even have a highly durable ceramic case with a stainless steel back.
Dress Watches
Lacoste dress watches typically have more timeless designs that make them great for formal events and other special occasions. Many are metal bracelet-style watches, some of which may be plated with rose gold or other stylish finishes. In addition to metal bracelets, some dress watches may be made with leather straps in colours, such as white or black. Theses Lacoste timepieces often have sophisticated watch faces and cases, which may be made from stainless steel or aluminium. Some of the watches for women may include ornamentation, such as crystal-encrusted bezels or hour markers, as well as mother-of-pearl dials.
Key Features in a Lacoste Watch
Whether choosing a men's or women's watch, a casual watch or a dress watch, Lacoste's collections include timepieces with a host of features to choose from. Consider the watch movement, water resistance, the presence of a chronograph, and a calendar feature.
Movement
Lacoste watches typically have a quartz movements. That mean the watch, rather than being wound as in classic timepieces, gets its power from a battery that needs to be replaced periodically. An electrical current passes from the battery into a quartz crystal placed inside the watch. Quartz oscillates at a set frequency, which the watch then uses to keep time. Quartz watches, generally considered to be quite accurate, might lose only a few minutes over a multi-year period. Replacing the battery can improve the accuracy of a quartz watch.
Water Resistance
In keeping with the company's legacy in sportswear, many Lacoste watches have water resistance. This makes them functional for athletes and for general daily wear. However, buyers should know how to interpret water resistance ratings. These ratings may be given in metres, ATM, or BAR, where 1 ATM equals 10 metres and 1 BAR is the equivalent of 1 ATM.
| | | |
| --- | --- | --- |
| Water Resistance Range (metres) | ATM/BAR rating | Suitable for |
| | 3-5 | Running water and rain |
| 50-100 | 5-10 | Running water, rain, and light water sports |
| 100-200 | 10-20 | Running water, rain, light water sports, swimming, and snorkelling |
| 200-500 | 20-50 | Running water, rain, light water sports, swimming and snorkelling, impact water sports, and diving |
| 500+ | 50+ | Running water, rain, light watersports, swimming and snorkelling, impact watersports and diving, and deep-water diving |
Although the depth rating indicates the theoretical amount of pressure a watch can withstand, it should not necessarily be immersed to that depth. Although a watch may be sufficiently water resistant, it is better to avoid showering with the watch on or otherwise subjecting it to hot water on a regular basis.
Chronograph and Calendar
A chronograph is essentially a stopwatch built into a watch. With the push of a button, it can keep track of time for seconds or minutes and even hours. A chronograph can be started and stopped as needed, as well as reset. In addition to the chronograph, Lacoste watches may feature a calendar, capable of indicating the date and the day of the week.
How to Buy
You can find a great selection of Lacoste watches by browsing eBay. Start by entering a keyword, such as " men's Lacoste watch" in the search box on any eBay page. You can also visit the eBay deals page to see special offers on all sorts of items, including watches and jewellery. While you browse, use eBay's refinement filters to narrow down the options and even specify a price range. Check a seller's feedback rating before you buy and even be on the lookout for top-rated sellers who have earned special recognition from eBay for consistently excellent service. Take advantage of eBay's selection and dedicated sellers to find a great Lacoste watch, whatever your personal style.