Lancia Cars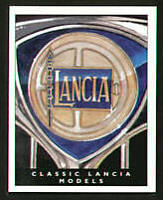 This is one of many illustrated classic car guides I've created for the community. I hope you enjoy it. If you wish to find out more about the classic Lancia car art featured in this guide please click here.
Vincenzo Lancia, the son of a wealthy Italian soap manufacturer, was apprenticed to the Ceirano car company in 1898, worked for Fiat after Ceirano was taken over, then founded his own car-making business in 1906. From then until 1956, the Lancia family controlled the firm, which bore its name. During the early years production was very limited, the used of narrow-angle V engines becoming a Lancia hallmark and most models having a distinctly sporting character. After WWII the company expanded and models such as the Aurelia, and then the Falvia were built in larger numbers than ever before. The Fulvia furthered this trend and despite sales rising to new heights with a new assembly plant being built just outside Turin, the company was still not profitable. It was rescued by Fiat in 1969. This guide celebrates six classic post-war Lancia models from the famous Italian marque.
Lancia Aurelia 1950-1958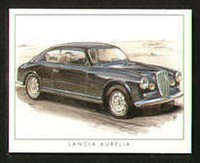 Announced in 1949 the ground-breaking Lancia, Aurelia featured all-independent suspension, inboard rear brakes, a four-speed transaxle and an ohv V6 engine of 1750cc. A GT version, (B20) was introduced in 1951 with a slightly shorter wheelbase, an 85bhp 2 litre engine and a body styled by Pininfarina. The Aurelia won its class at Le Mans, scored a 1-2-3 in the Targa Florio and came second in the Mille Miglia in 1951.
Lancia Flaminia 1959-1967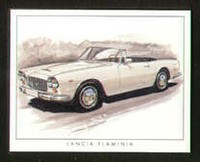 The Flaminia was the first model to be produced after the Lancia family sold the company to Carlo Pesenti. The standard car was a Pininfarina-styled saloon and there were also pillar-less coupes, GTs and convertibles. Special bodies were created by Zagato for the Sport and Supersport Flaminia models. Stock engines were 2.5 litre V6s, although some cars had a 2,775cc unit good for 140bhp and 130mph (210km/h).
Lancia Fulvia 1965-1976
The Fulvia coupe began life in 1965, followed shortly by the Zagato Sport. The Coupe was built until 1976 and the Zagato Sport discontinued in 1972. Original cars had a small 1,216cc/80bhp power plant, although the 1200HF had 88bhp. From 1967 Lancia introduced a 1,298cc engine producing 87bhp or (in the 1300HF) 101bhp. From 1969 a 15,84cc, 115bhp engine gave the 1600HF Coupe a top speed of 106mph (171km/h).
Lancia Stratos 1973-1975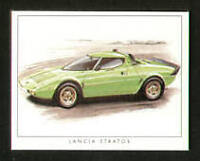 The mid-engined Stratos was shown as a Bertone concept car in 1970, just after Fiat had taken over Lancia. In 1972 the first prototypes were made and rallied. They used a 2.4 litre Ferrari Dino engine and although unreliable at first, the Stratos was developed into a superb rally car, winning the World Rally Championship in 1975 and 1976. To gain homologation, over 400 cars were made and today survivors are highly prized.
Lancia Beta 1973-1984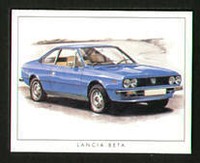 The Beta Coupe was released in 1973 as a front-wheel-drive 2+2. It used a 1,367cc version of the transversely mounted dohc Fiat-derived engine driving through a five-speed gearbox. Front and rear suspension was by MacPherson struts and lower wishbones and disc brakes were fitted all round. Engine options included 1.6 and 2 litre versions. Supercharged Volumex models were good for 135bhp.
Lancia Delta 1979-1993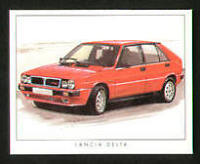 The crisply styled, Giugiaro designed Delta hatchback was first released in 1979.The Delta HF 4WD was introduced on the same basic chassis in June 1986. The Lancia hot-rod used four-wheel-drive and was fitted with a turbocharged 1,995cc twin-cam engine, producing 165bhp. To keep ahead of their rivals in motor-sport, Lancia introduced the Delta Integrale model in 1987.
Thank you for reading my guide and I hope you found it interesting!