Land Rover Series 1
This is one of many illustrated classic car guides I've created for the community. I hope you enjoy it. If you wish to find out more about the classic Land Rover Series 1 art featured in this guide please click here.
Originally conceived as a multi-purpose workhorse for agricultural and light industrial use, the Land-Rover remained fundamentally unchanged between its introduction in 1948 and the demise of the leaf-sprung models in 1985. This guide details the models produced between 1948 and 1958.
Land Rover 80"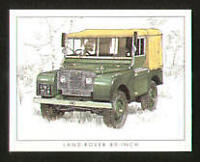 The first Land-Rovers had an 80inch wheelbase and were powered by a 1595cc IOE four-cylinder petrol engine. They were available as spartan soft-top or open models, although an optional hard-top with cab roof was introduced in 1950. The first 1500 vehicles were permanent four-wheel drive and used free-wheel in the drive train to counteract axle wind up. After October 1950, however, this system was discontinued in favour of selectable 2WD/4WD. A feature of early Land-Rovers built before May 1950 is their headlamps, which are concealed behind the wire mesh grille, after this date the headlamps were exposed.
Land-Rover 80" Station Wagon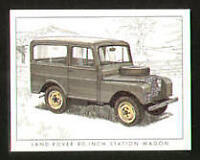 Introduced at the London Commercial Motor Show in 1948, it used the standard Land-Rover chassis and bonnet/front wing assembly, the rest of the body being constructed from alloy panels on a traditional coachbuilder's ash frame. Seating was for seven, with three abreast in the front and two pairs of seats facing inward over the rear wheel arches. Only 641 examples of the 80 inch Station Wagon were produced between 1948 and 1951 before it was discontinued.
Land-Rover 86"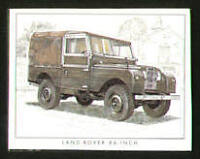 Customers were demanding more and more carrying capacity in their Land-Rovers and so in the Autumn of 1953, two new and larger models replaced the 80-inch original The direct replacement for the 80-inch had an 86-inch wheelbase and an increased rear overhang, which together gave nine more inches in the load bed. The new long-wheelbase model had 107 inches between the axle centres and a full six feet of load space in its load bed. From mid-1954, a seven-seater Station Wagon was offered on the 86-inch chassis and during 1956 a ten-seater model was made available on the 107-inch chassis.
Land-Rover 107"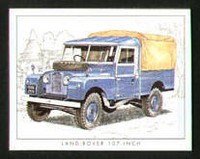 In the Autumn of 1956 the wheelbases of both the existing models were increased by two inches. Thus, the 86 inch became the 88 inch and the 107 inch became the 109 inch model. This increase was not to make the load bed any larger but to allow extra room in the engine bay, even though the new engine around which the Land-Rovers had been redesigned did not actually become available until the June of 1957. It was a 2-litre OHV four-cylinder diesel and fulfilled a long-standing need for a diesel alternative to the petrol Land-Rover. Petrol and Diesel 88 inch and 107 inch continued side by side until April 1958 when a completely revised Land-Rover range was introduced.
Thank you for reading my guide and I hope you found it interesting!