A confluence of recent events has gotten me thinking about laptops. First, IDC and Gartner released PC market surveys that suggest a significant slowing in the declines plaguing PC sales for the past few years. Then last week, due to "stronger than expected demand for business PCs," Intel said it was raising Q2 and full-year revenue and gross margin expectations.
It's too early to tell if these developments signal longer-term PC sales stability (with annual sales of about 300 million units globally) or even an upward trend, but it's still good news for under-the-gun PC makers.
The recent launch of Microsoft's new Surface Pro 3 also contributed to my thoughts. Newly minted CEO Satya Nadella insisted that the company is "not interested in competing with our OEMs when it comes to our hardware." However, that was contradicted by Microsoft Surface design lead Panos Panay exuberantly declaring, "This is the tablet that can replace your laptop." So can tablets, including the new Surface Pro 3, truly replace laptops?
That depends on the user. For consumers interested in little more than media consumption, email/messaging, social networking and similar lightweight tasks, maybe so. But for business users, not really. At least that's my conclusion after testing a new Dell Latitude 12 E7240, the company's top end business class ultra-mobile laptop.
As a professional seller specialize in producing and selling of computer accessories including laptop battery,PC power charger adapter,ipad ipod pad iphone mobile phone cover case,USB Power Bank and so on,we owns a professional design and selling team,and the quality of products is guaranteed.Currently some new products has been added and displayed in our store,maybe you will be interesting,please have a look by costing several minutes.By the way,we have to remind you that we are also a wholesale supplier,more quantity,more discount.Here is our store link:

http://www.ebay.com.au/sch/dreamworld-au/m.html?_ipg=50&_sop=12&_rdc=1
or search by seller:dreamworld-au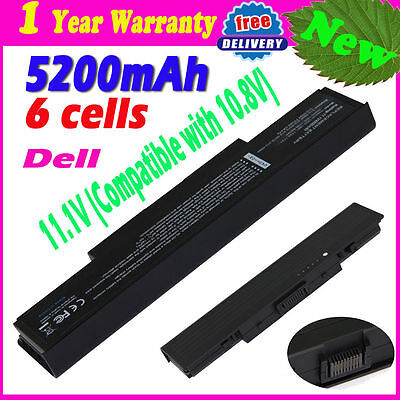 Battery Type : li-ion
Condition : Brand new
Product Type : Replacement battery
Voltage : 11.1V (Compatible with 10.8V)
Capacity : 5200mAh
Components : 6cells

Compatible Battery Code:

Dell
312-0575 312-0576 312-0590 312-0594 312-0589 312-0504 GK479 FP282 451-10477
UW280 0UW280 NR239 FK890

Compatible Models:
Dell

Inspiron 1720
Inspiron 530s
Inspiron 1520
Inspiron 1521
Inspiron 1721

Vostro 1500
Vostro 1700

Notice: It is an unexaustive list. If your original battery part NO. or your machine model NO. are not listed in the description, our battery may still fit your laptop. Therefore, please feel free to contact us to confirm the compatibility.