Important Information for Consumers on Interet Sales of Laser Products (Extract from FDA and Supplemented)
Purpose:
To raise awareness of laser purchasers that the US has federal safety requirements that must be met for the purchase of laser products and how DJ Traximus complies with this requirement.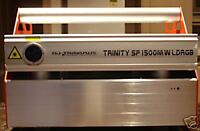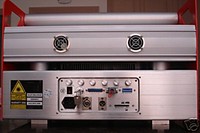 Scope:
Laser pointers, laser products purchased over the internet (including eBay) for US purchasers.

Objective:
To achieve a higher degree of compliance to this directive and improve the quality of lasers purchased by US citizens. In particular Chinese manufactured lasers. The outcome being informed purchasers, improved product quality and reduction in misleading advertising and selling practices on eBay.

Introduction:

The Food and Drug Administration (FDA) is aware that some laser products being sold on the internet may not meet federal safety requirements and should not be available for purchase by the general public.
In some cases, these products are overpowered and may be unsafe if not used responsibly. In other cases, these products are intended for use only by licenced medical professionals, trained operators, or other approved users.
FDA's Concens:
FDA is concerned about recent reports of laser products directed at aircraft-a potentially hazardous situation. The agency is particularly concerned about the increased growing availability of overpowered green laser pointers. Overpowered green laser pointers are those that may have been modified to emit more radiation than the manufacturers original product.
What the FDA Can Do:
FDAs authority is over the manufacture of laser products. These products must meet a federal standard for the amount of radiation they can emit and must be properly labeled.
FDA is working to identify manufacturers of overpowered green laser pointers and other illegal laser products and will take action to prevent unsafe products from being sold in the United States. If illegal products are imported into the U.S., they may be refused entry, returned to the seller, or destroyed.
Buyer Beware:
FDA recommends that consumers be cautious when buying laser products over the internet including eBay. Consumers may unknowingly purchase an illegal laser product or lose their money if the product is refused entry into the U.S or destroyed.
Consumers should be aware that:
1, Medical lasers may only be sold to licenced medical practitioners.
2. Class IIIb and class IV laser light show projectors, identified as such on the label, may only be sold to individuals of firms with current, approved laser lightshow variances from the FDA. Laser products that are advertised as uncertified components may only be sold to other manufacturers and may not be sold to the public for general use.
3. Laser products should have certification and identification labels (shown below) stating the product complies with the federal laser standard.
- Complies with 21 CFR 1040.10 and 1040.11
- Complies with 21 CFR Chapter 1, Subchapter J
- Manufactured or distributed by
- Date of manufacture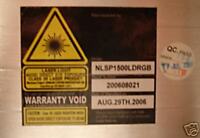 4. Products should have a warning label (shown below) advertising the user to avoid exposure to laser radiation.
Summary and Further Assistance:

Consumers who can not verify the above, or do not understand with it means, probably should not sell or purchase the product.
If you have any questions about laser products you are considering offering for sale or purchasing on the internet, contact FDA's Centre for Devices and Radiological Health at 240-276-0326.
DJ Traximus can also provide purchasing advice and variance assistance for laser purchases to which this requirement applies.
DJ Traximus About Me Page Link