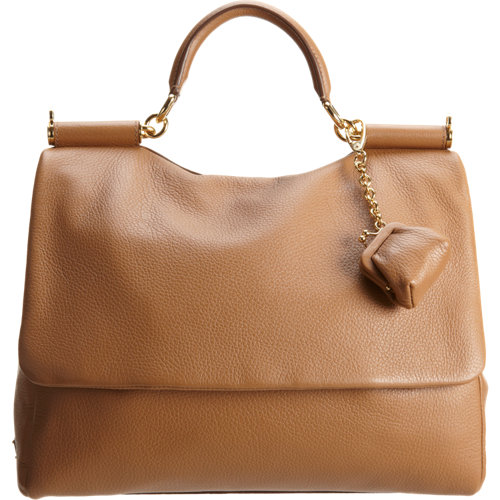 Purses and bags have been popular amongst women for hundreds of years. For those busy women who need to carry a multitude of objects with them at all times, from wallets to tissues to cosmetics to items for their children, a bag is an absolute necessity on a daily basis. A leather bag is often a woman's best bet to utilise as both a useful and chic accessory.
Such bags can be purchased at any number of locations, from brick and mortar stores to online sites such as eBay. By simply understanding the different styles of leather bags available, recognising the wide variety of brands, and knowing what types of leather are used to make bags, women can quickly find exactly the right leather bags for their needs.
Styles of Leather Bags
There is an incredibly wide variety of leather bags available for women. The styles can differ in size, shape, colour, and carrying type. No matter a woman's needs and wants, when it comes to leather bags, there is certainly one out there for her.
Clutch Leather Bags
Clutches are characteristically one of the smallest styles of leather bags available. Although they do still range in size from just a few inches long to several inches, clutches are meant to be small enough to be carried with just one hand. Clutch leather bags typically do not have any straps attached to them, so they must be held at all times, and they usually cannot hold much more than a small wallet and a cell phone inside. Although clutches are not always the best choice for daily use, they are great for use at formal events when ladies do not want to carry around bulky purses.
Hobo Leather Bags
On the opposite end of the leather bag spectrum, hobo bags are some of the largest styles available on the market. These bags do not typically have much structure, so they can adjust to the shape of whatever objects are placed in it. The bags often have short straps that enable the owners to hold them by hand or fit them over their shoulders. Due to their large size, hobo bags are good for carrying heavy loads and also for transporting objects of unusual sizes, although this sometimes depends on the quality of the leather.
Messenger and Cross Body Leather Bags
Messenger and cross body leather bags are well known for their long straps that allow users to place the bags over one shoulder and extend across the torso so that the bag falls on the opposite side of the person's body. Such a setup allows the owner to have his or her hands completely free for other uses, as opposed to using a hand to hold on to the bag. Messenger bags are often more structured than hobo bags and typically look like large boxes with flaps extending over the tops. Cross body bags are similar, although they are often smaller and can sometimes have less structure and a free form shape instead.
Tote Leather Bags
Of all the leather bags on the market, totes are by far the largest of all the styles. Tote bags often come with a set of short straps and one long strap that can extend over the shoulder. The bags are meant to carry large, heavy loads. Because of this, many users take tote bags out of their closets for day trips to parks and beaches since so many items can easily fit inside. Tote bags are especially useful because they typically have a solid bottom for support and then no structure anywhere else, which allows them to take on the shape of whatever is placed inside them.
Types of Leather
On top of there being a number of different styles of leather bags available, each of the bags can be made in a variety of leather types. The leathers can have different feels to them and also slightly different textures, each contributing to unique appearances for different leather bags.
Cowhide Leather
As its name suggests, cowhide leather is made from the skin of a cow. Cowhide leather is often considered to be one of the highest quality types of leather, and it is quite commonly used in the making of leather bags. This is because, in addition to its high-quality appearance, cowhide is also incredibly tough and is capable of withstanding heavier loads without altering the good looks of the bag.
Lambskin Leather
Another popular type of leather is lambskin leather, which is made from the skin of sheep. In comparison to cowhide leather, lambskin characteristically has a much softer feel, and this can be very appealing to some owners. Like cowhide, lambskin can also have a luxurious appearance. However, lambskin leather may not always be ideal for certain types of handbags, as the soft feel of it also makes it more susceptible to damage and tears with extended usage. This means some shoppers may want to avoid lambskin leather for heavy-duty bags, such as totes and messenger bags.
Faux Leather
For those people who are concerned about the environment or who simply do not like the idea of using a bag made from animal skin, faux leather is a great option. It comes in a variety of thicknesses and textures. Often, faux leather is indistinguishable in its differences from real leather, although some experts believe that faux types have a significantly different feel than real leather. Whether this is true or not is up to the customer to decide, but, overall, bags that are made of faux leather often look almost exactly the same as bags made from animal leathers. It can certainly be a much cheaper alternative to animal leathers.
Brand Names
One of the final primary characteristics of women's leather bags is the brand name attached to the bags. Some customers place great relevance on the brands of bags, while others care more about the numbers on the price tags than the names on the labels. Either way, a bag's brand does have some impact on both the quality and the price of a bag.
Of course, such factors can change somewhat drastically, depending on whether the bag is purchased new or used. New bags made by popular brands have higher price tags than bags that have been previously used. The degree of use can further impact the price of a bag, as well. Some bags may only be gently used, while others may have seen years of wear and tear.
Bags that come with designer names on their labels usually have significantly higher price tags than other popular brands. Designers such as Coach and Gucci produce leather bags that are sometimes priced at exorbitant prices, even when the bags are used. On the positive side, these bags typically do feature very high-quality materials and craftsmanship. Bags with less prestigious names should cost much less.
How to Buy Leather Bags on eBay
There are countless designers and manufacturers of leather bags around the world. In addition to the wide range of brand names, leather bags can be made in all sorts of different shapes, styles, and leather types, and this leaves buyers with plenty of options. In terms of finding exactly the right bag for a person's needs, all of these options can be quite helpful, but, on the other hand, navigating through all of them can be challenging at times. By conducting your leather bag shopping on eBay, the process of finding the perfect bag can become much quicker and more efficient.
eBay provides shoppers with a number of ways to rapidly narrow down search results by colour, brand, style, and condition. Special deals on leather bags can also be found on eBay's Deals page.
Conclusion
Leather bags have become such a popular staple in so many women's closets that the bags can be found in virtually every size, shape, colour, and style imaginable. All of these options allow women to carefully pick and choose exactly which leather bags best suit their individual needs. The combination of functionality and style that a leather bag provides is virtually unbeatable.
Although leather bags can be found at a number of department stores, shopping for them on eBay makes the process of finding the 'right' bag much simpler and more enjoyable. In order to find the perfect leather bag, a shopper only has to pay close attention to the styles of the available bags, the types of leather, and the brands if brand is something that matters to him or her. After that, the search should be simple.