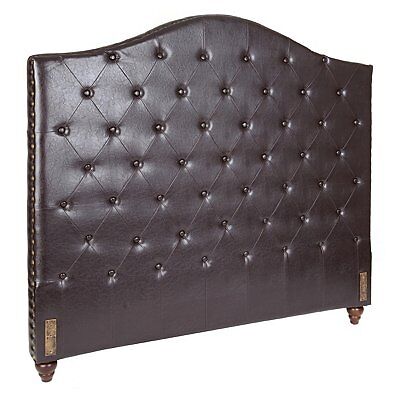 The headboards of our ancestors served a different purpose to the decorative headboards of today. Prior to modern heating and cooling systems, headboards helped to shield those sleeping in bed from cold draughts coming down stone walls. Today, people purchase headboards primarily for decorative purposes, and possibly to shield the head and hands from hitting the wall in sleep. A soft, padded leather headboard can be suitable for both purposes, and buyers have a wide range of leather types and headboard styles to choose from. When shopping for a leather headboard, consider looking in retail stores, mattress and furniture stores, on furniture websites, and on classified and auction listing sites, such as eBay.
Types of Furniture Leather
It is possible to find various types of headboards made of various types of leather. Manufacturers use animal hides of different kinds to make furniture leather, and the most common animal leather is cowhide. However, buyers may also see sheepskin, crocodile or alligator skin, as well as ostrich skin. The type of leather involved plays an important role in determining the price of the headboard.
Full Grain
This is considered to be the best quality and most expensive leather to use for any purpose. Full grain leather contains the entire width of the leather, including the skin surface. It has the appearance and durability of the original skin surface texture and grain. Since full grain leather is fully intact, it wears the longest and can last for years.
Split Leather
A stiffer product, split leather, comes from the bottom section of the hide. Leather that has sustained damage to the surface grain, but still has a useful underside, is ideal for producing split leather. In this case, the manufacturing process involves applying an artificial coating to the surface of the split grain and then embossing it with a leather grain texture. This product does not last as long as natural leather under constant use, but it may be more affordable.
Corrected Grain Leather
This is a modified leather product. Manufacturers sand and buff away any damage and imperfections that exist on the surface grain, and then apply an artificial coating with embossing, to mimic the appearance of natural grain. Corrected grain leather is not as high in quality or as long-lasting as full grain leather. However, corrected grain leather may be less stiff than split leather. Corrected grain leather often comes in different colours, and it is the type of leather that buyers see in unusual colours such green, purple, or blue. It is also more affordable than other types of leather.
Aniline Leather
Another type of dyed leather product is aniline leather, which typically consists of top quality or full grain hide. Manufacturers treat the leather with aniline, dying it a slightly different colour but without completely covering the natural grain. Aniline leather is soft, supple, and has a natural sheen. Aniline dye provides a protective coating, but spilling a drink on it or exposing it to direct sunlight can still degrade the surface and appearance of this type of leather. Aniline leather is slightly more expensive, due to its soft feel and quality.
Types of Headboards
Buyers can find padded and leather headboards in a variety of different styles. Most people are familiar with a standard rectangle headboard, which spans the width of the bed. Headboards feature a wide range of borders, some being designer-inspired and others being based on popular styles. Rectangular headboards can also have various different borders, such as the Radcliffe with rounded corners, the Alexander with the two outside corners cut off at a 45-degree angle, and the Belgrave with scalloped corners.
It is also possible to find headboards with gentle slopes, in the slightly curved Finsbury style, or with the arched hill of the Eccleston style. These curved headboard styles may also have angled or scalloped outside corners, as with the Cavendish style.
More complex headboard styles feature multiple levels or waves of scallops and curves. The Bonn style headboard is slightly more elaborate, and is suitable for a formal bedroom. The Portman headboard is another decorative style, replete with large scallops and topped with a tiny hill. No matter the name, it is possible to find a headboard with a border that is attractive and fits well with the rest of the room.
Headboard Sizes
Manufacturers produce headboards that fit well with the dimensions of a bed. When shopping for a headboard, the easiest way to select one that is a proper fit is to search by the size of the bed. Below are the standard bed sizes available and approximate matching headboard dimensions.
Single
A single bed is about 90 cm wide by 190 cm in length. A typical single size headboard is about 90 cm to 100 cm in width. Height varies by design and preference.
Double
A double bed is about 140 cm wide by 190 cm long. A double size headboard is about 142 cm wide. Height varies by design and preference.
Queen
A queen size bed is usually 150 cm wide by 200 cm long. A standard queen size headboard is about 160 cm wide and varies in height.
King
A standard king size bed is about 180 cm wide by 200 cm long. A standard king size headboard is about 180 cm to 190 cm in width. Again, the height varies based on design and preference.
How to Buy
You can easily purchase a leather headboard on eBay from an affordable eBay seller. To find the exact style and type of leather headboard that you want, you can use the eBay search engine. Search for headboards by keyword to find matching listings. A full grain leather headboard is more expensive than a split grain headboard. You can also find fun colours of leather in a corrected leather grain headboard. Pick out a headboard based on your bed size to get a good fit, and check for deals. You may also want to look for headboards with different borders, such as the Portman, or the less elaborate Radcliffe style.