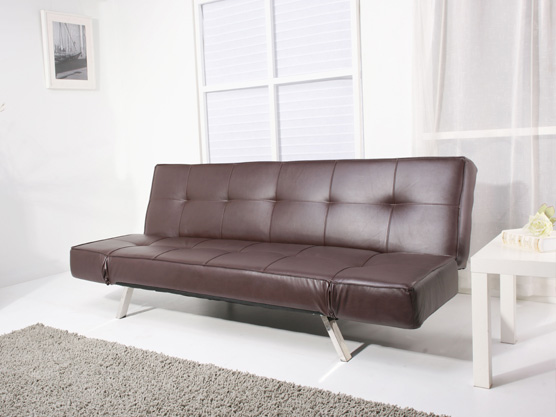 Leather suites are a popular component of living room furniture in homes all across Australia, adding a stylish, elegant and smart appearance to a room. They can materialise in various shapes and colours, allowing consumers the freedom to explore many different styles that can complement a room's existing appearance.
This guide will look at how a suite can be bought successfully and the different options you have when coming to make a purchase. The quality of leather used on the suite is a worry for people and this will be examined also.
Advice on how to go about buying a leather suite online, and on eBay in particular, will be given. eBay has plenty of models listed on its website regularly from a wide range of sellers, meaning that different price budgets can be catered for.
What Is a Suite?
Having the same type and colour of furniture is a must for the majority of homemakers - a suite is basically considered to be a set of matching sofas, armchairs or Ottomans. There is no restriction on what style the furniture needs to be or in which room it needs to be positioned.
Why Choose Leather?
Leather suites are exquisite and can enhance a home's appearance, not only looking smart but also pleasant to the touch and comfortable to sit on. Sitting down on leather sofas can allow you to sink into the body of the seat. It moulds its form to suit the user's shape, but not altering its original formation.
Although cleaning leather can be difficult if stains emerge, it is generally a durable, strong and resistant material that is resistant to tears and punctures. However, there can be a catch – fake leathers can find their way onto the market, especially sites like eBay, and not live up to the high standards of real versions.
Real or Fake Leather?
Some manufacturers will claim their suites are made from genuine leather, and there is no real way of telling the difference if buying online – two sofas can look identical but have different properties. Some suites will not even use real cow leather, going for lower quality pig or goat leather instead.
To tell the difference, fake leathers will usually have a plastic-feel to them when touched. The wrinkles of real leathers will disappear when touched and react to the friction when scratched with nails. Artificial leather will also be easier to pierce with a sharp object.
The smell of the suite should also give away the authenticity of the leather. Real versions will have that homely and familiar odour that you may have experienced in shoe shops. Fake versions may give off a shoddy, plastic smell as a giveaway.
There is nothing particularly wrong with buying faux leather to try and save money, as long as it is advertised as such. They can be wise economical purchase for lesser-used rooms.
Buying Considerations for Leather Suites
Below is a few bullet points that can help those at the buying stage decide, which type of leather suite to finally go for. Remember to think about the:
· Size: Quite obviously, the size of the furniture needed is the most important aspect to consider. Evaluate the position in the room the suite needs to be – remember that more than one sofa/chair is being bought – using a tape measure to be sure of the exact measurements. Also think of how many people are likely to use the furniture on a regular basis. Many suites will come with 3 seater and 2 seater sofas, sometimes with added ottoman's included too. The weight and height of the users may also be something to consider.
· Shape: Many homemakers will have seen design programmes on TV and read home lifestyle magazines on how furniture should be positioned. Ideas will also be floating around your head about where the suite should rest. Consider the shape of the room and how the suite can complement it, i.e. could a longer sofa minimise a narrow room? Will corner units be a viable option also? Also think about existing furniture, such as carpets, lamps and tables, and whether a certain suite will not affect their appearance/proximity.
· Colour: Although the majority of leather suites will come in their natural black or brown shades, more colour options sometimes present themselves. Graceful whites or beiges can add elegance to a room, whilst blue and red furniture can become an original alternative.
· Price: Setting a budget and sticking to it is an advisable tactic, meaning that you don't overspend on the suite. However, trying too hard to save money may actually lead to an inadequate purchase and derisory product. The price of leather suites will vary due to the amount of pieces included in the set, but a good quality suite should start at around $350.
· eBay Deals is a section of the site where leather suites can be found at even further reduced rates. Reductions can often be found on home furniture. To find them, visit the 'Furniture' section of the 'Home & Lifestyle' category.
Using eBay for Leather Suites
This section will detail how to use eBay to buy leather suites.
Search
To make an efficient search on eBay then select the Home & Garden section from the eBay home page and enter the Furniture section. Enter 'leather suite' into the keyword search bar to bring up the desired results. If unsure about the specific model then narrow the results using the refinements menu. Take into consideration the desired colour, brand, condition and price range of the leather suite. Sorting the listings by the lowest priced items and buying formats can also make the search process easier.
Safety Considerations
Although eBay is the best site to use so as to compare leather suites together and find the best deals, there are also some further aspects to think about. These are highlighted below:
Is the seller offering delivery? It can be frustrating to find the perfect leather suite at the perfect suite on eBay only to find out the seller has it listed as a 'Local Pickup' item only. Check for this when reviewing the details.
What are the postage details? Suites can manifest as large items, meaning that courier charges can be expensive. Make room for this in the final budget. One good tip to reduce this cost is to reveal all the 'Free Postage' suites when making a search
Where is the item located? Buying on eBay in a country the size of Australia can amplify the postage costs greatly, especially for furniture items. To reduce this then search for the suites that are within a certain mileage of your own location – this can help if collecting the suite personally too.
Is the seller trustworthy? Professional outlets won't necessarily sell leather suites on eBay because many independent sellers use the site too. To make sure they are trustworthy, review their profile and check their feedback score in particular. Feel free to contact them over any aspect of the transaction, as some things may be unclear – for example, as noted previously, there may be a discrepancy with the quality of leather advertised.
Conclusion
Suites are a set of matching furniture items such as sofas, primarily used in living rooms. Real leather has fantastic qualities, which make it a perfect choice for suites, remaining resistant to wear and tear, but also remaining soft. Artificial or faux leather versions will not provide the same characteristics.
Choosing eBay to search out and make a purchase is advisable, as some great deals can be found. Take into consideration such aspects as the payment process and delivery details before committing to buy, however.