Leather patching
Leather patching is a unique concept in custom made
suit where you can have your own name, your biker
club name or anything that you would like to have.
To considering this as an important part of suit
1US$ each character is the cost for leather patching.
Like TOM for 3US$ only.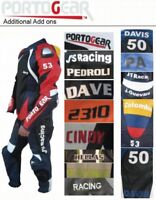 you can any style of lettering with any color in real leather. to make your selection for suits and jacket please visit.
http://www.portogear.com
http://stores.ebay.com/portogear