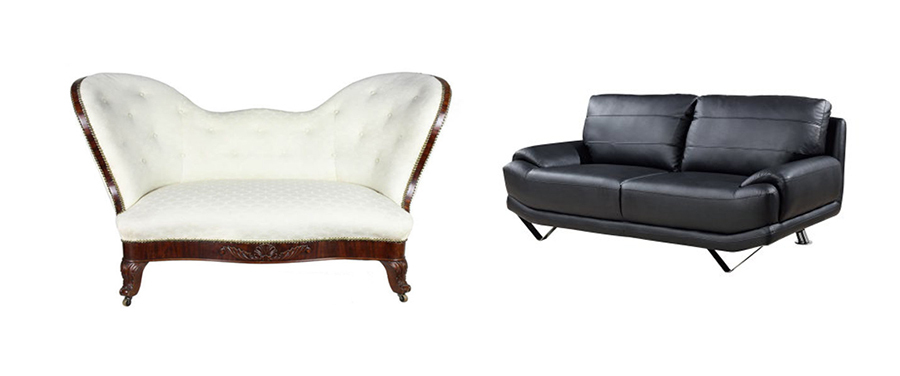 It is sometimes challenging to choose the right sofa. There are many different types and styles available. The choice between leather and upholstered sofas is daunting unless shoppers but being fully informed regarding the benefits and disadvantages of each type. The three most popular types of leather for sofas are corrected grain, semi-aniline, and aniline. Leather sofas provide traditional, formal appearances.
Upholstered sofas offer wider choices of colours and fabric styles. Some leather types offer more resistance to liquid absorption and staining than fabric sofas. High-quality leather sofas are more expensive than fabric sofas. Regardless of the style of sofa shoppers opt for, eBay offers sofas in either new or used condition at very competitive prices.
Leather Sofas
Corrected grain leather, also known as pigmented or finished leather, uses multiple hides which have significant imperfections such as scars, bite marks, and wounds. Removing the imperfections creates an even texture and appearance. After curing, buffing the surface of the hide removes the imperfections. However, this process removes the leather grain appearance to create an even surface, meaning the hide no longer looks like leather.
After this process, to create a leather look, the surface of the leather undergoes embossing with a leather-look pattern. Because buffing alters colour as well as texture, an additional layer of pigment is applied. This pigment layer hides any remaining evidence of imperfections and adds durability. It is not as soft as other leather types, even with extended use. It also feels artificial, with a plastic-like texture. Corrected grain leather sofas are very hard-wearing, do not tear easily, are resistant to stains, and are easy to clean and maintain.
Semi-aniline leather is of moderate quality and constructed of higher quality hides than corrected grain leather. Semi-aniline leather undergoes no buffing or finishing, producing leather with natural markings, thus making more unique sofas. The addition of aniline dye to the surface of the leather after curing, followed by a thin pigment layer, provides added colour and durability. The pigment layer is very thin, allowing the natural markings and colour of the leather to show through. Semi-aniline leather has a waxy texture but is much softer than corrected grain leather.
Aniline leather uses the highest quality hides which have very few blemishes or imperfections. This unfinished leather undergoes no treatments after tanning except for the addition of aniline dye. With no added pigment layers or buffing, aniline leather sofas are very soft to the touch. Additionally, because the surface of the leather has a natural finish, each piece is unique, as the full grain of the leather is intact. These sofas have a soft, luxurious feel and the leather develops unique patinas and wear patterns with extended use.
Upholstered Sofas
There are a huge range of different fabrics available is any colour, pattern, or style.Cotton, microfibre, andchenille are all popular fabric choices for upholstered sofas because of their durability and appearance. Fabric sofas generally have a warm and inviting appearance. Many have a casual appearance, although formal upholstered fabric sofas are also available. Fabric sofas are soft to the touch and are easy to clean and maintain. Fabric upholstered sofas are also simple to recover with new fabric or a sofa cover.
Consumers also refill the padding with ease. Texture and feel vary between fabric types and the level of padding, but are generally soft and comfortable. Many upholstered sofas come with removable fabric which can be washed at home in the washing machine. Fabric upholstered sofas are prone to staining from food and drink. Sofas made from natural fabrics are prone to fading in sunlight, and those containing synthetic fibres are prone to pilling.
Comparing Leather Sofas and Upholstered Sofas
Leather and upholstered sofas each have their own strengths and weaknesses. Understanding the differences between leather and upholstered sofas is a huge help in making the selection. Leather is more at risk of scratching and ripping than upholstered sofas, but the fabric on upholstered sofas does not last as long as leather. While leather is repairable if the damage is minor, it is very costly.
Upholstered sofas, on the other hand, are easy to reupholster or cover with a throw, which costs considerably less. There is a much larger range of colours with upholstered sofas and patterned or printed fabric available, whereas leather sofas are restricted to a few colours and no patterns or prints. It is easier to wipe away stains and spills from leather sofas. Fabric sofas are prone to staining, however, many fabric sofas come with removable covers that are machine washable for easy care.
Leather sofas make users feel hot and sticky during the summer months and are not as soft and cosy in the winter as upholstered sofas. Leather is a timeless sofa choice, suited to traditional and contemporary living spaces, whereas upholstered sofas sometimes look dated and are not as versatile. Leather, when cared for properly, lasts much longer than fabric, and the characteristics change with age, whereas fabric simply becomes worn and threadbare.
How to Buy
Buying a leather or upholstered sofa on eBay is easy. With a wide array of styles, sizes, colours, and designs to choose from, you can quickly and simply identify your perfect sofa. Find a great deal on new or used leather or upholstered sofa on eBay, and look for delivery included in the purchase price. When browsing through the listings, the filters to refine your search make choosing your sofa even simpler.
There are pros and cons to each sofa choice and being aware of them allows you to make a confident, informed purchase. Whether you want a vintage aniline leather sofa with a unique patina or a soft, contemporary upholstered sofa, eBay offer a huge choice at affordable prices.