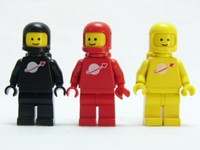 Lego Classic Space sets were produced and released in 1978. Starting off with mainly grey, dull bricks the theme quickly took off with sets like Galaxy Explorer, Beta 1 Command Base and Space Cruiser.
It didn't take long before Moon Buggies, Rocket Launchers and Robot started to appear.
There are only 5 Minifigures released with all these Classic sets which include White Astronaut, Red Astronaut, Yellow Astronaut, Blue Astronaut and my personal favorite, Black Astronaut.
In 1980, Lego started to release sets consisting of white and blue bricks adding sets like Star Fleet Voyager, All Terrain Vehicle and Cosmic Cruiser.
It wasn't until 1984 that saw sets including more color and fancy pieces. Check out sets like Uranium Search Vehicle and Inter-Galactic Command Centre.