In 2004, the Lego company changed its formula for grey and dark grey pieces, all sets produced from 2004 onwards contain the new grey colours.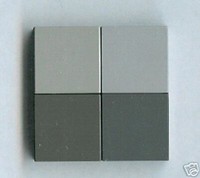 The greys on the left are the original colours, the greys on the right are the new colours. The new greys have a blue-ish tint (or a more steely look), the original greys have a more earthy tone.
If you're trying to complete old sets, make sure you know which greys to look for, if you're unsure, ask your seller.