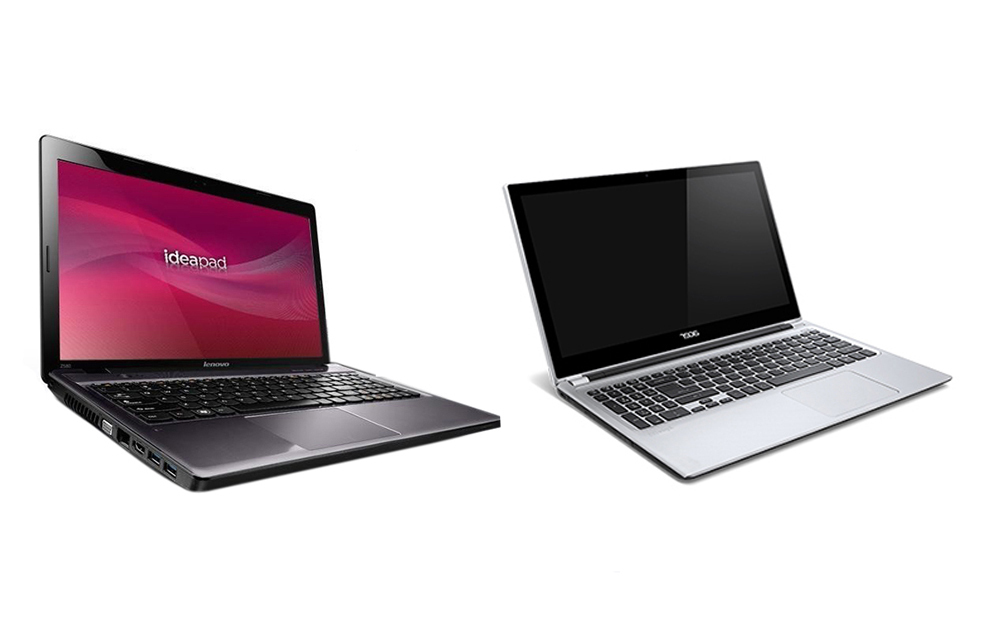 Comparing two laptops is not always an easy task when the specs and key information about each aren't laid out side by side. Certain factors other than price can determine whether a laptop is right for a customer and their needs. TheLenovo Core i5 2430-M and Acer Aspire V5-571P are similar in many ways, yet there are some differences. This guide will explore those differences, as well as how to buy each on eBay.
Main Features
Both of these laptops fit into the lower end of the mid-range bracket. They will be suitable for users who are looking for a serviceable machine to complete basic tasks whilst on the go. There are differences however; different processors, operating systems and displays mean that there is plenty to choose from in each machine. To understand and compare the two laptops, the specifications of each will be outlined in the table below, before the key features are explored and compared in greater detail.
| | | |
| --- | --- | --- |
| Feature | Acer Aspire V5 Specification | Lenovo Core i5 Specification |
| Processor | Intel Pentium Dual Core B987 (1.5GHz, 2MB Cache) | Intel 2nd Gen Core i5 i5-2430M / 2.4 GHz ( 3.0 GHz ) ( Dual-Core ) |
| Memory | 6GB (DDR3) | 4.0 GB (DDR2) |
| Hard Drive | 500GB | 500.0 GB - Serial ATA-300 - 7200.0 rpm |
| OS | Microsoft Windows 8 64-bit | Microsoft Windows 7 Professional 64-bit |
| Display Type | 15.6" (Acer CineCrystal, 1366x768 HD, Multi-Touch screen, LED Backlit) | 15.6" (1366x768 HD, LED Backlit) |
| Max Resolution | 1366x768 | 1366x768 |
| Graphics Processor | Integrated (Intel HD Graphics 3000) | Integrated (Intel HD Graphics 3000) |
| Optical Drive | DVD Rewriter (Records DVDs 8x & CDs 24x & Dual Layer Super Multi) | DVD-Writer - Integrated |
As can be seen, there are a number of differences between the two laptops and this is why there is a slight price gap between them. One of the main differences is the display – the Acer comes with a LED Multi-Touch screen, whilst the Lenovo Core i5 has a standard LED backlit display. Despite this difference they both have the same resolution screens, which is surprising given the presence of the Intel Core i5 processor in the Lenovo. Below are some of the key features explained in greater detail:
Processor
The big selling point of the Lenovo Laptops of this generation is the Intel Core i5 processor that they come equipped with. This dual-core processor is almost 1GHz quicker than the one found in the Acer V5. This makes it the faster of the two machines, and it will cope with basic system functions as well as other applications better because of it.
Memory
When it comes to RAM, the Acer V5 has 6GB of DDR3 compared to only 4GB of DDR2 in the Lenovo Core i5. This difference counterbalances the processor speeds to some degree, meaning that the Acer can dedicate more power to system resources (although it needs this because of the touchscreen and Windows 8 OS).
Hard Drive
Both have the same size hard drive with 500GB of storage space in each. However the Lenovo Core i5 has a faster speed (7,200rpm compared to 5,400rpm in the Acer) meaning that data is read and written faster, giving an overall better performance when performing tasks centred around the hard drive.
Operating System
Different iterations of the Windows operating system are used in the two machines, and this is again where a big difference is felt. The Acer V5 uses the latest Windows 8 OS, perfectly suited to the touchscreen display that is used. This is compared to Windows 7 which is used in the Lenovo Core i5. Again this is better suited to the setup of the machine without the touchscreen, as Windows 7 is more intuitive for users who have a keyboard and mouse or trackpad.
Other Features
There are some other notable differences other than the ones already outlined. For example the Acer V5 has an integrated DVD rewriter, whilst the Lenovo machine only has a DVD writer. The user will notice some difference in the tasks that can be performed here. There are further similarities when it comes to the graphics capabilities; both have an integrated Intel 3000 chip, making both of them unsuitable for modern gaming.
Buying a Lenovo Core i5 or Acer Aspire V5-571P on eBay
After arriving on eBay's homepage, the laptops can be found under the Electronics category by selecting Laptops and Notebooks. After navigating here, it is possible to use the site's search function to find relevant items, or use some of the site's features to find exactly the right item.
Refinements
The left-hand side of the site houses the refinements function, where different filters, such as price, condition and brand, can be selected so that only items matching that criteria are displayed. From here products can be clicked on to reveal more information.
Product Pages
Each product listing has its own page, where information such as a full description, specs list and image gallery is displayed. This gives the customer a better understanding of the item, as well as of the seller who is selling it.
Seller Information
Each seller has their own page too, where the customer can contact the seller as well as see the ratings that previous customers have left them. This is a good way of making sure that the item and seller are both what the customer is expecting.
Buy It Now or Make a Bid
There are two types of listing on eBay: Auctions and those termed Buy It Now. Both are self-explanatory.
Conclusion
When shopping for a laptop, two good choices for the average user are the Lenovo Core i5 and the Acer Aspire V5-571P. Each has its merits and this guide will help the customer find which one is best for their needs. With eBay the customer can also feel safe when shopping, knowing that they are protected by the buyer protection programme.