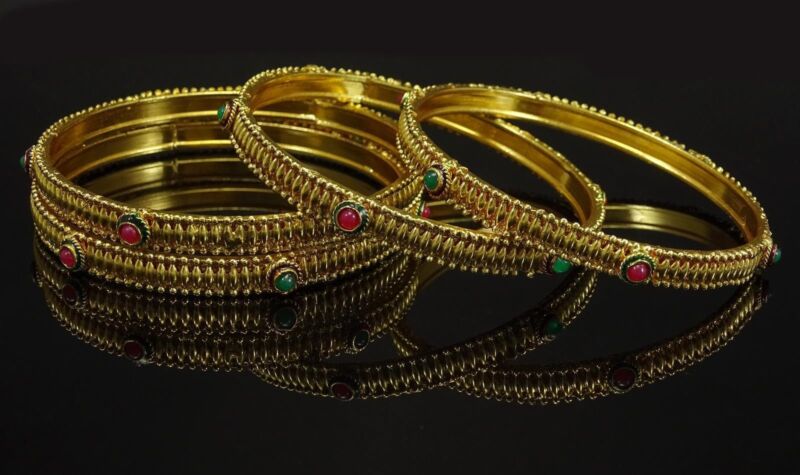 The bangle trend has gone far beyond from being a traditional adornment to a fashion statement in the contemporary world. The adornment which was considered to be a significance of a married woman is now being adorned even by teenage girls in jeans and tunic tops (
New Women Simple Design Bracelet Jewelry 48 Pcs
). Bangles are an important piece of ritualistic jewelry for festivals such as Sankranti. The vibrant colors and eye catching designs and patterns and of course the soothing tinkle of the bangles made it one of the most preferred ornamentation since time immemorial.
Historians outlines that bangles were even worn as a decorative accessory during pre and post Vedic period. One of the oldest discovered objects by the Archeological Survey of India shows evidences of wrist ornamentation in India. Ancient days had bangles made from terracotta, stone, steel, copper, gold, silver and many other metals that could be crafted into beautiful ornaments.
It is said that colored bangles are considered more auspicious than gold or silver bangles. Red and green glass bangle signifies a married woman. It is considered auspicious according to the Marathi traditions. Besides married women, pregnant women are also given glass bangles to wear for their baby shower in order to ward off evil spirits and keep their babies safe in the womb.
In Bengal, married women wear white (Sakha) and red (Pola) bangles. The white is made of conch while the red is made either of coral or lac. Besides the red and white bangle, what is more crucial is the 'loha' or 'iron kada' that the mother-in-law gifts her daughter-in –law when she enters the new household.
In Northern India, brides wear ivory bangles, also called 'chuda' (
Indian Ethnic Bollywood 56Pcs Bangle Women Bridal
) along with red bangles (made of plastic or lac) in multiples of four. They are supposed to wear these bangles for a certain period of time.
In Rajasthan and Gujarat, the brides are gifted with the ivory bangles by her mother before the 'saat phera' without which the wedding is incomplete. Rajasthani brides wear these bangles on their arms and forearms as a part of tradition.
In Maharashtra, the brides wear bangles in uneven numbers in green color (
Traditiona​l Indian Ethnic 46Pcs Bangle Set Party
). Since green is a symbol of new life and fertility, the brides wear green bangles with solid gold bangles called 'patlaya' and 'tode'. The gold bangles are generally being gifted by the groom's family.