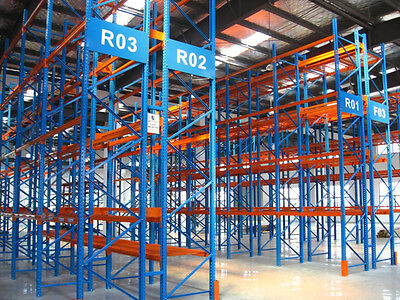 Add a caption
Raised Storage Areas and Pallet Racking for Warehouse Efficiency
Click to Edit Caption
Lift Your Business – The Advantages of Raised Storage
If you're looking for a way to expand your storage areas without the hassle and cost of relocation or extra warehouses, then raised storage is your answer. Blue Diamond offers a number of raised storage solutions, all designed to work with your existing business and warehouse design and layout. We offer the flexibility of pallet racking or long shelf warehouse racking as well as custom fit mezzanine floors, all designed to save you and your business space, time and money.

Increased Space without the Cost or Stress of Relocation

When you're faced with the problem of insufficient storage space, relocating to a larger warehouse or implementing additional warehouses is an expensive solution. Installing raised storage on the other hand not only eliminates the cost of relocation but also saves you the time and hassle of having to move to new premises. With raised storage fitted to your existing warehouse area, you can expand your space and your business without interruption.

A Mezzanine Floor Doubles Your Warehouse Space

Installing a mezzanine floor instantly gives you twice the available storage space with a minimum of cost and fuss. Our mezzanine floors come in two options – rack supported mezzanines and free standing areas. Our rack supported mezzanine system is the cheaper option, and is built using pallet racking as a support structure. This means you not only have the upper deck as storage space, but can also use the racking support for storage. Our free standing systems are built to order, tailor made to your warehouse, offering an open deck area that flows seamlessly with your existing space. Blue Diamond mezzanine floors, like all of our raised storage solutions, meet all Australian safety standards ensuring your workplace protection.

Flexible Storage for Every Space

If you don't need the full space of a new mezzanine floor, pallet racking is the perfect solution. Pallet racking is easily fitted to your current space. It's cheap, sturdy, convenient and you don't need any special loading vehicles. For those longer or bulkier items that don't work with pallet storage, our long span warehouse shelving and racking is the best option, providing an easy to fit and quick to adjust shelving system, able to be installed in any storage area layout. Not sure how much racking space you'll eventually need? We can start you off with a single bay and easily increase as your business does.

Raised Storage Works With Your Business Continuity

Because raised storage can be integrated into your existing warehouse and business operation, the disruptions and potential problems of relocation are eliminated and your business continuity is secured. With raised storage, your current work process is able to continue without interference and even move on to expand.

Massive Savings All Round

Because our raised storage solutions work with your precise business requirements, you'll never be paying for storage space that doesn't exactly fit your needs. Further, as our storage systems work within your existing space and are able to be customised and expanded as your operation grows, you won't have to worry about continually looking for more space. All this means no more relocations, no more spending on measures that don't fit and massive cost savings.

Contact Blue Diamond Machinery today to find out more about how we can help you find the right raised storage solution for your storage needs.