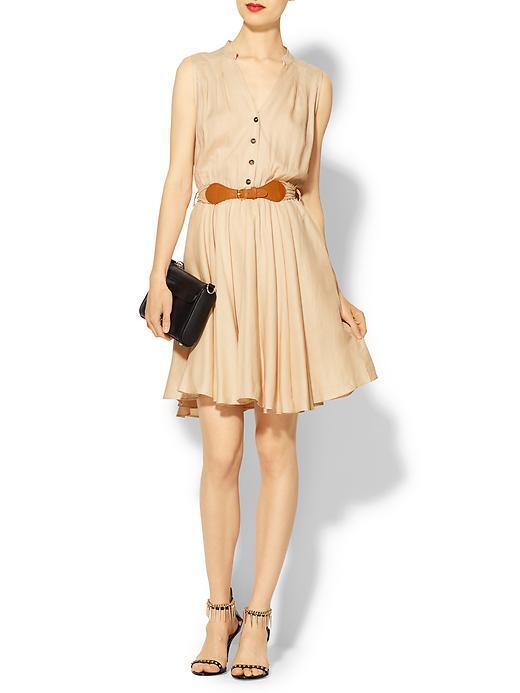 There is probably nothing more enjoyable than finding that perfect linen dress, unless it is one that is also a great deal. One of the great things about these dresses is that there are so many styles to choose from and they do not have to be expensive to look great either. Linen dresses are located at retail department stores and online at eBay.
It is important to note that picking out the perfect linen dress requires more than simply just grabbing one that looks great on a hanger. There are some things that should be taken into consideration, such as the size and colour. A dress should flatter the body and other features of a woman. Knowing how to choose a dress correctly is important before making the final purchase.
Overview of the Linen Dress
There are various styles of linen dresses to choose from which flatter a woman's figure if she chooses them correctly. One of the first considerations in choosing a dress is determining what the correct body shape is. Choosing an appropriate dress for the body shape has a lot to do with making a dress look good off the hanger.
There are some basic body shapes and knowing which body shape a woman has often helps to determine what style of dress suits her best. In addition to knowing which style of dress works best for a particular body type, it is also helpful to know what colours are the most attractive dress choices for a particular skin tone.
Basic Body Shapes
There are six basic body shapes that are used to categorise the figure of a woman. Knowing which body shape is the most accurate for a woman helps aid in her choosing a linen dress that really flatters her figure. The table below lists the various shapes and gives notable characteristics about each.
Body Shape

Characteristics

Spoon

Bust region is smaller than the hips

More weight is carried around the stomach and may have "love handles"

Hourglass

Considered most ideal shape

Bust and hips are equally proportioned with well-defined waistline

Top Hourglass

Bust area is larger than the hips with well-defined waistline

Length of legs is proportionate to the upper body

Inverted Triangle

Upper body is larger than the lower body

Broad shoulders, small hips, and subtle waistline

Oval

Large bust and slender hips

Carries weight in stomach area with no apparent waistline

Diamond

Shoulders and bust are smaller than the hips

Full midsection and widest part of body
These six basic body shapes are the most common ones for women. There may be more than one shape that a body resembles, so it is important to choose the one that most closely resembles one of the body types.
Dress Styles for Body Shapes
Linen dresses are flattering on a woman's body and should bring attention to all the right places. Once a woman knows which shape her body closely resembles, it is much easier to pick out a style of linen dress that suits her shape. Listed below are the various styles that look best according to these six basic body shapes.
Spoon
The best style of dress for the spoon body shape is one that creates the illusion of a more proportionate bust and hip area. The buyer should choose a style that is more curvy at the top to accentuate the bust area and make it appear fuller, and make the lower portion of the body appear longer. Choosing a mid-calf dress that is off the shoulders is a good option to show off the legs, which is the best asset for this body shape.
Hourglass
This body shape calls for a linen dress that accentuates the waist, making it appear slimmer. Choosing a linen dress that has a wide belt or adding a wide belt as an accessory helps narrow the appearance of the waistline. This body style also has great legs so any dress length works for this body shape. Full-length linen dresses are always a good choice for an hourglass figure.
Top Hourglass
Linen dresses that make the lower portion of the body look fuller help to bring this body shape into proportion. The bust region for this body shape is usually ample, but downplaying that asset aids in a more proportionate look. The legs are considered one the best features, so a woman should feel free to show them off with a mini linen dress.
Oval
In order for the oval body shape to appear more proportionate, it is essential to draw attention away from the waistline. This is accomplished by choosing a linen dress that has a top section that tapers down to the waist and a bottom section that adds more fullness and curves to the hip region. Knee-length linen dresses are a good choice to accentuate the legs, which is the best feature for this body type.
Diamond
Creating a more defined waistline is the key to making this body shape appear more proportionate. Choosing a linen dress that adds more curves and brings the appearance of fullness to the upper body and at the same time minimises the lower section helps to bring about a shape that is more balanced. The legs and arms are the best features for this body shape so choosing a sleeveless linen dress and one that accentuates the legs is a good option.
Skin Undertones
There are three basic colours of skin undertones which are warm, cool, and neutral. For women who have neutral skin tones, the sky is the limit as far as choosing a specific colour of dress, however the choices are not necessarily the same for women with warm or cool skin tones. Choosing a colour that works best with the skin undertone is a good way to choosing flattering dress colours.
Warm Undertones
For women who have warm skin undertones, complimentary colours for dresses fall into the warmer colour shades. Dresses that are in various shades of yellows, reds, greens, oranges, and browns are ones that are the most attractive. A red linen dress looks especially stunning on someone with warm undertones.
Cool Undertones
Skin with cool undertones has a broad range of colour choices as well. Typically colours in lighter shades of purples, blues, and greens work best; however some darker colours of green and blue linen dresses that are sleeveless are also attractive choices.
How to Buy Linen Dresses on eBay
One of the things that most women who shop on eBay love about this website is that this online market place never closes. Because many women live such hectic lifestyles, it is not always easy to find time for themselves.
Finding the perfect linen dress is never a hassle when a woman turns to eBay. It is helpful to know what colours work best and what style of dress is the most attractive when buying a dress online. To locate a linen dress, start by typing keywords into the search query box at the top of the eBay home page. If you want a strapless linen dress that is long, you can use words like "long strapless linen dress", and any dresses tagged with those keywords are returned for you to view.
Conclusion
Shopping for clothes such as linen dresses is always a fun thing for a woman to do, however, if she cannot find a dress that looks good by flattering her figure, that joy often fades. It is frustrating to try on dress after dress in order to find one that looks the best. This frustration can be eliminated when a woman knows what type of body shape she has, and tailors her dress choices to fit that particular shape.
Choosing a linen dress that flatters the skin undertone also helps to find a dress that works well with a woman's colouring. Knowing what style and colour of dress to choose is one of the first things that a woman should take into consideration before shopping for linen dresses, and it makes the experience much more enjoyable as well.