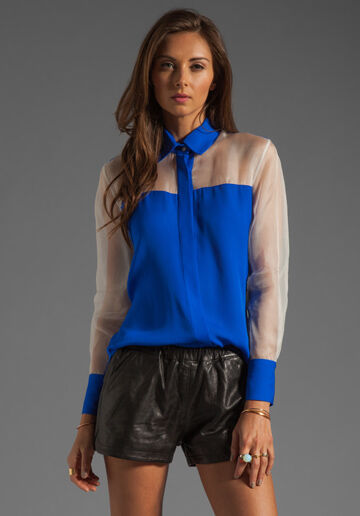 Both linen and silk fabrics are made from natural fibres, so deciding on a blouse made from either fabric must be based on other factors, including personal preference. Linen fabric is cool, breathable, and durable. It is very absorbent, and comes in textures that range from rough and stiff to soft and smooth. Silk fabric is smooth and shiny, highly absorbent, and durable. It has a finished, expensive look, but it tends to weaken when wet. This may have an impact on the buyer's decision when purchasing a blouse.
On the other hand, silk is a better conductor of heat, which people in cooler climates may prefer, while linen is often the top choice in warmer climes. When buyers need to decide between buying a linen or silk blouse, they should take the aforementioned fabric characteristics in mind, as well as their budget. The fabric of the blouse affects its cost, but so does its style and brand name. While silk tends to be more expensive, some styles and brands of linen blouses may be an exception to the rule.
Linen
Made from the fibres of the flax plant, linen is expensive to produce but the end result is worth the cost. Popular for its remarkable coolness and ability to maintain its crispness in hot weather, linen fabric has a high natural sheen. Natural, undyed linen comes in ecru, grey, tan and varying shades of ivory. To produce pure white linen, the fabric goes through a heavy bleaching process. Linen also comes in several thicknesses. This affects how it feels, whether coarse or smooth.
Knots in the fabric, called "slubs", are often accepted as a natural characteristic of linen. However, this is not true, since fine linen is slub-free. In truth, these knots are simply imperfections in the fabric. The knots have their uses, since they indicate a particular piece of fabric is of substandard quality. Linen is cool, durable and particularly appropriate to be worn on those warm summer days or in tropical climatic conditions. Linen is suitable for blouses, suits and many other items of clothing, and for bed, bath and kitchen linen, as well as luggage, home decor, and artwork.
Linen Care
Although linen fabric is easy to maintain, wearers should take precautions during laundering and care to optimise its durability. Linen is lint free, and is the only fabric that gets stronger when wet. This makes it much easier to launder, since it is machine washable. Although it is stronger when wet, the more it is laundered, the softer and more pleasant it feels against the skin. However, it has poor elasticity, which means it wrinkles easily. Users should sore linen garments on a hanger instead of in a drawer after laundering, because constant folding or creasing along the same lines can eventually break the linen threads, resulting in cracking.
Linen resists dirt and stains, but the fabric can be marred by bleach, mildew, and perspiration. However, due to the strength of the fibres, and the fabric's ability to withstand high temperatures, it can be dry cleaned or steamed. This helps correct those problems. Apart from the initial minimal shrinkage, linen maintains its shape and size, and should be ironed at a high temperature to remove wrinkles. Contrary to some beliefs, ironing is not required if the fabric is air dried on a hanger or tumble dried at low heat and hung immediately after retrieval.
Silk Fabric
Silk is a smooth, soft material. It is quite durable, but it tends to lose some of its strength when it gets wet. It can also get weakened if exposed to sunlight for an extended period of time. It does not have much elasticity, so garments made from it has be the right fit the first time around, and if it gets stretched it does not return to its initial state. Additionally, silk fabrics are prone to insect attacks especially if the garment is left dirty for elongated periods. With all that being said, silk is actually a very durable fabric that can last for many years.
Silk Clothing
Silk is a versatile fabric. Its high absorbency level makes it suitable for warm weather clothing and active wear. However, it also has low heat conductivity; it keeps warm air closer to the skin, making it useful during cold weather. These factors contributes to reasons silk is often used for bedding and high fashion clothing, such as formal dresses, blouses, shirts, lingeries, and ties. However, when used for bedding, upholstery, rugs, or other decor related furnishings, makers often blend silk with other fibres
Silk Laundering and Everyday Care
Manufacturers often wash or dry clean silk fabrics before making them into garments, because they have the tendency to shrink when the fibre's macro-structure relaxes. Shrinking sometimes still occur when users dry clean a garment, but this can often be reversed by steaming the item. For everyday cleaning, users should wash silk garments in warm water with a mild detergent. Do not wash vigorously, but rather rub stained areas gently until clean. Rinse the silk garment in a solution of vinegar and water, and then rinse again in cold water. After this, pre-dry the garment by wrapping it in a fluffy towel; then leave it to dry completely on a flat surface.
Linen Blouses vs. Silk Blouses
Many factors influence a buyer's fabric selection. For example, the fact that linen is made from plant fibre while silk is manufactured from protein fibre may impact a buyer's decision. Linen comes from the flax plant, whereas silk is manufactured from the larvae of worms bred in captivity. Linen is more suitable for someone who lives a hectic lifestyle while silk gives off an aura of luxury. Knowing something about the characteristics of each fabric can help buyers make a suitable choice. The chart below highlights the most important advantages and disadvantages of each fabric type.
Fabric

Advantages

Disadvantages

Durable; stronger when wet

Able to withstand high temperatures

Cool to the touch; made from plant fibres

Does not stretch

Minimal initial shrinkage

High absorbency

Suitable for all cleaning methods

Not susceptible to insects

Low elasticity

Does not generate heat

Easily wrinkled

Fibres susceptible to breakage with continuous folding

Heavy

Silk

Smooth glossy surface

Durable

Low conductivity reflects light at various angles

Light

Stretchable

Aura of sophistication

Made from protein fibres

Shrinks when exposed to high temperatures

Special laundry care

Weakens when wet

Poor elasticity (does not bounce back when stretched)

Susceptible to insects
There is no one perfect shirt for everyone since each fabric and blouse is unique and special in its own right. Consumers should consider if the fit is right, if the pile is right, and if the material and shape accentuates her best features.
How to Buy Silk and Linen Blouses on eBay
Buying clothing on eBay is a simple task, so buying silk or linen blouses takes little to no effort once you know what you want. If you have not yet decided on a fabric type, you can start a general search for "blouses" from the eBay home page. You can then browse through the results to find a blouse that appeals to you, or you can create a filter for linen or silk blouses at that point. Once you select a fabric, you can then narrow your results by filtering by blouse colour, brand, and size. However, if you already know exactly what blouse you want to buy, you can simply enter the relevant keywords in your initial search. For instance, if you need a purple Portman silk blouse or a green linen blouse, you can enter the specific details into the search field to get refined results. Once you locate a silk or linen blouse that suits your needs, you can then conclude the sale and pay the seller. You can also browse other deals on clothing and accessories to complete your outfit.
Conclusion
Buying any item online requires some care and thought, particularly articles of clothing. Individuals want to look their best, and with rapid and seasonal changes in the fashion industry, the choice of fabric is important. However, linen and silk are two fabrics that are always in vogue; therefore, blouses made from either or both of these fabrics are a wise choice. The consumer should keep in mind the different properties of both fabrics, as well as her budget. eBay makes it easy for you to purchase your linen and silk blouses. Whether your selection is based on the occasion, lifestyle, colour, fabric, or location, the ultimate decision is left to to the preference of the purchaser. You can find the right linen or silk blouse on eBay.
Silk Blouse|Linen Blouse|Silk Fabric|Linen Fabric|Silk Clothing