Stamps Australia Online

When buying gold or silver it is a good idea to see what the current silver or gold prices are before you bid. You may find a gold or silver coin for example which has the value on the coin as being $10 though lets say for this example that the coin weighs 10 grams. If the 10 gram coin was gold it would mean that at present gold prices would be worth around AU $250, and if the 10 gram coin was silver it would be worth around $5 according to current silver prices. These values are taken from current silver and gold prices and do not consider the rarity of the coin itself which can increase the coin value dramatically.
Though knowing what the current price of gold and silver is can be very useful to know before making any decision to commit to bid or buy an item. There are several good web-sites available that offer precious metal quotes, though not all of them are free to use. I suggest you try using www.kitco.com which is a free site that offers reliable precious metal quotes in Kilos and Ounces. The site also has the option to view current metal quotes in different currencies, Australian, US, Canadian, South African, Euro, Pounds, Swiss and Japanese Yen are all available. Kitco also has an option to view "Historical Charts" which allows you to make a comparison from last months prices to this months current price, you can make comparisons in prices on Gold, Silver, Platinum, Palladium and Rhodium as far back as 1994.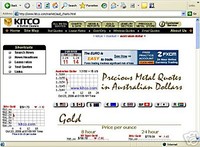 If you find www.kitco.com to be useful or you shall be continuing to dabble in buying or selling precious metals it would be a good idea to add kitco to your favorites list so you can access the site easierly whenever needed.