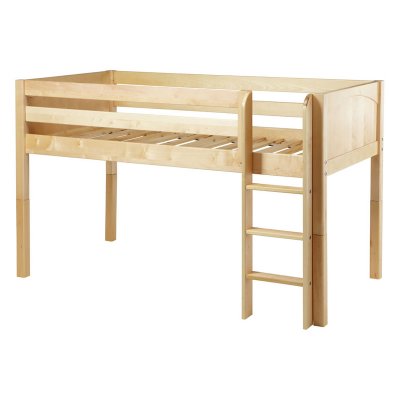 When space is limited in a bedroom, a loft bed is a great choice. A loft bed elevates a mattress above the normal bed, clearing room underneath for additional furniture or storage, including desks, sofas, entertainment centres, bookshelves, and dressers. Loft beds are available in several sizes and styles, making them ideal for children, teens, university students, and adults. Buyers need to take into account several factors when choosing a loft bed. The materials used in the frame, the size of the bed, and extra features on a loft bed all merit consideration. Loft beds are available from furniture stores as well as through online sources such as eBay.
Materials for Loft Beds
One of the first considerations when choosing a loft bed is the material. Loft beds can be made from an assortment of woods, including maple, pine, and oak, as well as laminates and veneers that look like real wood. They often have particleboard or an engineered wood at the centre, overlaid by another material. Laminates are frequently printed with a wood grain, while veneers may have a thin layer of actual wood. Even the choice of wood can affect the bed; pine is a soft wood prone to sustaining nicks and dents, although it is also easy to cut and work with. Maple and oak are hardwoods that have strength and stability. They are generally more difficult to work with. Loft beds can also be made with metal frames, whether steel or wrought iron, and fusions of wood and metal. All types of frames have their own advantages and can be strong and durable when manufactured well. Metal tends to have a more modern look, while wood frames can be found in a variety of styles, from whimsical to elegant. Children's loft beds may be colourful or even themed to match the design of a bedroom, from a fairy tale castle to a bright playroom.
Bed Sizes
Although single and king single are the most common sizes for loft beds, they are not the only options. Larger bed sizes make loft beds ideal for adults, especially when space in an apartment or home is limited.
Apart from the most common mattress dimensions (single-188 x 92, king single-203 x 107, double-188 x 138 and queen being 203 x 153 centimetres), consider just how large the bed frame is. Check the weight limit of the loft bed, especially if adults are sleeping on it. Finally, consider the height of the frame. Loft beds for children may be closer to the ground for safety purposes. Teens and adults may prefer a taller loft bed to get higher clearance under the bed, comfortable enough to sit under if a sofa or chair is placed there. Also consider how much space there is between the mattress and the ceiling. For adults, 84 cm (33 inches) of clearance should be enough to sit up comfortably in the loft bed.
Extra Features
Loft beds are ideal because they free up space beneath the bed, more so than traditional beds. A tall loft bed can easily accommodate a desk under it, or include a built-in dresser or shelving. Open space beneath a loft is perfect for a sofa, or a chair and entertainment centre. Some loft beds may offer these extra features built in, adding to their convenience. In others, consumers may have to purchase the pieces separately, which allows for more customisation and personalisation in terms of layout and how the space is used. It is also worth noting the positioning of the ladder in a loft bed and the presence of guard rails.
Ladder Placement
The placement of the ladder in a loft bed determines its position in a room. Some ladders are placed at the foot of the bed, while others along the side. Ladders may sit flush to the frame of the bed without taking up any additional space, or they may extend outward and take up additional space. Some designs even contain actual easy steps rather than requiring someone who may be less able physically to climb up a more challenging ladder.
Guard Rails
Adults and children alike can benefit from a loft bed with guard rails that keep the sleeper from falling off the bed if he or she happens to roll in the middle of the night. Even if a loft bed is positioned against the wall, railings on both sides can prevent the sleeper from becoming wedged between the wall and the mattress. For children, a loft bed should have railings that start at no more than 9 cm (3.5 inches) above the mattress and reach at least 13 cm (5 inches) above; this can prevent a child from slipping through.
How to Buy
Shop eBay to find a great assortment of furnishings, including loft beds. Start by visiting the eBay Deals page, where you can find bedroom furniture and other items at great prices. You can also search for items by using keywords, such as "wooden loft bed". Narrow down your results by category, price, and other factors via the use of eBay's refinement filters. You can browse new and used items from a variety of sellers. If you choose a local seller and everyone involved is comfortable, you may even be able to arrange to pick up your purchase yourself. Read the seller's listing and use the Ask a Question feature if the listing does not address your concerns. Also take the time to check the seller's feedback history. By shopping smart, you can find the right loft bed for you or your family members on eBay.