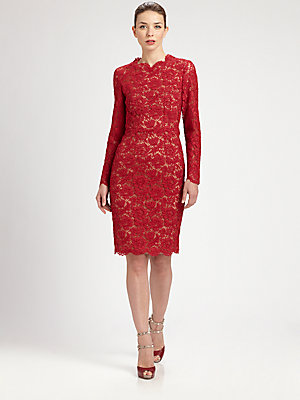 A long sleeve dress is a great look for any time of year and for just about any occasion. While the versatility of this type of garment appeals to shoppers, finding the appropriate long sleeve dress is often challenging. There are many styles to choose from, and very few dresses flatter every type of body. In order to shop successfully for a long sleeve dress, shoppers must therefore consider a few key points of style and know how to size a dress. One's body type needs to be factored in as well.
Shoppers can find large selections of long sleeve dresses at department stores, specialty stores, and boutiques, among other traditional sources. One can also find a wide array of this type of clothing on eBay. The website is a great source for flattering dresses as long as consumers know what to look for and how to search eBay to find great deals.
Style of Long Sleeve Dress
One must consider a number of style-related points in order to find the right long sleeve dress. Material influences the time of year that a dress is suitable for, while features such as length, sleeve design, and neckline determine the anatomical features a long sleeve dress can help accentuate.
Material
Long sleeve dresses are especially ideal for cooler weather because of the warmth they provide for the wearer's arms. The material from which a long sleeve dress is made also influences how warm it is. Wool and heavier cotton tend to be warmer than polyester and silk. A shopper who is looking for a long sleeve dress for the warmer months should consider a sheer material that keeps the sun off the skin and ventilates to keep the wearer cool.
Dress Length
The length of a long sleeve dress often dictates the occasions and settings for which the dress is appropriate. Consumers can choose from above-knee, knee-length, mid-calf, and full-length long sleeve dresses.
Above-Knee Length
Above-knee long sleeve dresses tend to be more revealing. They show a great deal of leg, so one who chooses this length should be confident about this part of her body. Long sleeve dresses of this length are ideal for venues such as nightclubs.
Knee Length
Knee-length long sleeve dresses are quite versatile. They typically have a casual look that may be appropriate for the office, dining in a restaurant, or attending a cocktail party.
Mid-Calf Length
Mid-calf long sleeve dresses are often more formal than knee-length dresses, though many of the longer dresses are casual. They can be suitable for the office or for socialising. The extra length lends these dresses a bit more warmth, making them a good choice for cooler weather.
Full Length
Full-length long sleeve dresses tend to be formal. This dress length is well suited to occasions such as weddings and black-tie parties. Many consider the full length of the dress to be an elegant look. Only a few styles, such as a lightweight dress with a floral pattern, for full length long sleeve dresses are practical for casual wear.
Sleeve Design
The design of the sleeve in a long sleeve dress also influences how the dress looks. The table below lists a few common sleeve designs and the parts of the body they can complement or contrast.
| | |
| --- | --- |
| Sleeve Design | Description |
| Bishop | Fuller at bottom; draws attention from broader shoulders to lower arm; complements larger bust |
| Bell | Wider at bottom than bishop; also draws attention from broader shoulders and complements larger bust |
| Leg-of-Mutton | Embellished at shoulder and tapered down to wrist; balances wider hips and slims larger triceps |
| Dolman | Upper sleeve connects to lower part of seam on dress body; underarm fabric very loose; minimises waist |
| Juliet | Puffed at shoulders, though less so than leg-of-mutton; also balances curvier hips, but does less to slim triceps |
| Poet | Flares out from slim shoulder to wide lower arm; more pronounced than bell sleeve, but has similar effect of counterbalancing wide shoulders |
Sleeve design is a critical factor in determining how a long sleeve dress looks on the wearer. Paying close attention to this aspect therefore helps shoppers know what to look for and what to avoid in a long sleeve dress.
Neckline
The neckline of a long sleeve dress also influences how the dress looks on the wearer. A crew neck is a rounded neckline that rises higher than other necklines. It helps shorten a longer neck, but a crew neck with a lower neckline can also flatter a shorter neck. The scoop neck is also round, but it is wider than a crew neck. This type of neckline makes narrow shoulders seem broader and reduces a prominent bust. A V-neck is shaped like a V, which helps elongate a shorter neck. Shoppers with narrow shoulders should consider long sleeve dresses with a boat neck. This type of neckline runs wide along the collarbone, which broadens the look of the shoulders.
Fit
Choosing the right style for a long sleeve dress means little if the dress does not fit well. Finding the correct size and matching a dress to one's body type are key aspects of achieving a flattering fit.
The table below lists standard measurements for different sizes.
| | | | |
| --- | --- | --- | --- |
| Size | Waist (cm) | Hips (cm) | Bust (cm) |
| | 61 to 66 | 86 to 91 | 81 to 86 |
| | 66 to 71 | 91 to 97 | 86 to 91 |
| | 71 to 81 | 97 to 102 | 91 to 97 |
| | 79 to 86 | 104 to 111 | 97 to 106 |
| | 86 to 94 | 111 to 118 | 106 to 124 |
Not all manufacturers cut their long sleeve dresses to these specifications. It is therefore important that the shopper consults with the seller as to whether or not a particular dress has been made true to size.
Body Type
Identifying one's body type helps a shopper choose a long sleeve dress that can help her look her best. Body types can be categorised as hourglass, triangle, straight, and full-bust figures.
Hourglass Figure
Curvy hips and bust and a relatively narrow waist define an hourglass figure. Fitted long sleeve dresses suit this type of body, and an adjustable waist can achieve a particularly flattering look.
Triangle Figure
Fuller hips and narrower shoulders characterise the triangle figure. Empire-waist long sleeve dresses help embellish the bust with a fitted bodice just below it.
Straight Figure
A straight body has relatively little difference in width from the shoulders to the waist to the hips. A fitted long sleeve dress accentuates this figure, while an empire-waist adds curves.
Full-Bust Figure
A bust that is fuller than the hips defines a full-bust figure. If one is looking for a long sleeve dress with a slimming effect, a dress with a V-neck fits the bill. A longer dress also helps balance the lower half of the body.
How to Buy a Long Sleeve Dress on eBay
eBay offers a large selection of long sleeve dresses. You can begin a search for the long sleeve dress you want from any eBay page with the search bar. To see the selection available on the site, use "long sleeve dress" as your search term, and choose the category related to women's clothing when eBay returns the results. You can then filter the results based on your size and features such as colour, length, and material of dress.
To find a bargain on a long sleeve dress, try the eBay Deals page. This is where eBay lists high-quality items that are being sold at discount prices. Long sleeve dresses on sale should be listed under the category related to women's clothing.
Conclusion
Finding an eye-catching long sleeve dress involves evaluating a few important style points and finding the a dress that fits well on the body. Style points include the material from which the dress is made, the length of the dress, sleeve design, and neckline. These points have an impact on the parts of the body a long sleeve dress can enhance and the occasion that the dress is suitable for. Finding the correct fit is based on one's size as well as body type.
If shoppers give these aspects of the buying process proper consideration, they should have no trouble finding the right long sleeve dresses on eBay. Furthermore, with basic knowledge about using the website, shoppers can save money without sacrificing style points or a proper fit.