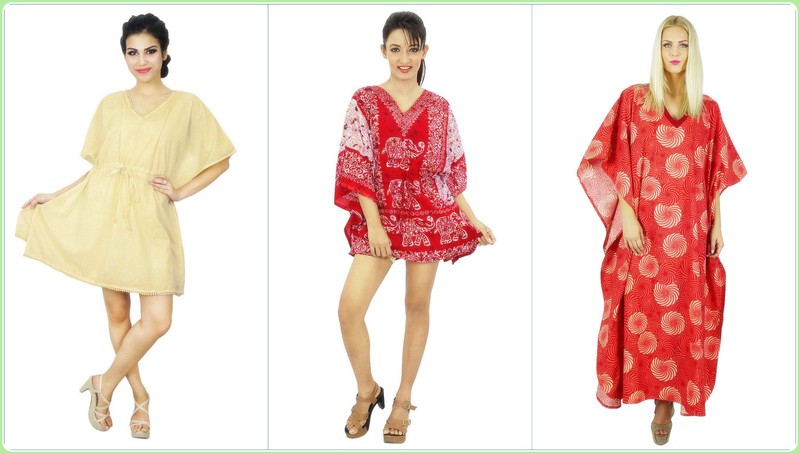 Kaftans,
often worn as maxis or tunic tops, Kaftans can be donned both at office and at parties. It can be made of various fabrics and in vibrant hues with different textures and prints. This long, flowing dress is amongst the best summer outfits. The best feature about kaftans is that it suits all body types with ease. If you are flabby, kaftan is your savior. You can easily hide your extra flesh and look slimmer. Kaftans can be your favorite holiday outfit especially when you go out for a night troll with your friends or it can be the most comfortable beachwear which can be paired with jeans or baggy trousers for formal or casual outings.
Off late, with the fashionistas high on
Boho fever
, kaftans have been modified so as to serve as the perfect party wear such as weddings or other social gatherings. The heavy embellishments and vibrancy in hues makes the long gown a unique piece of outfit for special occasions. Indian women wear kaftans with churidar or leggings to add some extra ethnic touch to the outfit. For stylish and sophisticated look, go for satin or lycra fabric and accessorize it with some funky boho jewelry.
Some pointers you need to know about donning a kaftan:
Ensure that you aren't wearing a long kaftan while going out for shopping or a casual walk.
Since kaftans itself are an attractive piece of garment, make sure that you wear limited accessories. Do not over do the ornamentation.
Kaftans aren't well suited for rainy days. A flowy dress is for a bright sunny day that will make you feel blooming like a flower-fresh and lively.
Types of kaftans:
Maxi Kaftans: Many women love wearing the long flowy maxi kaftans because they claim to get an angelic look in them.
Midi Kaftan: Midi kaftans are very much in demand amongst apple shaped and pear shaped women. They not only cover the extra pounds but also gives an attractive appearance to the wearer.
Short Kaftans: Wear your short kaftans with your jeans or capris. The perfect beachwear and a very comfortable outfit. They'll give you a very adorable look.