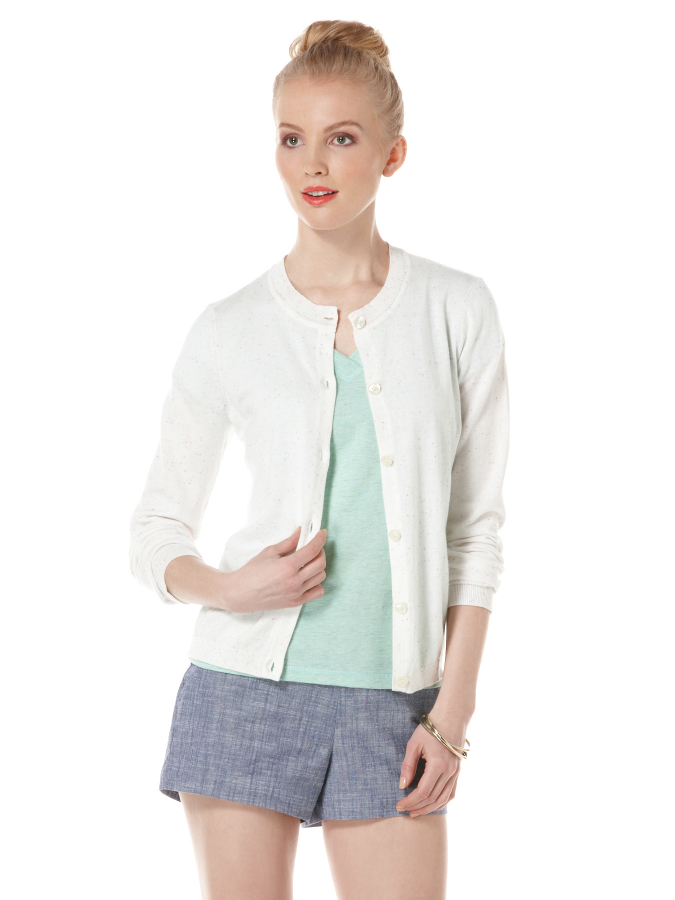 Originally, cardigans were known as simple knitted garments that buttoned down the front. Eventually more versions were designed and at present cardigans come in so many variations that it is hard to decide whether a sweater or shirt would fall into the cardigan category. However, the many styles makes it easy for anyone to find a cardigan that they love. Not everyone likes the older versions that were reminiscent of the 1950s, and they are certainly not limited to those. With so many beautiful cardigans out there, it is no wonder that they are a staple item in nearly every woman's wardrobe. Both long-sleeve and 3/4 length cardigans are excellent choices for an outfit and most are so versatile that they can be worn in a number of ways.
What are Long-sleeve and 3/4-length Cardigans?
Long-sleeve cardigans cover up the arms and are cut off at the wrists. These are great for the cooler months when it is not quite cold enough for heavy sweaters, and not warm enough for tank tops. 3/4-length sleeves cover the arms to just below the elbows. These too can be worn in cool weather, but they are often adequate for the cold months as well.
Long-sleeve vs. 3/4-length Cardigan Styles
Both the long sleeves and the 3/4-sleeve cardigans come in many styles and also in a few different material choices. Gone are the days when every cardigan was knitted. Though the majority are today, some other fabrics are considered cardigans as well.
Hooded Cardigan Jackets
Hooded cardigans generally have long sleeves, are knitted, and a have lengthy torso. Often they reach to the thighs. The common style is to wear these like a jacket with a shirt underneath and the front unbuttoned.
Twin Set Cardigans
Twin set cardigans are two pieces that are either attached or separate. They are the same material and look like a cardigan being worn over a matching shirt. These come in both the long and 3/4-sleeve options and since they already have a shirt with them, they are an easy top to wear. The nice thing about the twin sets is that they can be thrown on with casual jeans or dressed up with a pair of slacks and some jewellery.
Cropped Cardigans
Cropped cardigans are a trendy choice that has recently become popular. These come in all sleeve lengths, but they stop just underneath the chest. Since they are so short, they give the outfit a neat layered look. They draw the eyes to a person's waistline where the hem of the cardigan falls. Since they add volume to the chest, this style of cardigan makes a woman's figure look more curvy and obtain that coveted hourglass shape.
Usually these sweaters are made with loose knit materials but they come in other varieties as well, including fabrics that look like lace. Choose colour and style that goes well with several shirts.
Tailored Cardigans
Traditional cardigans hung loosely on women which meant that the tops were comfortable but not always flattering. Tailored cardigans are shaped to accent the figure. Typically they reach mid-hip or just under the waistline. The shorter ones are meant to show off a tiny bit of the shirt underneath. Tailored cardigans come in a variety of styles. They may have a full set of buttons or they can have as few as one button. Depending on the material, they can be dressy or casual, but it is much easier to look dressy in these than in the traditional cardigans. When paired with high heels, skinny jeans, and a necklace, these cardigans are ready to go out on the town.
Short and Long Draping Cardigans
Draping cardigans have extra fabric so that they hang loosely and flow around the torso. The short ones reach to the waist, while the long ones go down to the mid-thighs or just above the knees. These do not have buttons on them because they are meant to be an accent piece to the shirt and not cover it up. Draping cardigans are often embellished with ruffles or folds and have a cascading opening.
The short cardigans can be a little harder to wear simply because they add a lot of volume to a woman's torso. However, the verticals lines of the long cardigans have a slimming effect. Because draping cardigans have so much fabric, they should only be worn with other fitted clothing. If skinny jeans are not an option, consider flared ones that are tighter around the waist and thighs but wider at the knees.
Long, Straight Cardigans
These kinds of cardigans are popular in the winter with a pair of knee-high boots. They fall in a straight line down to the thighs or just below. These often have an open front or large decorative buttons all the way down. Because of their length and straight lines, they tend to make a woman look slimmer. However, they also detract from height which can be remedied with a pair of high heels. To give them a more curvy appearance, purchase a wide belt to wear over the cardigan.
Boyfriend Cardigans
Boyfriend cardigans reach to the hips and have a basic, straight cut. They are characterised by their chunky knit patterns that add texture to an outfit. They have an old fashioned appeal but due to their bulky nature, they need to be worn with form fitting apparel.
Print Cardigans
Not all cardigans come in solid colours like they used to. There are definitely more options available that range from stripes to floral patterns. For an extra flare, look for decorative accents such as beading, ruffles, or lace.
Get the Right Cardigan Size
Before shopping for cardigans, women need to measure themselves so that they can choose the proper size. It is also important to consider how the cardigan is cut because ones that are designed to fit loosely cannot be made form fitting just by ordering a smaller size. Shop for a different cardigan style if a form fitting one is desired.
How to Shop for Long-sleeve and 3/4-length Cardigans on eBay
Finding that perfect cardigan can be a real chore if you do not know where to look. Instead of wandering around town at various stores, try looking on eBay. Their deals page is filled with fantastic sales on women's apparel. If you do not find anything you like there, you can use their search bar to bring up any kind of item you want. For example, try searching for "women's cardigan" or "cropped cardigan". A list of products appears that you can then start looking through.
As you browse, try building up a list of all the styles you like by adding individual products to your eBay Watch List. Once you have selected several items, go to your My eBay page to take a closer look at the cardigans and decide which ones you want to order. Make sure the product is available in your size and read the seller's description.
Conclusion
The return of cardigans to the fashion industry has been celebrated by many. They are comfortable, practical, feminine, and completely transformed from how they used to be. As a piece worn over a top, cardigans are perfect for staying at a comfortable temperature level during the cool seasons and even the cold ones. They can be removed whenever needed and since they are not nearly as large as a sweater or coat, they are easy to carry around. The many varieties of cuts and styles makes them more versatile than they used to be so there is a perfect cardigan for every woman out there. Simply consider the apparel in the wardrobe and select a cardigan that can be worn with several different outfits.
cardigan|long-sleeve cardigan|3/4-sleeve cardigan|beautiful cardigan|hooded cardigan