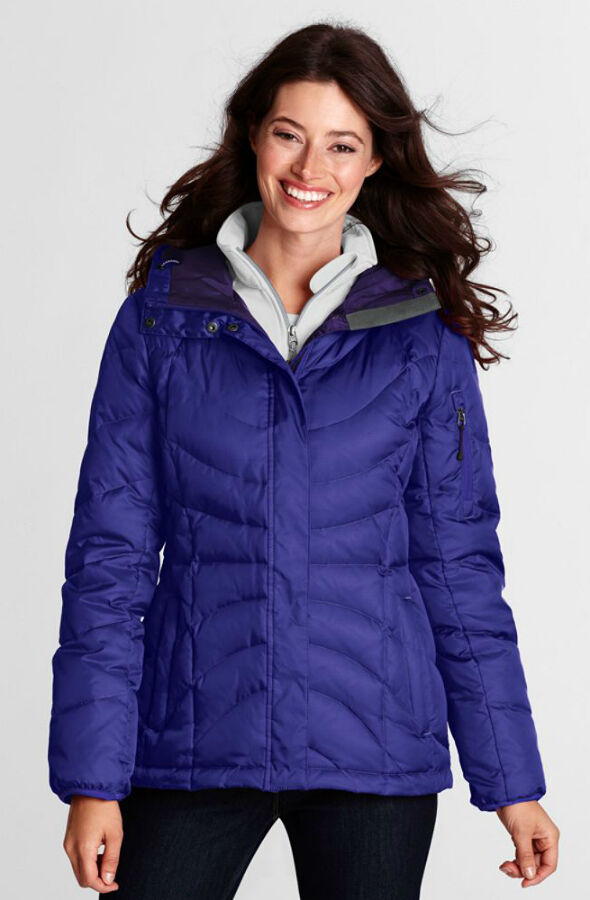 A coat or jacket is an outer garment people wear throughout the year for a variety of reasons, whether as a protective garment, for comfort, or just for style. They come in various lengths, and are made from a variety of fabrics. The choice of fabric and length, whether it is a long coat or a short coat, is usually based on the wearer's preference, although other factors such as the weather or fashion trends play a role in selection. Coats worn indoors are generally made from lighter, washable fabrics, and are less durable than coats meant for outdoor use. Not only is the choice of fabric influenced by the purpose for which the coat is needed, but length and colour are as well. Affordability and religious or other social factors also impact the choice of coats. Whether long or short, a coat is a necessary garment.
Factors that Influence Coat Length
Depending on the occasion, buyers may prefer either a long or short coat. Factors that influence this decision include the purpose for which it is needed, the occasion on which it is to be worn, weather conditions, and affordability.
Fashion Coats
People attending social functions often wear coats as an accessory, rather than out of necessity. They may choose to wear a short coat to top off their fine attire, or a long coat to complement their outfits. When donned for protective comfort in cold weather, long coats may be more suitable for adults, particularly persons suffering from arthritic conditions in an attempt to protect their lower joints from the cold elements. However, short coats may be better for children and older adults who are likely to trip and fall, and also allow more freedom of movement for the legs. Short coats provide a better view of your fashion ensemble, but do not go well with all styles.
Lab Coats
Laboratory coats are worn for lab duties, and buyers should opt for longer ones, since laboratory workers handle sensitive or hazardous materials that can damage clothes or cause injury if spilled. Longer coats protect both clothing and limbs from exposure. The longer the coat, the more fabric is needed for its construction; therefore, a short coat may cost less. Height and build should also be a deciding factor in the choice of coats lengths; the same coat may look elegant on one person and dowdy on another.
Choosing the Most Suitable Coat Length
Before purchasing any article the foremost thought is the occasion for which it is needed. If attending a fall or winter function where you may have to stand outdoors for an extended period, then a long coat may be more suitable to keep your legs warm. However, if the coat is heavy it may become a drag, but paired with tall boots and leggings, a short coat may be the right choice.
Choosing Coats Based on Weather Conditions
Buyers should take weather conditions into consideration when choosing the length of a coat. A long coat protects clothes and lower limbs when the wearer is walking in the rain, but it also restricts the wearer's movements. With a short coat, the opposite is true. A long coat may cause a short person to look shorter and appear frumpy, but this can be corrected by wearing high heeled boots.
Choosing Coats for People with Mobility Aids
People who walk with a stoop or with the aid of a walker or walking stick may be safer wearing a short coat. A long coat may get tangled with shoes or mobility aids, which may result in accidental injury from falling. On the flipside, a long coat may be the perfect choice for people who are self-conscious about their legs for some reason. Also, taller individuals should wear longer coats to avoid looking angular and gawky.
Choosing Coats for Men
Men in particular must choose the right length based on both height and body size. A paunch tends to lift the front of the coat higher than the back, which results in a "peg hanging" look, if the coat is too short. Short coats are easier to adjust when seated, but they leave your knee joints and lower limbs exposed. Long coats, on the other hand, offer more protection for legs and clothing, and they also look very flattering when worn over tall boots and close fitting pants. However, a short coat is more stylish when worn with a short dress, and is often appropriate for formal occasions. Whether long or short, each coat length has its advantages and disadvantages. The chart below further highlights some of these.
Coat Length

Advantages

Disadvantages

Protects clothing and lower limbs, suitable for taller individuals, looks chic when worn with high-heeled shoes or boots

Great protection in rainy weather

Can still be worn as a mid-length coat if shrinks

May be worn both formally and casually

More difficult to sit in when closed

Can cause tripping

Heavier

Costs more due to the amount of fabric

Liable to get dirty much quicker, not suitable for motorcycle riding

Short

Easier to manipulate

Suitable for shorter people

Suitable for children

Lighter

Comfortable to sit in

Costs less

Appropriate for both formal and casual occasions

Best choice for motorcycle riding

Leaves your lower limbs exposed, does not sit well on large stomachs or paunches

May ride in the front or hitch the hemline of short garments

May not fit well after shrinkage
Buyers can use the information above to help determine which coat length may be more appropriate for various occasions. Depending on particular needs, buyers may find that a long coat or short coat is more suitable.
How to Buy Coats on eBay
Buying any garment online can be tricky, since you cannot try it on. However, eBay makes it as easy as possible for you. Your first step should be to enter a search term, such as "coats", into the search box on the eBay home page. After receiving the results, you can then narrow your search to, mens coats, womens coats, or childrens coats, based on who the item is for. You can then filter by coat length, by colour, or by brand name - or simply look through deals on coats for inspiration.
However, the filtering process can be bypassed if you simply enter a more specific search phrase, specifying the wearer's sex and the length, colour, and brand of coat you seek. For instance, if you are hunting for a men's brown, vintage, leather, motorcycle coat; you should search for the term " brown mens short vintage leather motorcycle coat ". That brief phrase covers gender, length, colour, and the particular type of coat you want. Once you decide on a specific coat, you can make your payment or contact the seller if you need more details.
Conclusion
Coats are necessary garments worn for various reasons. Besides being worn to combat climatic conditions, coats are worn as protective clothing, as stylish accessories, or simply to hide a flaw on either the wearer or the clothes beneath. Whatever the reason for wearing a coat, buyers have many choices of length and design to suit all tastes and occasions. Some people may be more comfortable in a long coat, while others prefer a short coat. The choice of coats is entirely up to the buyer, although many factors influence the selection. For example, buyers should take into consideration their body type, the weather, and the types of occasions during which the coat will be worn before deciding on a length. No matter the length or style of coat the buyer wants, eBay makes the buying process simple by providing a powerful search engine and unique filtering process.
long coat|short coat|lab coat|leather coat|blazer