Tired of all the fake Louis Vuitton items being sold as "authentic"? Did you know that it is illegal to sell counterfeit trademarked goods and that it can get you arrested, even if you didn't know they were fake? It is also illegal to purchase more than one counterfeit item, as it is considered trafficking. Did you know that a lot of the funds raised through selling fake brand names is used towards terrorist activities?
It is relatively easy to compare the item you are considering purchasing to the genuine item by visiting Loius Vuitton's website and browsing through the catalogue. If the item you are considering is not shown as exactly identical, then it is NOT genuine! Beware though, some clever fakesters use direct copies of pictures from the Louis Vuitton site in their listing, rather than the item they are actually selling. If the photo you see in the Ebay listing is the same as the one on the LV website, ask the seller to send you a photo of their item that they have taken themselves
Ebay cannot check every single item listed on its site, nor should they be expected to. It is up to YOU, the purchaser, to be aware of what you are bidding on. If you do discover fake items in your searching, you can report them to Ebay here: Listing Violations . Ebay will attempt to verify your report and remove the item if your claim is correct
If you are sure the item is in fact fake,then visit mypoupette.com website and email them with the information. They will add that seller to their "no sale" list as a preventative for other potential buyers. Another site to report illegal sales is counterfeit.com.au . An excerpt taken directly from that site: "By providing your assistance, you may be protecting your friends and neighbors from safety hazards and consumer fraud, saving Australian jobs, fighting organised crime and terrorism, eliminating unfair competition against legitimate retailers and helping to eliminate tax evasion."

A search on Ebay such as louis vuitton or vuitton will produce hundreds of results, once you find the item you are interested in, open another browser window and compare your item side by side with the item listed on the Louis Vuitton website.
an example of a fake item found on Ebay: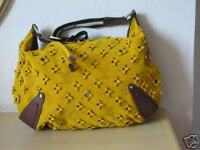 now use your newly learned skills to compare this to the genuine item shown on Louis Vuitton website. You'll find the genuine item listed in 'women's city bags and briefcases' in Monogram Suede as Onatah GM . Now you see how easy it is to be reasonably certain you are not buying a fake.... go ahead.
START SEARCHING!!!!!