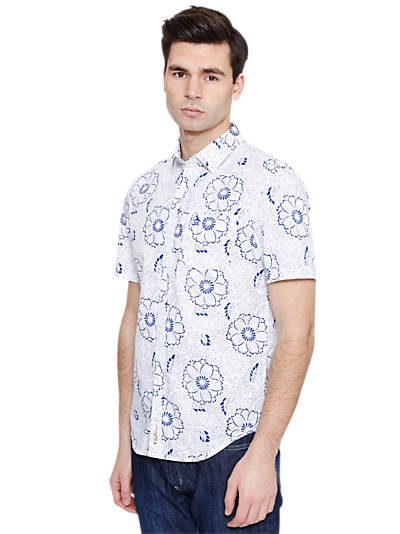 Although women seem to spend more time choosing their apparel than men do, men also have a vast selection of wardrobe options. They can find shirts for work, comfort, relaxation, and athletic activities. There are different cuts, styles, and materials. How the shirt fits has a big impact on its overall look. Although it is a matter of preference to choose between a
loose-fitted
and
slim-fitted shirt
, they each have their best uses to consider. Shopping for shirts can be daunting for any man, but if they are armed with all the basic information about sizes and styles, it may not be so difficult to select a shirt that fits well and is appropriate for its intended use.
Men's Shirt Sizes
Before going shopping, men must first figure out what their size is. Determining this up front can save a lot of time later one. It is much easier to start out by selecting the right size off the clothing rack or online than it is to find out later on that the shirt does not fit right and has to be returned.
Measuring for Men's Shirts
Men's shirts are sized according to their collar, chest, and sleeve measurements. When measuring the neck for the collar, hold the head straight and then measure around the thickest part of the neck. Before writing down that number, loosen the tape and insert two fingers behind it. This helps make sure that the collar is not too tight. The chest size is determined by measuring around the torso and underneath the armpits. Again, make sure there is a little slack in the tap. Next, find the sleeve length by measuring from the wrist to the tip of the shoulder.
| | | | | | |
| --- | --- | --- | --- | --- | --- |
| Part of the Shirt | Small | Medium | Large | XLarge | XXLarge |
| Collar (cm) | 40 - 42 | 42 - 44 | 44 - 46 | 46 - 48 | 48 - 50 |
| Chest (cm) | 102 - 120 | 110 - 130 | 126 - 140 | 134 - 150 | 146 - 160 |
| Sleeve (cm) | 66 - 67 | 68 - 69 | 70 -71 | 72 - 73 | 74 - 75 |
Keep in mind that manufacturers vary in their measurements so no two brands are likely to fit exactly the same way even though they say they are the same size. For this reason, it is important to try shirts on when possible. If looking online, check the manufacturer's own size chart and make sure that the seller has agreed to exchange the shirt for a different size if it does not fit.
Loose-fitted Shirts vs. Slim-Fitted Shirts
Slim and loose shirts can both look great and be worn at different times. There are various types of each style to consider. To select the best kind, think about the use for the shirt, as well as the comfort, fabric, and quality.
Slim-fitted Shirts
Slim-fitted men's shirts
are not necessarily skin tight, but they tastefully hug the torso and accentuate the shape. They have a very professional, clean-cut look that stands out. It is a common misconception that slim shirts can only be worn by those who are perfectly fit. This is not true because a slim shirt can accommodate more than just those with a lean body. How the shirt is cut and what materials are used makes all the difference. If the material is stretch, then chances are it will hug the body and reveal everything. However, other shirts with a tasteful cut do not cling to the body and allow enough room that they still appear fitted but are more forgiving of any body blemishes.
T-Shirts
T-shirts
are probably the most common type of men's apparel. Most males have a wardrobe full of them. They are casual, comfortable, and can even be used as an undergarment. Although most T-shirts are rather loose in nature, some are slightly more dressy with thicker fabric and a slim-fit cut.
Polo Shirts
Polo shirts
have short sleeves a collar, and three or four buttons. The fabric is thick, wrinkle resistant, and popularly worn to business casual occasions or for classy sports such as golf. Some people refer to them as the gentlemen's T-shirt. When fitted appropriately, a polo shirt is an excellent choice when dressing completely casual is not an option. They go well with belts and semi-dressy shoes.
Jersey Shirts
Jersey shirts
also have a collar but they do not have buttons, and the fabric is more sporty. They are suitable for those participating in athletic activities who still want to look nice. These shirts are lightweight, breath well, and absorb moisture.
Loose-fitted Shirts
Loose-fitted shirts
are designed to hang down the torso in a straight line without hugging or clinging to the body. They are not, however, supposed to be baggy. It there is too much extra fabric then it is too large and a smaller size is needed.
Sports shirt
Sports shirts
are similar to dress shirts but they fit more loosely. There are short sleeve and long sleeve versions, they have a collar, and they button down the front. They go well with jeans and they can be tucked in with a belt for a less casual look. Some of these are worn under a sports jacket, uniform, or vest.
Polo Shirt
The nice thing about
polo shirts
is that they come in slim and lose styles. This gives everyone the opportunity to be comfortable and still look nice regardless of their personal taste. Polo shirts are extremely versatile because they can be worn to any casual event as well as to nicer occasions such as a business luncheon.
Jersey Shirts
Jersey shirts
also come in loose-fitted styles. In fact, many athletes prefer their shirts to fit more loosely so that they are not inhibited in any of their movements. However, these shirts can also be worn to any casual event outside of sports. They are the popular choice when outdoors on a hot day.
Sweatshirts
Sweatshirts
are made with thick materials and have long sleeves. Some versions have a hood as well. Generally they are fleece or a thick-knit material. Most of the time they pull over the head, but some have a zipped front. These are very casual and should only be worn that way.
How to Shop for Loose-fitted and Slim-fitted Shirts on eBay
eBay presents shoppers with an easy way to find their clothes without leaving the house or driving from store to store trying to find something they like. On eBay, there are thousands of varieties available so finding that perfect shirt is a cinch. Start out by looking through the
eBay Deals
page where there are new sales listed everyday. If there is not anything there that catches your fancy, type a product name into the eBay search bar. To find a shirt for the winter, type "
sweatshirt
". To locate something for a business casual event, you can search for "
polo shirt
".
The process is easy and once you have discovered a few shirts that interest you, all that remains to be done is look through the seller's feedback scores that they have received from their past customers. If everything checks out, go ahead and place your orders.
Conclusion
Shopping for
men's shirts
does not have to be frustrating or intimidating. There are so many varieties of shirts available that even someone with the most picky preferences can find something as long as they know what to look for and where to find it. All they have to understand is what the various styles and cuts are so that they can select shirts that are appropriate for their lifestyle. A person who is outdoors all day would probably prefer some T-shirts and jerseys, while a businessman may enjoy a nice polo shirt or sports shirt. By getting the right sizes and selecting the slim or loose-fitted shirts that look best on their body type, men can walk out their front door in confidence.