Louis Vuitton
bags need no introduction. Timeless and classy, they are carried by both celebrities
and everyday people like you and me. They hold their retail value well and are a great investment as Louis Vuitton raise their prices every year (or sometimes more often).
Louis Vuitton often discontinues styles and colors, and if you were lucky enough to buy these bags before they were discontinued, they will make a great investment if you choose to sell them later on
eBay
!
Some of their popular, classic styles include:
This is the perfect every day bag. It comes in 2 versions,
Speedy 25
and
Speedy 35
. It is roomy and surprisingly light. Boasting comfortable rolled leather handles and a signature padlock, this chic bag will take you from day to night A smaller version of Louis Vuitton's celebrated Keepall, the Speedy 25 is a roomy, lightweight bag for your everyday needs. With comfortable rolled leather handles, an open interior, and a zipper closure with a signature padlock.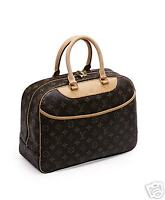 A perfect travel companion, this bag comes with interior pockets to hold your cosmetics and toiletries. It also doubles as a work bag, as it is roomy enough to hold many things. Featuring gold hardware and a washable fabric lining, this bag also has comfortable rolled leather handles and an open outside pocket.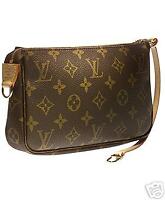 Pochette Accessories
(8" L x 5" H)
This little accessories pouch is one of Louis Vuitton's most popular bags. It fits in your cosmetics and every day essentials. A beautiful vachetta strap and golden hardware make this beautiful bag a classic.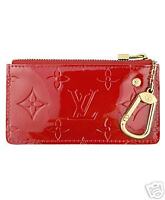 A chic and neat key and change holder, this little Vernis Cles comes with a golden key holder that can be dangled outside or placed within the holder. The zipped pouch holds loose change or cards.
Some of the materials/designs Louis Vuitton uses are:
Monogram
Epi
Vernis
Suhali
Damier
Multicolor
A little bit of research and care into your Louis Vuitton purchase on eBay will ensure you receive an authentic and beautiful designer bag.
Buying Louis Vuitton on eBay
Here's what to look out for:
If a seller is selling multiple identical Louis Vuitton bags below retail, chances are they are a fake. Check fb
Check a seller's feedback carefully - have they sold authentic items before?
Louis Vuitton bags hold their retail value well. Even a used bag will easily command near it's original retail value. If the deal seems too good to be true, it probably is.
Authentic Louis Vuitton bags do

not

have a swatch of fabric/leather dangling from the handles
Authentic Louis Vuitton dustbags do

not

have rounded corners
Ask for detailed photos of the "Louis Vuitton" font and the stitching on the bag - authentic bags have perfectly placed stitching and the edges are not glued together