MAGNETIC BACK SUPPORT
We never known what hard ships life throws to us as we get older, as for me
I am married to the Sciatic Queen! She can be a cranky girl at the best of times, but I just keep out of her way when her back plays up. From personal experience with my wife Jannese and the thousands of people who I have dealt with over the last ten years who have back pain, I know for sure that people in pain are not happy people. It greatly affects your ability to deal with every day life. Back pain is debilitating and life changing.
Jannese was a professional body builder and her discs had gone. She had major back surgery in 1995 (one disc fused and two replaced) and even today I still see her regularly reach for the magnetic back belt. It's the only thing that gives her relief without any side effects. Before she was using Valium and Oxycontin which gave her pain relief but she lived a life that was constantly cloudy. At her worst and whilst on schedule 8 drugs, she would not let me open mail in the fear that the Al-Qaeda has poisoned the sticky bit. It is funny now but not at the time. You cannot function properly on hard drugs.
Lower back pain is very common. It affects 4 out of five people at some time during their lives. It is the leading cause of disability for those aged from 19 to 45 and is the second most common cause of missed work days (after the common cold) for adults younger than 45. Lower back pain becomes more common as people age. It affects half the people older than 60 at any given time.

Each year the treatment of lower back pain costs more than $80 billion USD and insurance claims for disability due to lower back pain exceed $8 billion. Although lower back pain rarely results from life threatening disorders, it is a significant health problem.

These people suffer chronic back pain are taking NSAIDs on a long term basis for pain relief without being fully aware of their consequences. The drug taking is then worsened by a cocktail of two or three other medications that they are also taking for other problems.

The Magnetic back belt may be beneficial for the temporary relief of back pain, as well as providing support at the same time. The breathable aerated cotton (unlike neoprene) construction of the belt has been purposely designed for Australia's warm conditions.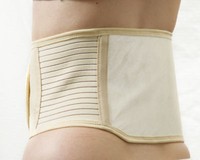 Even today to my amazement I regularly hear people tell me that they receive pain relief within hours of wearing the back belt. The 24 x 1000 gauss magnets in the belt help to relieve the inflammation and pain the damaged area and this in turn assists in reducing the sciatic symptoms that run down the back of your leg to you feet. Wouldn't it be nice to stop the tingling or numbness in your feet?
The Magnetic Back Belt may be beneficial for the temporary relief of pain such as Arthritic pain, sciatic pain, as well as muscular aches and pains. You cannot fix the disc but through magnetic therapy you may reduced the inflammation the in the end will give you move movement and of course reduced pain. It all about quality of life
The Magnetic Belt is designed to fit and contour to the upper and lower back area and is comfortable to wear. The belt is ideal for use in the home, office or whilst playing sports, walking, gardening and not to mention the tradesman. Builders, tilers and tradesman alike are regular users of the belt not only for the therapeutic results but the support given to the upper or lower back at the same time. Hand wash under running water.

The Belt comes in four sizes.
• Small 85cm, medium 95cm
• large 105cm
• XL 120cm
• XXL 135cm
Perhaps it time to take you life back.
Read more information on our Magnetic Back Support