It is said that every New Orleans lady owns a piece by
Mignon Faget
, a personal adornment as central to a lady's wardrobe in the Crescent City as a piece from Tiffany & Co. would be in New York City.
Internationally reknowned jewelry designer
Mignon Faget
of New Orleans has never abandoned her Louisiana roots. Since 1969, she has been crafting original creations inspired by the natural and manmade landmarks of her home state. She is justly famed for the naturalistic and architectural qualities of her work.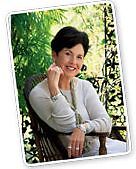 Faget's family has lived in New Orleans since 1700. She graduated from H. Sophie Newcombe Memorial College of Tulane University in 1955 with a BFA and a concentration in sculpture, then went on to study at L'Atelier de la Grande Chaumiere in Paris and the Parsons School of Design in New York.
She debuted her first ready-to-wear line in 1969, from a studio located in the Riverbend neighborhood of New Orleans. By 1997, when she renovated a neoclassical former bank building to house her company, she had galleries in New Orleans, Metairie, and Baton Rouge. After opening at her new location, she donated her original studio to the Preservation Resource Center. Following Hurricane Katrina in 2005,
Mignon Faget
's uptown gallery was one of the first places to re-open. The designer continues to donate proceeds from the sale of her Fleur de Lis jewelry to Louisiana Rebirth. Over the years she also has designed jewelry to benefit other Louisiana-centric projects, organizations, and institutions.

Mignon Faget
's jewelry genius is most often informed by New Orleans architecture and culture or the natural forms around her. She works in gold, silver, precious, and semi-precious stones. Her collections are legendary in the Crescent City: Amulets; Animal Crackers; Bamboo (the newest collection); Corall; Cruxx; Fleur de Lis; Hearts; Ironworks; Knots & Bows; Louisiana; Men; Meridian and Meridian2; Nature (which includes the Banana Flower & Banana Leaf and Armament Collections); Opus; Orb; Pylon (inspired by highway pylons); Romanesque Return; Schema; Sea; Ovo; and Spring.
She also designs items for the home — including bed, bath, and fragrance items; bridal wares (she is especially noted for her cake pulls); candle lights; desktop and paper items; glassware; holiday "adornaments"; linens; and tabletop items — and for babies, as well as scarves and ties. Of her home collections she says, "I have revisited some favorite themes from past collections and transformed them into objects to adorn your home."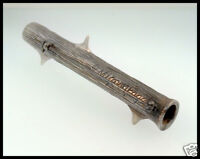 How can you tell if an item is by
Mignon Faget
? Her range is so broad that there is no one single
Mignon Faget
style. The best way to identify her items is to look for the "
Mignon Faget"
signature or the artist's mark "Mf." Her pieces usually also bear the hallmark STERLING or 14K. It may be very subtle, such as the "Mf. STERLING" mark on the side of these retired Thorn Tier Earrings from the Armament & Exotica subset of the Nature Collection, or it may be very faint, as with the "Mf. STERLING"/"STERLING Mf." on these Hot Pepper Dangle Earrings from the Louisiana Collection, so use a jeweler's loupe and be thorough in your search.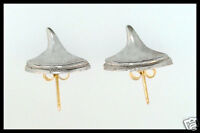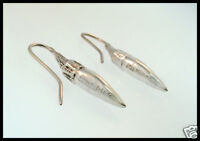 Some pieces, such as this retired Banana Leaf Hair Clip Barrette from the Nature Collection, bear the copyright symbol © along with the signature "
Mignon Faget
" plus the word STERLING, so that the hallmark reads "STERLING ©
Mignon Faget
".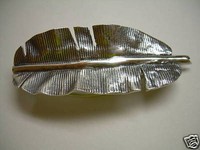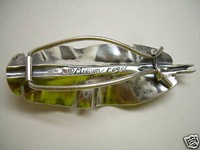 Other items, such as the Red Bean Cufflinks from the Louisiana Collection, don't seem to be marked at all, but they are distinctively
Mignon Faget
nonetheless. Can't you just see these worn with the matching tuxedo studs?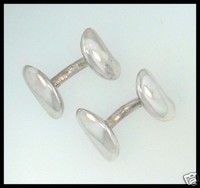 Still others, like these retired Redfish Dangle Earrings, are signed, dated, and copyrighted: "©
Mignon Faget
90".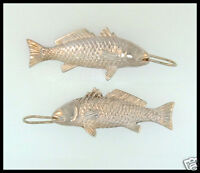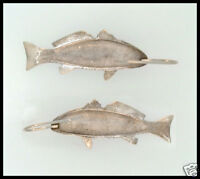 You can find good clear pictures of the current collections at http://www.mignonfaget.com, where you also can order new pieces. But the best place to find retired and estate
Mignon Faget
jewelry is on
eBay
. On any given day, you will find a couple to several dozen or so items yielded up by a search for "
Mignon Faget
" (with or without quotes) and a comparable number of
completed items
. Check current pieces against the website's catalog for retail prices and accuracy of other details. For retired pieces, you'll just have to take the seller's word for whatever they say in their description. Most do not set out to be deliberately deceptive; but some are knowledgable, or at least have done their homework, while others may not be so well educated.
As with any other
eBay
item, if you see something you like, check to see if it is also being offered by any other seller(s). Then check completed items for any comparable item(s). Remember, it's not rare if it's a currently manufactured piece or if there are several currently on offer! Read the description and terms of sale carefully. Scrutinize the pictures. (Beware of sellers who use stock photos only, without showing you images of the actual piece you are bidding on.) Ask any pertinent questions BEFORE you place a bid. And then, bid to win! But that strategy would be a whole 'nother guide.
Most of all, enjoy your
Mignon Faget
jewelry all the more now that you know a little bit of the story behind it.
Thank you for reading our guide. If you found it helpful, please vote by clicking "Yes" below.