SCHMIDTTOOLS M28 MILWAUKEE 28v TOOL UPDATE
G`DAY AGAIN GUYS,
HERE`S ANOTHER LITTLE GUIDE I`VE WHIPPED TOGETHER TO KEEP EVERYONE UPDATED WITH THE NEW M28 GEAR FROM MILWAUKEE AND LET EVERYONE KNOW WHAT TO EXPECT.
FOR ANY OF THOSE GUYS THAT HAVE BEEN HOLDING OFF ON BUYING NEW V28 TOOLS WHILE WAITING FOR THIS YOU MAY BE LEFT A LITTLE FLAT AFTER READING ON.....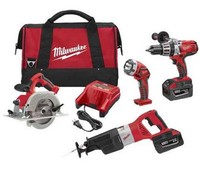 THIS GUIDE IS GOING TO HAVE A QUICK LOOK WITH A LITTLE DETAIL ABOUT THE NEW M28 MILWAUKEE RANGE DUE FOR RELEASE AND SHIPMENT DURING AUGUST 2010.
I`VE BEEN WAITING FOR A WHILE TO SEE THIS GEAR GET RELEASED AND THE BIG QUESTION IS WHAT`S HAPPENING WITH THAT AND SHOULD WE ALL GET EXCITED. I KNOW THERE`S A LOT OF OTHER FANS OF THE MILWAUKEE RANGE OUT THERE AND THEY DOMINATE THE 28 VOLT MARKET FOR THOSE GUYS WHO ARE LOOKING FOR MORE POWER THAN WHAT THE 18V GEAR GIVES YOU.
WELL WHERE TO START. FROM WHAT WE`VE SEEN AND HEARD THIS IS WHAT`S HAPPENING WITH THE M28 GEAR,
THE V28 DRILL HAS HAD AN UPDATE AND LOOKS A LITTLE FANCIER BUT IS STILL ESSENTIALLY THE SAME DRILL AS IT`S ALWAYS BEEN WITH A SLIGHTLY BETTER GRIP AND RUN TIME, MAINLY DUE TO THE BATTERY I BELIEVE NOT THE TOOL NECESSARILY.

THE BATTERIES HAVE HAD A TOTALLY REDESIGN AND THE M28 BATTERY IS A TOTALLY NEW BATTERY.

NOW THEY HAVE THE CELLS LAYING DOWN WHICH MAKES THE PACK SMALLER AND LESS PRONE TO HEAT BUILD UP. ALONG WITH THE STRUCTURE OF THE BATTERY THE DIGITAL POWER MANAGEMENT HAS ALSO BEEN CHANGED.

Milwaukee Digital Power Management System.
Overload Protection - Prevents user from damaging their cordless power tool investment in abusive situations.
Temperature Management System - Keeps battery in ideal temperature range to provide maximum life.
Individual Cell Voltage Monitoring - Ensures optimal charge and discharge for maximum life.
Discharge Protection - Prevents cell damage from over-discharge.

AND OF COURSE AS WE`VE SEEN WITH ANY RELEASE OF A NEW TYPE OF BATTERY THERE IS A NEW CHARGER.

SAME CHARGE TIME AS THE OLD ONE THOUGH AND IT WON`T CHARGE 18 VOLT BATTERIES. BUT IT WILL CHARGE V28 AND M28 BATTERIES.


HERE`S THE GENERAL RUN DOWN,
I have included some facts about the new M28 system below.
The M28 battery is indeed a new battery. They have changed the digital power management as well as changed the internal structure of the battery.
This includes and integrated weld frame, water egress, etc... Reported results seeing 10%-20% increased run time and the changes to the power management should increase the lifespans significantly over the V28 battery.

The M28 Cordless tools will be 100% compatible with the existing V28 products and vice-versa.
V28 batteries will run M28 tools and M28 Batteries will run V28 Tools.
The 0724 Hammer Drill Driver will be replaced with an upgraded Hammer Drill Driver with 750 in-lbs of torque, increased run-time and improved ergonomics (0726-22 and 0726-20)
A new 28V LITHIUM-ION Charger will be available (48-49-2819). This charger will charge V28 and M28 batteries only, unlike the older charger that did 18v batteries too.
The older V18-28 Charger will charge the new M28 Batteries, i have tested this myself with a new M28 Battery in a V28 charger and it charges fine.

A new LED Work Light is available (49-24-0187) that features a 180 Lumen LED for ultimate performance and run-time.
All other part numbers are staying unchanged from the current line-up. There will be no changes to the other tools.
The only new changes made to the kits are that the M28 batteries will replace the V28, the new charger will be included and there will be new packaging as this transition takes place.
All pricing is remaining consistent to where the V28 is currently.

This transition will occur at various times depending on the item. The first M28 products to ship will be the LITHIUM-ION Battery Pack (48-11-2830) and the Hammer Drill Driver Kit (0726-22). These products will ship at the beginning of August 2010. in the U.S.A.

So that`s what`s happening with the new M28 Milwaukee tools.
Please remember to click yes to vote, it only takes one click and one second to do.

It helps more people access this information easily on google.
I hope someone found that use full.
All the best until next time.
SchmidtTools